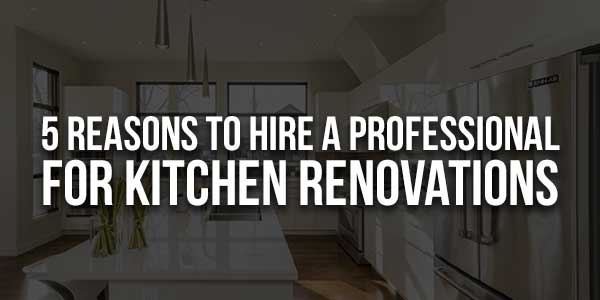 When you're ready to renovate your kitchen, taking on the project yourself is tempting. After all, it seems simple enough—just a couple of cabinets and countertops, some appliances and plumbing fixtures, right? But before you break out your hammer and start whacking away at walls and cabinets, think about these five reasons why using professionals can make kitchen renovations more successful and less stressful.
Why Relying On A Professional Is The Best Idea For A Kitchen Renovation?
1.) Avoid Frustration:
The kitchen is one of the most complicated areas of your home. It's easy to get overwhelmed with all the decisions that need to be made and tasks that need to be completed. Renovating the kitchen can be time-consuming and aggravating when you're doing it on your own. To help you with these common frustrations, you should hire a professional who can assure you of completing kitchen renovations with utmost perfection.
2.) Save Time & Money:
Doing your kitchen renovations can be an exciting project and time-consuming, and frustrating. A professional will take the hassle out of your renovation, saving you time and money. They will have the necessary skills and experience to ensure everything goes smoothly. You won't need to buy any tools or supplies; they will provide all the materials needed.
In addition, they may offer additional services like an installation that would typically not be included with a do-it-yourself kit. You may even get additional discounts on your products due to the work they do for you. If this sounds like something that would interest you, read on!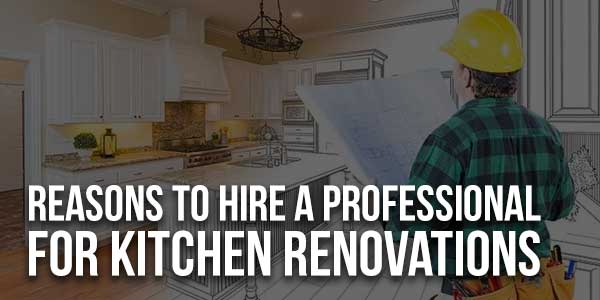 3.) The Professionals Look At Things From Different Angles:
Professionals in kitchen renovations will help you have the kitchen of your dreams. It's much easier to have a professional handle the renovations for you because they see things differently. When renovating your home, you must take the time to think about what is happening in every room and try not to get overwhelmed by your project list.
A professional can help with this process because they've seen thousands of homes and know what colors work well together, what cabinets are most popular, and where people typically put their appliances. This is why it's so important to use a professional if you want everything done right the first time so that you don't have to worry about any mistakes or mishaps when moving into your new home.
4.) The Professionals Have Years Of Experience:
The experts in kitchen renovations know how to take the time and care needed when remodeling your kitchen. They have the tools and experience to remove old cabinets, tiles, sinks, and more. They also know how to install new cabinets, countertops, tiled floors, and fixtures. That's why homeowners often call in them with more complicated projects or those who are just unsure of their options. A professional knows that you want your kitchen renovation project done right the first time, so they'll ensure everything is done according to code and up-to-code standards.
5) The Professionals Know What They're Doing:
Professional renovators have years of experience working on kitchens; they know which materials will last and which won't. They know how much weight your ceiling can handle before it collapses and how to fix mold problems without causing water damage elsewhere in your house. These are things that amateurs just don't know how to do!
6.) It'll Save You Time:
It cannot be denied doing kitchen renovations is a huge job! You probably don't have weeks or even days to waste on something like this – you need results ASAP! That's where professionals come in; we can get the job done faster than any amateur could ever dream of doing it because we know exactly what we're doing (see reason.
Conclusion:
As you can see, a professional can be helpful in multiple ways when it comes to kitchen renovations is the best way to go. The pros will know how to take care of all the details and ensure that your kitchen renovation turns out just how you want it. Make sure that you search for the best professional for this task. Look for an experienced and qualified designer for a kitchen renovation project.