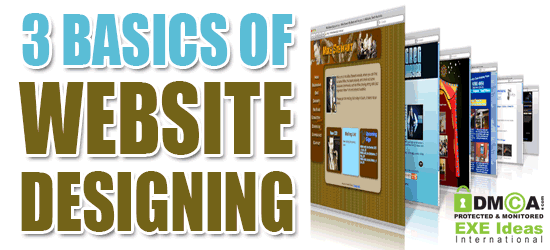 Having an online presence definitely gives your business the needed boost to survive and sustain one's popularity in today's technological day and age. While back in the day, having a TV commercial or a billboard of your product or service makes you the most reliable choice among your competitors, nowadays it is all about having a significant following online. You could have the greatest product or service in the market, but what good is it if you cannot be found online by your patrons?

You certainly need to consider getting a website if you want to sustain your hold on your market and attract more customers, because this is the very thing that your competitors are doing right now so you should not be left behind. If you have decided to hire somebody to create your website, you should remember these basic website designing pointers.
What You Should Have?
Your website should appropriately reflect your business. If you are selling cakes and pastries, your website should feature photos of your delectable products and information about each, and perhaps some testimonials from loyal patrons and your contact information to entice people to try out your products. It does not make sense posting photos and videos of your staff or your kitchen, unless of course you are a culinary school offering cooking and baking courses to home cooks and you want people to see what happens in your kitchen and the environment you are offering for your classes.
Your website provides a good first impression of your company, and it has to be clear right from the beginning what you are offering so people will know if they want to continue looking or not. Website designing experts will have to be oriented about your company's vision and mission, marketing tactics and initiatives for them to translate it to something that is accepted online.
How To Attract Visitors?
Your website should be clean and efficient. The more experienced website designing companies will exactly know what elements to use to be able to execute a layout that shows information clearly and provides easy navigation for your customers. Links should be properly displayed and your products emphasized and made visually appealing so people who are looking at them will not think twice about purchasing them.
An efficient design will also tell your potential customers that you run a clean and efficient business as well, one that will not dupe them into purchasing less than desirable products or services. Your goal is for customers to trust you and your business. If information is cluttered, unclear and navigation is difficult and confusing, they will not likely return to your website the next time.
What You Should Use?
Effective website designing considers the appropriate use of technology that is dependent on your kind of business. Flash animations, auto loading video clips and pop-ups are highly creative ways to showcase your products but if they are not used tastefully, they can confuse your customers and turn them off for good.
For a more consistent look of your website, you can consider CSS but it has its limitations on fonts and images. If you are maintaining an e-commerce store, you should use PHP for your pages because they work well with a dynamic database. If you are unsure of what you need, discuss your detailed requirements with the web design firm working for you so you can learn about the best solutions for your business.
Conclusion:
Website designing can be tedious, expensive and takes a lot of time. If you employ the right people and you communicate your needs clearly, the end result — an efficient website — can serve your business for years to come.
About the Author:
Charlie Brown is a freelance blogger and a web designer in the last five years. He has designed a lot of fashion-related website design in the US. He is also a freelance photographer and loves fashion photography. He is an avid fashion magazine reader and a coffee addict.