We live in a world where it is impossible to get through a day without reaching out for our smartphones! With the craze for these gadgets increasing, companies are trying every trick in their bag to introduce unique and unusual features to their smartphones. What people thought were impossible previously is slowly turning out to be a definite possibility, thanks to these features. Here are a couple of smartphones that pricked the interests of people for its unusual features:

Motorola Droid Maxx:
It has been quite some time since Motorola decided to drop its catch-word 'Razr', the company's phones still boast a long battery lifetime which sadly lacks in a lot of smartphones today. The Droid Maxx is no exception and its unique feature is its battery. The gadget though looks like any other smartphone in size packs a 3,500mAh battery! It offers a whopping 48 hours of usage and the standby time is 25 hours. This is a perfect phone for those who are looking out for more juice in their gadget's life.
G2 From LG:
LG is one of the fore-runners in the mobile market and it is no surprise that the Korean company is trying their best to make their gadgets standout in the crowd. The G2 announced on August 7th, 2013 has two special things that have made the phone come into this list. The first and foremost feature is the super-fast Qualcomm Snapdragon 800 processor. What is so special about this processor? Well, for one it is the first ever phone to feature this processor in the global level which makes it the most high-performance phone. The second highlight is the power button and volume rocker that starts from the edge of the phone and ends on the back which the company claims to be more convenient.
Nokia Lumia 1020:
Nokia has long since revamped their smartphone range and one of the very few successful brands carrying Windows phones. Nokia is known for their innovative and attractive design. The company's recent release, the Nokia Lumia 1020 is literally eye-catching in its canary yellow color. Apart from its unique yellow color, the phone also carries a 41-megapixel camera which is no ordinary feat. If the camera's mega-pixel is out-of-the-world, the features offered are even more so! It has a Carl Zeiss six-lens, an LED sidekick to focus better and a xenon flash which makes it a professional camera!
Samsung Galaxy Note 2: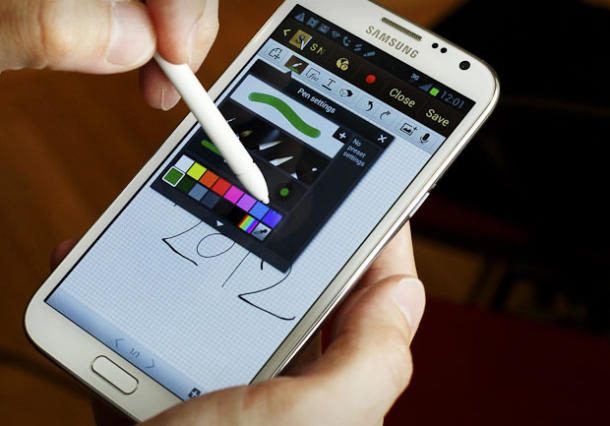 How can one of Samsung's creations go without being in this list? The company is known to revolutionize the smartphone market often. Though the Note 2 has been in the market for some time now, it is one of the best phablets available till date and doesn't have any real competition. The reason is its unique S Pen feature which its competitors are just unable to master! The Pen feature makes it a 2-in-1 device of a smartphone and a virtual notepad which comes in real handy for many professionals.
Samsung Galaxy S4 Zoom:
With companies releasing power-packed camera gadgets, Samsung has also decided to bring in their version of powerful camera phone. Just as the name suggests, the phone features a 10x optical zoom which is advanced when compared to the standard digital zoom. Galaxy S4's zoom feature makes it a smartphone cum a digital camera!
These are a few gadgets that have been released with some amazing features that make these gadgets more than just any other smartphone. It looks like powerful cameras on smartphones are trending this year. Nokia and Samsung have taken utmost care to pack professional camera features into their gadgets. The upcoming new iPhone seems to be making buzz already. Motorola on the other hand is concentrating on battery life and LG is truly trying to bring out out-of-the-box features. What is it going to be in the next phone? Will it be 3D or a powerful projector? If the trend of unique features goes on, soon smartphones will become jacks of all trades and King of all!
About the Author:
Kathryn Smith is an all-round blogger who loves to help people by sharing ideas on Internet utilities. Off late, she has been identifying various People Search Engine websites to help people find their friends and relates and stay connected all the time.