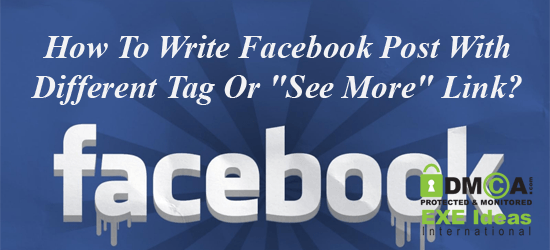 [2013 Working Trick]This post contain answers of  3 hot question in facebook world that"How To Write Facebook Post With "See More" Text Or Any Other Text That Will Redirect To Your Profile Or Page After Clicking On Blue Text?" Or Simply "How To Write A Clickable Link To Profile Or Page Easily?" Or "How To Tag A Page Or Profile With Different Name In Facebook Status?".
After our previous post about How To Write Numeric Code Of Facebook Page/Profile For Facebook? Now the question is that How To Write Facebook Post With Working URL Or Clickable Link To Profile/Page Easily Or Tag A Page/Profile With Different Name? For this purpose, you only need your Profile/Page ID Code that you can find by reading our another hot post about FaceBook Profile/Page ID-Code Finder Online Tool. As you have seeing in some status of Facebook that after clicking on the status text or "See More" it will be redirect to Facebook Fan Page Or someone Facebook Profile.Now it is solved for everyone and is out for you. So for this you have to get ID of that target first and the golden formula by which you can create your working URL In your Facebook status easily.
I also like that style of facebook tag so i just search that code over the internet but finally got this code and share that code here that is below. Today I Am Going To Tell You How To Write Facebook Post With URL Or Link Of Facebook Page? These All Are The Text With Facebook Page URL And When You Enter That Code In Comment Or Post There Appears A Link To Facebook Page. Some Guy's are trying to use only different name tag code but that is not working because of Facebook updates. You Can Make You Facebook URL Text Easily.
How To Get Your Status Code?
You Can Make You Facebook ID Numeric Code Easily. Here Is The Formula…
@[

Your ID Code

:0] @@[0:[

Your ID Code

:1:

Your Text

]]
Just Change This Your ID Code With Your ID Code And Your Text With Your Desire Text.
How To Get ID Code?
CLICK HERE TO Get Your Profile Or Page ID Code
How To Put On Your Facebook Profile?
Just Replace The Data With The Below Code And Copy Paste Your To Facebook Status Or Comment And Press Enter.
@[

Your ID Code

:0] @@[0:[

Your ID Code

:1:

Your Text

]]
How To Send To Your Facebook Friend?
Just Paste The Following Message To Status Or Comment Or Message.
1.) Copy This Lines :-
@+[

Your ID Code

:0] @@+[0:[

Your ID Code

:1:

Your Text

]]
2.) Paste on the Comment or Status Field,
3.) Cut off the +,
4.) Press "Enter",
5.) Done.
***Be-Aware Of Following Errors***
You Must Have To Use Both Full Code, In First Code There Will Be Simple Tag Code And The Other Will Be With Different Tag. You Must Have To Use Same ID In Both Desired Place Of Profile Or Page. You Can Add Extra Text Before And After The Code And Also In The Middle Of The Code. If You Try To Use Only Different Text Tag Code, You Can Not Used This Because It Will Show The Error To Post The Comment Or Status. You Can Change The Position Of Both Codes According To Your Status Or Comment.
Note:
If You Still Did Not Get, How To Get Facebook ID Code, Have Problem Or Quries, Just Send A Msg To Our FanePage, Our Write A Status On Our FanPage At EXEIdeas FanPage Because Comments Are Closed Now.
***Receiving This Symbol
 

�

While Using This Trick To Tag Because 
Facebook Banned This Trick For Desktop User, This Is Available For Mobile User Only, If You Want This On PC Then Open Facebook With
m.fb.com
Then Use This Trick***