Express Mail messages, or EML, have the.eml file extension. Microsoft created this file format for Outlook and Outlook Express. Although accessing EML files on Windows is simple, doing so on a Mac is more challenging. However, it doesn't follow that you cannot run it on a Mac. This article will cover both manual and professional methods for opening an EML file on Mac. How the EML Converter can assist you in opening EML files with extra features.
Best Ways To Access  EML Files On Mac:
EML files cannot be opened directly on a Mac. Despite the fact that there are two manual methods available, the steps must be followed in order to open it.
Method 1: Open EML File Using Mail Application
This is one of the easiest methods to access an EML. Adhere to the directions provided.
Steps to open .eml file on Mac
Choose an EML file that you wish to open.
Double-click it.
Select Open With, and choose the mail application where you wish to open it.
Finally, the mail application you chose will display your EML file.
Method 2: By Changing The File Extension
This is yet another manual method that will enable you to open an EML file on a Mac. Proceed as directed.
Steps To Change The File Extension
Choose an EML file.
Press the Command+I button together.
Select Name & Extension from the properties menu.
Change the.eml extension to.mht or.html, then press Enter.
A pop-up message appears and grants permission to switch the extension from.eml to.mht or.html.
Here, click on Use.mht and the selected EML file will be converted into HTML format.
Now, you can open this converted file using MS Word. You can open the EML file by using the aforementioned manual methods, but this approach has limitations.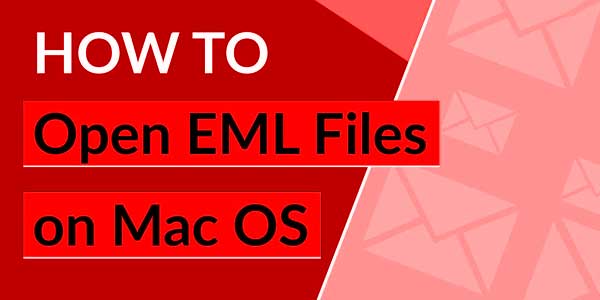 Manual Methods' Restrictions:
Although this manual method appears simple to use, it may not work in all circumstances. This manual method does have some limitations.
Lengthy process because a user can only convert one file at a time.
Not successful for bulk file conversion.
Need a lot of focus to accomplish the task.
Provide limited options to open it.
We have seen that manually opening an EML file on a Mac is not always the best option. so we need a specialist to perform this task.
An Automated Tool To Open EML File On Mac:
We've noticed that while we can manually access EML files on MAC, doing so takes a lot of time. So, we need a MailConverterTools EML Converter for Mac, which is exclusively built to convert all EML message files from Mac OS to various file formats and email clients like PDF, MSG, EMLX, Gmail, Yahoo, Outlook, etc. and also runs on all Mac OS versions. You can also import EML files into Outlook.
Steps to run the software
Start the EML Converter software and run it as an administrator.
You will have two choices in the following wizard: Browse a single file or multiple files/folders and tap the Next button.
Select the destination path for your resultant file and then hit the Save button.
Now, click on the Select files or Select folders button to add the EML file and tap Next.
Preview the different files and folders present in the selected EML file and select the folder that you want to convert, and click Next.
Select the file format from the drop-down list.
Check the features like Remove Duplicate Emails, Migrate or Backup emails without attachment files, Split Resultant PST, etc features, if needed.
Assign a name to the resultant folder.
The Path To Save option lets you choose the location for the Output folder.
Click on the Convert button to start the conversion of EML files.
You can save the report of file conversion by clicking on the Download Report button.
Conclusion:
Following the blog's instructions will enable you to open EML file on Mac. Despite the fact that you can choose between a manual and a technical approach, the manual method is somewhat challenging and requires close attention. If you face any issue in Opening an EML file on Mac You can use the software that offers more features, too, rather than the conversion.
FAQ
Q1. Is the EML file open on Mac only?
Ans1. No, EML can be accessed on both Mac and Windows.
Q2. How to open an EML file on Mac?
Ans 2. Follow the steps to access the EML file.
Find the location of your file.
Open your message in the mail.
Save and rename the file.