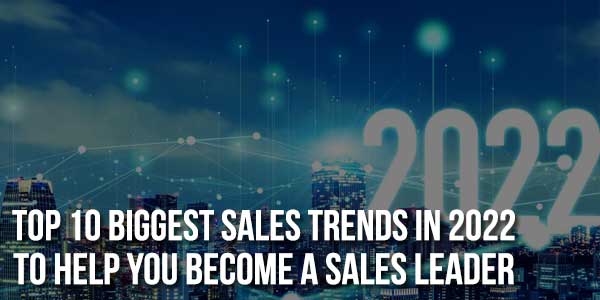 Due to the coronavirus, during 2020-2021, there was a complete restructuring of sales. It was necessary to adapt to the new realities.
Buyers have become more cost-conscious due to the problems connected with international isolation and have been compelled to reevaluate their purchasing decisions. As a result, salespeople were forced to react and offer more flexible solutions to boost sales.
The situation in the world has provoked the emergence of many new strategies, methods, and sales techniques, most of which have proven to be effective. These are the ones that are likely to remain and dominate the world of sales in 2022.
We've compiled the top 10 sales trends you can count on this year to stay on the top of your game.
Let's start!
Emerging Trends In Sales Management:
#1. Do The Opposite Of What Other Companies Do:
No matter how hard you do something, if you use the same methods as everyone else, there will inevitably be someone who will surpass you. The only way to hack the sales success code is to be more innovative, not just work harder (although that also matters).
Think about how you can stand out from the competition. For example, sell products by subscription.
There are two types of subscriptions:
when a person pays for several months in advance and receives certain services or products;
when a buyer pays every month for the rental of the product and can change it to a new model in a year.
A similar scheme is already used by Apple, Samsung, and MS (Xbox). AppleOne, for example, offers Apple Music, Apple TV +, Apple Arcade, iCloud and other services under one data plan. The offer includes a 30-day free trial for any service customers doesn't already have.
This format is beneficial because it encourages users to contact you over and over again. It helps them save their money too. Think about what unusual service you can offer.

#2. Automate!
Sales automation must be implemented in your business workflow to maintain a competitive advantage.
Get the most out of your work with powerful tools. This will allow you to spend more time developing creative ways to sell your products and better personalize your offerings because all routine tasks will be delegated to CRM and various services.
What tools do you need? Here are some examples:
Web scraping tools. With them, you and your team can clean up websites to find a specific type of customer. Take Import.io as an example. It does most of the work: retail management ideas, application integration, data accuracy, on-time delivery.

Lead generation tools. They help not only identify potential customers but also collect information about them such as names and email addresses. For example, there's Snov.io's Email Finder tool. This email hunter tool allows you to identify high-quality leads, validate contacts, track your leads' engagement with your email campaigns, and automate cold outreach.

Email database tools. These are important for B2B companies as they centralize information, allowing a smooth transition to the lead generation process. One of the leading email database tools in the industry is Zoominfo. It helps B2B companies improve their lead generation and development processes by providing comprehensive lead information, allowing them to customize their approach, and delivering accurate and personalized offers to customers.

A tool for finding customers' data. This one is essential for collecting and analyzing lead data that allows companies to build deeper and more effective customer relationships. For example, Datanyze is one of the super-efficient customer information tools. This sales automation platform provides info such as mobile phone numbers without leaving your browser. Sales representatives can export data directly from Google Chrome.
#3. Use a new format for D2C sales:
The term Direct-to-Consumer means direct selling, that is, attracting clients through mobile applications, social networks, and other channels directly to the manufacturer.
Why is the refusal of intermediaries good? The fewer intermediaries in the chain are, the better it is. You are not dependent on other companies and can interact more closely with customers, and they see a lower price.
Also, direct communications with your buyers will improve the quality of service, increase loyalty, and ultimately earn more.
Many big brands are gradually moving to D2C. Nike has already refused to partner with Amazon to increase sales through its official website and improve customer experience through more direct, personal relationships.
#4. Create A Positive Image Of The Company On The Internet:
Obviously, people most often study profiles and feedback about a company before buying or making a deal: they look at its social networks and read the comments under the posts.
Also, according to researchers, 93% of users look at reviews on the Internet before buying, and 91% of 18-34-year-olds trust online reviews as much as personal recommendations.
So what do you need to do to make this sales trend work for you?
Encourage customers to write positive reviews on G2 sites. You can motivate them with a 5% discount on their next order.
Publish SEO-optimized content on your blog, as well as on third-party resources, so that the user can google about you to read high-quality info about the company and the product.
Deal with negativity: respond to such reviews, apologize, and fix issues. It is very necessary to work out negativity so that users can see that you are with them, hear them, and solve problems.
#5. Sell Via Social Media:
Unobtrusive selling is more popular now. It's implemented through social networks and allows you to put an idea in the heads of your potential customers and continue to develop it, which will ultimately lead to increased sales.
You need a good profile on Linkedin, Facebook, Instagram, Twitter, and so on (depending on your target audience). You need to be close to subscribers, be on the same wavelength with them, publish interesting/useful content, and always answer their questions and demonstrate your cases.
You should build your marketing strategy so that when users start searching for specific services, products, goods, your brand will be the first thing that comes to their minds.
You are already participating in social selling if you have a business profile on any social media platform. But if you don't control it and use the right strategies, participating in them can do more harm than good.
The most popular social selling techniques in 2022 are:
Social listening. When you track your social media platforms for mentions and conversations related to your brand, you then analyze them for insights to discover opportunities to act.
Social listening tools:
Hootsuite – a tool to customize social media streams that track conversations, keywords, mentions, and hashtags,
AdView – adapted for viewing ads on social networks Facebook and Instagram, analytics are also available,
ReviewTrackers – allows you to track reviews from over 50 review websites such as TripAdvisor and GoogleMaps within 15 minutes of posting,
Synthesio – monitors conversations on highly specialized topics in a carefully segmented audience (allows you to tag mentions by language, location, demographics, sentiment, and influence).
There are a number of other tools that will help you too: Reddit Keyword Monitor, Audiense, Mentionlytics, Brandwatch Consumer Research.
Posting relevant to your prospect's content. It should be valuable to the audience to build trust/loyalty, tailor each offer, and post to specific weaknesses.
What can you share?
Original research,
articles,
webinars,
whitepapers,
e-books.
You might also consider creating paid ads on relevant channels to target decision-makers and provide them with information that can help propel the buyer's journey forward.
#6. Ensure Instant, Comfortable Sales:
When communicating with leads, the issue of instant payment arises. It is important to sell the product as quickly as possible, while there is a dialogue between the client and you, and trust is being formed.
Users don't like to leave a comfortable environment. They like to make purchases through one platform, rather than registering on a new website every time.
1C has a special module that allows you to pay using one link. You can send it to your interlocutor in WhatsApp, by email, or another source during a video call. When you click on the link, a window opens in which it is easy to pay for the goods. Each payment is displayed in the CRM system.

#7. Improve Sales With AR Technology:
The main fear of users who do not dare to make an online purchase is not to guess the colour, size, shape of the product and waste money and time waiting for delivery. Augmented reality capabilities easily solve this problem. AR technologies help buyers understand how the product will look in reality, not in a photograph.
The implementation of AR applications can be viewed at the Sephora cosmetics and perfumery store in the ModiFace service.
#8. Use Multi-Channel Personalized Stories:
This is exactly what sellers should consider in 2022, adjusting their strategies accordingly. People have different preferences, which means that you can't expect the same approach to work for everyone.
You need to set up a wide variety of channels to serve your customers so they can choose what they like best. Ideally, make it so that you have different channels and the ability to switch between them without losing any information. This will facilitate a hassle-free buying method.
In addition, you need to ensure that each channel is integrated with a dedicated database. For example, try a CRM system to collect and organize all interactions with individual leads across channels (Snov.io CRM, Zoho CRM, HubSpot CRM, Zendesk Sell, Salesforce Sales Cloud Lightning Professional, etc.).
Experiment with the channels first to get the result you want. Do not base your work on assumptions that are not based on your experience.
Here are a few more ways to improve your omnichannel shopping story:
Optimize your site for mobile devices.
If you can budget, develop a mobile application or PWA.
Personalize your customer service every step of the way.
Use tools like SAP Commerce Cloud to provide a personalized and efficient shopper experience with end-to-end online shopping processes.
Offer different purchase options: buy online, pick up at a store; buy in a store, choose home delivery; buy online, choose home delivery.
#9. Use Video Formats And Webinars:
Video communication is more effective than any other form of coverage. Why? Well, if only because the topic containing the word "video" opens 8 times more often.
Create your own Youtube channel, publish educational and useful videos of your own production there, add links to videos in publications on your social networks, to an article on a blog.
As for webinars, this format became especially popular in 2020-20211 due to quarantine and lockdown. After spending more than half of the year in isolation, many people used this time to improve their knowledge in a particular industry. This trend is expected to intensify this year.


Apart from training and workshops, webinars are a great way to present your offer/product/services.
By turning your webinar into your sales funnel, you can attract cold leads and introduce them to valuable content that improves their brand experience and increases the likelihood of a purchase.
Let's consolidate everything with statistics that should be taken into account: from 20 to 40% of webinar visitors can become qualified leads. And these are not all the advantages.
Find a topic that will interest your leads and take action. An effective approach to attracting customers with this trend is to include native marketing of your product in lectures. But do it discreetly, because this is a webinar, not a demo.
Wrapping Up:
Not only can these sales trends help you become (or stay) a leader, but they must be used wisely. Choose the options that are more successful for your company, test them, and you will definitely be able to beat the competition today.
Yes, quarantine creates a lot of problems, but it also gives space for innovation and experimentation with existing sales trends.