It's happening. The year's greatest sales period is burning hot. The time of the year for all eCommerce store owners to implement their results-driven strategies has started. With less than a month until Christmas, everyone begins to buy and wrap their precious boxes, bags, and envelopes.
The National Retail Federation predicted that Christmas sales would grow between 8.5 % and 10.5% in November and December, totalling $843.4 billion and $859 billion. The real eCommerce drama.
How can you warm up the audience? Do you need to post entertaining home holiday content? Employ several techniques to guarantee that your holiday promotions benefit your prospects and increase total sales. This article includes actionable holiday eCommerce tips to optimize your business goals and create a great holiday marketing plan.
5 Powerful Ecommerce Holiday Planning And Tips
1. Take Care Of The Above-The-Fold Area & Header:
What is the above-the-fold area? The concept has been around since the invention of the printing press.
There were times when newspapers were spread through newsstands and folded in half. As a result, passers-by could see only the top half of the paper and decide whether to buy it or not.
Publishers realized that they should focus on this part of the page to attract readers with attention-getting headlines, information, and pictures. The same applies to digital content.
Above the fold is the content website visitors first see when the page loads. Anything that requires scrolling and isn't instantly visible is considered below the fold. Logically, one of the main eCommerce holiday marketing tips for store owners is reorganizing the above-the-fold part of the homepage.
Let's look at how Converse arranges its above-the-fold section. The first thing you see is the power statement, "Gifting Season Is Here". Paired with an explanation and a call to action, the copy shows customers they've come to the right place for holiday shopping. The content echoes the brand voice and doesn't overload visitors with excessive elements.


Screenshot was taken on the official Converse website
Remember, a minimalistic design is considered good practice. Furthermore, your store must not only look neat but also work fast and be easy to browse on any device. Keep in mind that a large percentage of your clients may be shopping from their smartphones or tablets. Therefore, as long as the design is responsive and the website is free from glitches, you're already one step ahead.
2. Rearrange & Enrich The Navigation Menu:
The process of choosing a present makes your head spin. But if the website isn't user-friendly, it completely ruins the chances of converting clients during the Christmas season and beyond. So the next item of the holiday selling eCommerce tips is seamless navigation.
Consider adding a new holiday category tab in the menu to make the products even more accessible. The homepage should also contain clickable banners and pictures to direct clients to the essential sections, such as:
Black Friday sales;
Christmas bundles;
New Year specials;
other promotions.
It will speed up the process of finding what they're looking for and increase sales.
The screenshot below shows how Adidas tackles the issue of navigation. A separate gift section in the menu is dedicated to men's, women's, and kids' bundles. You can see gifts for $100 and under or choose a specific category, such as:
gifts for runners;
sneakerheads;
family;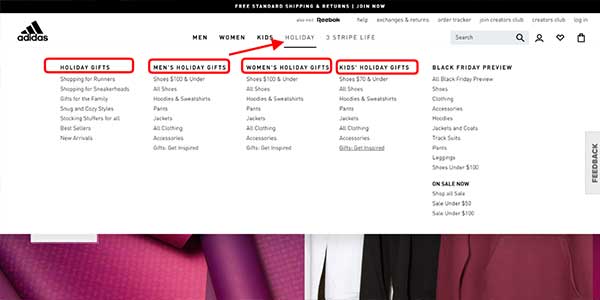 Screenshot was taken on the official Adidas website
3. Assemble Gift Sets:
Selling gift sets is another holiday eCommerce tip. It means you combine two or more items or services to sell as a unit. Such a strategy provides better value, improving the customer's offer for a fixed price.
You may come across other names of this tactic, such as:
product bundling;
package offers;
collections;
Gift sets prove their effectiveness as a profitable marketing approach, including so-called "pure-bundling", in which product collections are only available as a bundle and are not sold separately.
Why do people prefer gift sets? Bundles generally allow buyers to save 7 to 15% more than buying products individually. So why not have options, giving customers a sense of control?
Check out how NYX presents its holiday gift sets. You can see whether the offerings are exclusive, new, or best-selling. The best part is that the brand indicates how much these products would cost if not in a unit, highlighting that there's a profit.


The screenshot was taken on the official NYX website
4. Offer Discounts To Those Shopping For Gifts:
One of the powerful sales drivers is offering discounts. For example, Michael Kors allows its clients to save 25% off the purchase price as a holiday head start. It is also a perfect way to get customers to start shopping before the busy holiday season starts.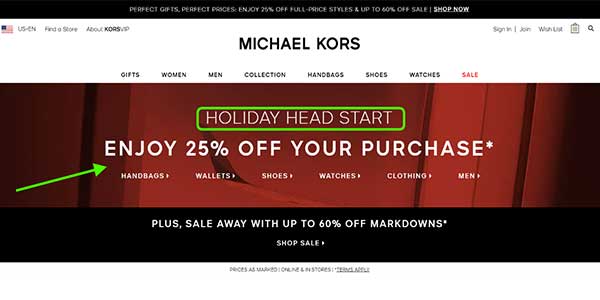 Screenshot was taken on the official Michael Kors website
Do you think discounts can reduce a company's average check? The truth is, they can encourage people to spend more than they would have, which makes discounts an effective eCommerce holiday marketing tip.
Set a threshold on free shipping and discounts. Let's say you provide a 10% discount on goods or services worth $125. If a customer has planned to spend $100, an additional percent off will push them to meet that goal.
The key is to advertise proper products that will help customers achieve their objectives. You can also benefit from freeing up space for new products. Promote high-margin items or the ones that are difficult to sell.
5. Suggest Gift Wrapping:
Online and offline stores use gift wrapping as a popular service and a holiday selling eCommerce tip. Some packages already look like a perfect gift solution, while sometimes, clients prefer to decorate them.
They can do it themselves or save time and effort by paying extra money for professional gift wrapping. It's usually the finishing touch to make a present truly memorable.
Such services increase customer loyalty because you help them during a busy season, so they'll recommend your business year-round. And the logo on the packaging promotes the brand. For example, you can encourage clients to share their presents on social media and tag your account.
Here's how Michael Kors makes the lives of its customers easier. You can pay $5 to get a branded package and a holiday card.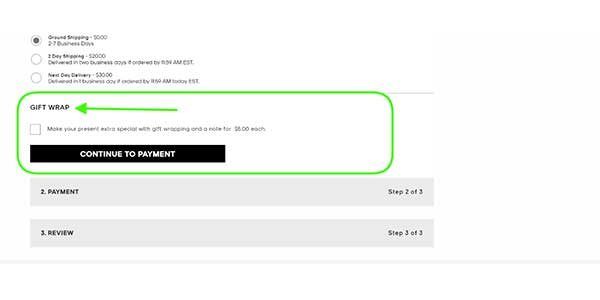 Screenshot was taken on the official Michael Kors website
Final Word:
What should you focus on during the holiday season? Stick to the evolving digital marketing trends and make sure that your online store will be capable of handling the additional traffic and order flow. Concentrating solely on one component of your eCommerce store won't lead you to success.
Work on all details at the same time and in advance. From early-bird purchases to providing consistent support with chatbots, this will help you make the most of the season. The following holiday selling eCommerce tips will ensure that the overall marketing strategy is feasible and profitable:
pay attention to the above-the-fold area and the header;
reorganize and improve the navigation menu;
offer lucrative product sets and collections;
give discounts on gifts;
propose wrapping a present.