The holiday season is fast approaching and you have run out of gift ideas for your loved one.  While saying "I love you" or "I'm so grateful to have you in my life" by word of mouth sounds wonderful, expressing those words using seasons greetings holiday cards means so much more. Since holiday cards never go out of fashion, you can never go wrong with sending them. This is what Mixbook seeks to prove. Find out how to customize the perfect gift idea for your loved one.
Writing Your Holiday Card Like A Pro:
1.) Start With "Happy Holidays":
People have short attention spans, but when you start with "Happy Holidays" as your first catchphrase, you will get them to read everything on the card. The goal is to jumpstart the holiday message with a warm greeting that will motivate them to read everything you have written.
2.) Know Your Target Recipient:
It could be your spouse, child, employer, or friend that you intend to receive the card as a gift. When you know your target recipient, you will have all the right words to say.
3.) Personalize Your Holiday Message:
If the recipient is close to you, normalize the idea of using their pet names or jokes. You can also use treasured memories to convey how you feel about them. This idea will surely pay off since you are adding a personal touch to your message.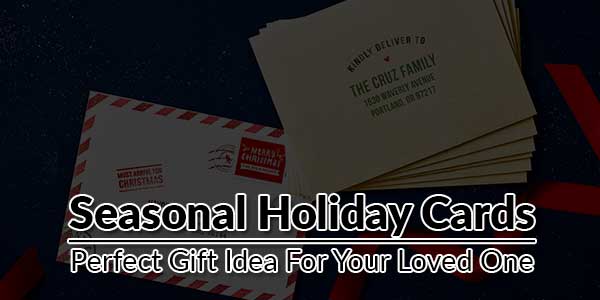 4.) Differentiate Between Business Holiday Cards And Family Cards:
Your employer or colleagues are different from your loved ones. When you are customizing business holiday cards, consider using cheerful yet appropriate words. For example, you can say "Wishing you happy and productive holidays in the years to come!" That is a special way of wishing them well and looking forward to another fruitful year.
5.) Use Humor:
It doesn't matter what you have gone through the rest of the year, now is a season to be happy. You don't have to be a comedian to have a sense of humor. Let yourself loose. But remember, your jokes shouldn't sound offensive.
6.) Use Holiday Quotes:
If you have run out of words to use, you can lift some of the popular quotes from authors and poets. Not only are they inspirational, but they are also familiar with many recipients. That is a perfect way to bring the season to life.
7.) End With A Signature:
You have proclaimed everything you wanted to say. Congratulations! One more thing: end it with a signature to let them know who it's from.
Let Us Customize Your Loved One's Holiday Card:
At Mixbook, we loved to share our experience with you through perfect holiday gift ideas. Whether you are looking to customize or to use our ideas to express yourself, we will be there to serve you. Visit our website today to get the best gift ideas from our gallery.