Bloggers know that building an audience can sound much easier than it is. Writing posts and publishing them, even if they're really good, won't make the number of pageviews start climbing. That's simply not how blogging works these days.
Finding the right audience, knowing how to go after them, and managing to keep them engaged requires a lot of planning and strategy. It requires resources and working hours that a single blogger or small business owner simply cannot pull together in the way a big company can.
So what can a blogger who isn't backed by their marketing team do to establish and maintain a competitive online presence? They can use the right tools to level the playing field.
From social media tools to SEO, we've got you covered. This list will show you the blogging tools that will help craft your voice, find an audience, and boost your online presence with ease.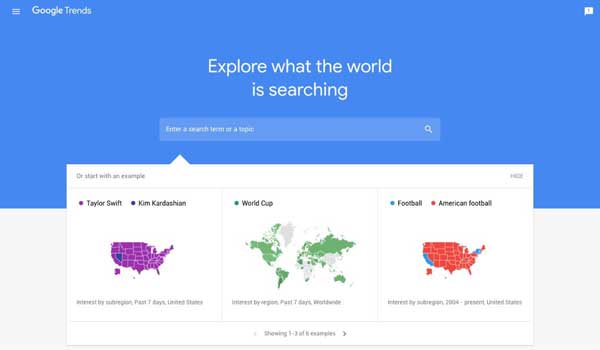 1.) Google Trends:
Google has become such an intrinsic part of using the internet that its very name has become a verb people use to describe searching for things online. As the biggest search engine, Google is the starting point of many browsing sessions, and it's also the place where people look up the things they need. Thanks to Google Trends, it's also a great place where you can get ideas for content.
Google Trends is a free tool you can use to keep track of search trends on Google. Apart from giving you great ideas for the type of content people are looking up, it can also help you determine which keywords you might include in your blog.
Apart from showing you what's trending, Google Trends is also very useful for looking up the keywords you were planning to use in your content. The tool will show you how frequently the keyword has been entered into Google, as well as a geographical spread of the interest and related topics and queries. For more search engine tools, review the full list of free SEO tools for bloggers.

2.) TYB Title Generator:
Understanding what keywords are and how they work is especially important for building an online presence for your blog. For example, keywords are important components of titles for your blog posts. But getting from a keyword to a title isn't always easy.
The Title Generator over on Tweak Your Biz is a great place to take your keywords and get some ideas for titles and topics for your articles and blogs. It's as simple as entering a keyword into the field, choosing whether it's a noun or verb and how would you want it to appear in the results, and pressing the "Submit" button.
The Generator will create dozens of possible titles and topics for you. It will categorize them into lists, questions, how to, celebrity, business, and motivation. Between all the choices you'll get, you may find a perfect topic for your next post based on your keyword. But even if it doesn't, the Generator will surely jog your creativity and help you come up with something.

3.) Hemingway Editor:
With all this talk of keywords and placement and trending topics, it's sometimes easy to forget that we're writing blogs for people, not for search engines. You don't want to go through all the trouble of boosting your online presence just so you can spread around poorly written content?
You don't; that's why you should try the Hemingway Editor. It will guide you through making your content more readable. Whether it's by making you keep your sentences short, or by giving you simpler alternatives to some phrases, this tool can help make your content more reader-friendly.
Keep in mind, however, that even though it was named after a famous writer who had certain rules in writing they followed, no one is making you follow the Editor's suggestions to the letter. Sometimes, it's okay to let complicated words or sentences just be and trust in your audience they'll be able to deal with them.

4.) Yoast SEO:
We're back in the world of SEO and boy do we have something to share with you! Its name is Yoast SEO. It's a WordPress plugin and it's simply marvelous – even if you use the free version. Yoast SEO boasts its ability to help you get more visitors from Google and Bing as well as social media and to increase the readers' engagement.
How does it do that? By giving you all the hints you need to optimize your content. Yoast will help you with SEO by showing you the preview of your snippet as it would appear in search results, for example. It will point towards common SEO mistakes. It will let you edit meta content.
Yoast SEO will also help with readability and the appearance of your content when shared on social media. All of this together makes it one of the most useful plugins a WordPress blogger can have in their toolbelt – a definite must-have.

5.) Mailchimp:
No matter how much you'd want to focus your efforts on building a presence on social media or getting great rankings in search results, forgoing email marketing would be a serious mistake. Not only is email still one of the most effective marketing channels, but it's one that's completely your own – you own your mailing list, as opposed to the list of your social followers.
Mailchimp is the leading solution for mailing list management. If you have a small number of subscribers, you can use it for free. As your reach grows and you're able to get more people to sign up for your mailing list, you might consider opting for a paid plan.
But while you're waiting to get to that bridge so you can cross it, you can enjoy the many features Mailchimp offers for free, including access to a marketing CRM – for one audience only and up to 2,000 contacts in the free version. You can use it to create signup forms, as well as beautiful emails. If you don't give it a try at least, you'll be missing out on something great.
6.) Leadpages:
Speaking about email lists, how do you get signups? The best way is with what's known as a lead magnet. A lead magnet is a freebie offered in exchange for an email sign up, such as a free eBook, downloadable, etc. But you still need somewhere to collect those emails, and that's where Leadpages comes in.
Leadpages is a well-known page builder that lets you easily design customizable landing pages that convert to email signups. You don't need any design skills, marketing know-how, or coding experience to make a Leadpages for your email list. It's completely drag-and-drop, and it has all the features you need to start collecting leads.
A couple of things to note with Leadpages is that it helps you create incredibly fast pages, which is a major bonus. It also lets you create a lot of them, so you can assign a landing page to each traffic source. Finally, this is a tool you'll have to pay to use, as it only offers a 14-day trial. Still, it might be well worth your money.

7.) Canva:
When you've been a content creator for a while, it's hard to find a tool that will excite you. Stumbling upon Canva can be a revelation – a full-fledged photo editing and design platform that puts a list of incredibly powerful possibilities at your fingertips – for free.
Visuals play an important role in blogging. Even if you use images to break up your text and give readers some pause, you're letting them do important work. But more importantly, images can become highly shareable content you can use to lead people to your website.
Infographics can do that, for example. You need some quality data and a good design for a good and shareable infographic. Canva will not help you with the data, but it will make the design process easy and fun. It will do the same for any type of visual content you want to create. It will even lift the burden of having to find free photos, as you'll be able to access them right from Canva's interface.

8.) Buffer:
Managing several social media platforms can feel like a chore. There are seemingly endless ways to keep up with your audience, and it's easy to let one channel slip through the cracks. The good news is you don't have to spend all of your time on social media. With Buffer, you can automate those tasks that used to take hours before.
Buffer is a social media management tool that lets you schedule posts across social media in advance. Also, you can analyze your social media progress to make sure you're spending your time effectively. It's a huge timesaver for social media.
Buffer shines as the central hub where you do all your social media planning, creation, and scheduling. It allows collaboration if you want to bring someone else on board, but it does come at a tiered pricing structure that limits how many channels, posts, and users you can have.

9.) IFTTT:
Short for If This Then That, IFTTT is a self-described platform for making things work better together. If you have a service or a product you use, and you want to find a way to use it with another service or a product, IFTTT might be just the place to look for help.
Here's an example of things you can set up if you have a WordPress blog with IFTTT: automatic sharing of posts to a Facebook page, pinning it on Pinterest, tweeting it on Twitter, posting it on Tumblr, Reddit, Blogspot, even a Telegram chat.
It goes the other way around, too – you can set up to have your Instagram photos posted on WordPress. You can do the same for videos. You can set up that adding a new note in Evernote creates a draft post on your website. And that's not scratching the surface of useful, content-related things you can set up, for free, and grow your blog more easily.

10.) Siteliner:
Siteliner is a tool based on a simple premise – your website shouldn't have duplicate content or broken links. Search engines don't want to see it, at the least, so why not make sure that their crawlers don't find two pages sporting the same copy, for example?
The reason is that it's sometimes difficult to ensure that every link leads to somewhere and every piece of copy only appears once on a website. And it gets harder as the website grows. But that's why you have Siteliner – it will check it for you, saving you from the ire of search engines.
With the free version of the tool, you can do a monthly check of your website if it has up to 250 pages. That's a requirement blog should manage to meet, but as your blog grows, you might consider using the Premium version if you think it brings enough value to your blog.

11.) 1Text:
Duplicate content on your website is one thing; being accused of plagiarism is completely different. Still, thanks to the nature of blogging and how everyone is looking to everyone else as a source of inspiration or information, it's very possible to slip up and create content that resembles something that already exists a little too much.
Search engines might not like that, reducing your chances of appearing in front of your audience.
That's why you should consider popping over to 1Text and checking your content for plagiarism.
The tool will show you the percentage of plagiarized content and the source with the most resemblance. You'll also be able to see in the text the areas that might need more work, and you'll be able to do that work right then and there in the interface.
Are You Using The Right Blogging Tools?
Now that you know the best tools to boost your online presence, there's no excuse to sit around and wait for traffic to come to your blog. In this day and age, it simply won't happen. The good news is you don't have to do this all on your own. With these blogging tools above, you can supercharge your blog to the next level.
The world of blogging is undeniably changing, but it just got easier to stand out no matter your experience level. While you likely won't need every tool on this list, try a few that sound like a good fit for your needs. Who knows where they'll take you?