Every business looks for their company to stand out from the crowd and compete with the competitors by making a considerable amount of profit. In the competitive market, you need to be one step ahead of everyone. A logo design service in India can play a significant role in the market and capture the attention of potential customers.
A very well-designed logo is an important component for your business identity, it depicts the company. Every design in the logo such as colour font, shape speaks about what you do. If you go for the custom logo design it would help you to deliver the brand's value and personality to the prospective users.
A logo is a combination of several images and text that informs users about your work. It builds up the visual symbol for your work. A good logo is always memorable and maintains the client relationship.
Why Should You Go For The Logo?
It will help people to stick around your website. Also, it will give insights about you to prospective clients. You can use it as a communication medium. It is very important to have a professional logo because if it is not, people would question your ability. Also, it might set a bad impression on you.
To build a logo, you need to ensure that it creates a positive relationship with your people. Also your logo you have deep symbolization.  One should use creativity to the full extent to design a logo.
How To Build A Good Logo?
A small business logo is quite easy to interpret and clear. It is important to ensure that your logo is unique and intuitive so you can use it on different social media channels. A small logo needs to have good colours, visual elements, great typography, and much more.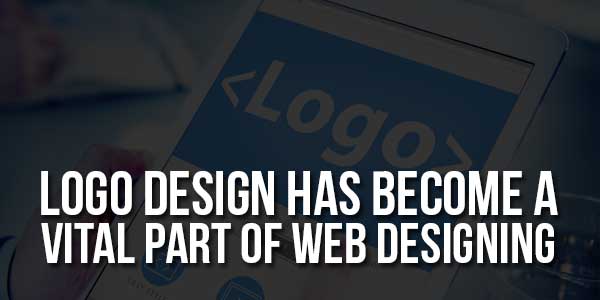 5 Reasons Why Logo Design Has Become A Vital Part Of Web Designing:
A Logo Helps You To Build Brand Loyalty:
If you make a website for a new business or established business, brand loyalty is always a concern. Brand loyalty is associated with several other elements that impact your brand identity. Whenever any user visits your web page, the most important part they notice is the logo. Hence if you want to impress the customer at the first attempt, have a great logo.
The logo is the best tool that is used to win the trust of the people. Also, it helps you to make huge profits in the businesses.
A Logo Helps You To Present Your Work Uniquely:
You should be unique from others to attract more customers to your work. A well-designed logo would help you to compete with your competitors. If your logo design is quite creative and unique, then it will stand out in the market and gain special attention. It will bring more opportunities for you to grow your work.
Logos Are The Best Tool For Marketing:
If you are running an offline or online business, you might need to have a strong marketing strategy.  You need to present your services and products in such a way that it attracts people.
With so many of the online applications available such as Instagram, Twitter, Facebook, many people have begun to target audiences using such platforms. To target people on social media, you need to work on building the Logo. Every successful business invests a good amount of money in marketing to improve sales.
With a great logo, your customers would be able to build an instant connection between the services and products. Since you have included all the elements in the logo, it would give a better user experience.
A Logo Builds The First Impression:
Many people judge your companies on basis of their logo. Hence you need to ensure that the logo is designed in such a way that it put the right impression. The first impression is the last and it can make a high impact on it. If your logos are quite impressive, they can help customers to decide whether they should buy a product or not.
For example, if you are building an eCommerce website, your website is the medium by which you can make huge sales profit. And for this also, logo design plays a significant role that helps you to distinguish your brand from others.
A Logo Helps You To Express The Brand Message:
The logo is not all about design or adding the other elements, it should be able to portray some meaningful full message. You should design a logo in such a way that your customer should be able to think for a while. Before designing a logo, it is quite essential to understand few things like what message should it portray to users, does it align with your niche, and much more.
Why Should You Consider A Professional Logo Designing Company?
Like we have discussed before logo designing has some great importance. It involves both in website and overall web presence. If you are struggling to build a design, which is clean and intuitive, you should consider hiring a logo designing company.
It is quite essential to know what a website design is looking for. Various companies do not apply Responsiveness and SEO to their website. But the professional logo designing company would completely assist you in designing the logo.
Summary:
While you build a business, you should never compromise on the logo. It is one of the most important components that help you to establish the brand. It acts like a powerful tool that attracts potential customers. Some of the points mentioned above would help you to understand why the logo is essential for your business and how you can use it.  If you decide to go to professional logo design services in India or a graphic designer, you will get a few mockups of the logo designs that would help you to understand your motives.