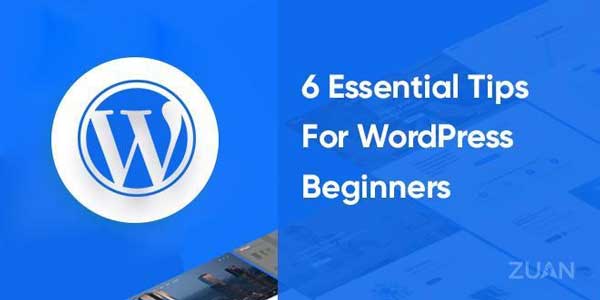 Rapid Outline ~ This piece of writing is for those who are beginners to WordPress building their freshman website. This article will guide you in improving your WordPress developer skills and building the sites that search engines actually love. We will cover the major essentials of WordPress and tutor you on what you need to do to get the most out of your WordPress customization.
In 2021 39.6% percent of the websites are built with WordPress that is a growth of 5% percent more than the previous year.
A major myth about WordPress is that WordPress sites are used only for blogging but that's not true. Even in 2021 enterprises, companies, e-commerce stores that started with WordPress are running successfully.
Pen Down These Essential Tips And Tricks For Your Beginner WordPress Customization.
1.) Choosing A Domain Name:
First, you need to choose a domain name that attracts you and your audiences. Your URL is the first thing people are gonna see at the very beginning, so make sure you own a domain that impresses your visitors. A bad domain name doesn't give you a better output to your site.
Key Takeaways for choosing a domain name,
Always use .com (43% of the domain names use .com because it's familiar throughout the world).
The shorter your domain name the better people will remember it.
Easy to type and pronounce.
Avoid using hyphens and numbers on your domain. (people are lazy to search for symbols and numeric characters on the search bar).
Use keywords on your domain name for SEO purposes. (Use domain name generators with your primary keyword in them, to find a random domain name if you don't have any idea on how to set up your domain)
Think of long-term instead of short-term.
By choosing the right domain name you are set to go to the next level of sculpturing your website.
2.) Find A Better Web Hosting:
Having a hosting space that speeds up your website is more crucial when choosing a hosting provider. By choosing the right hosting space you out beat 70% percent of your competitors who don't have better loading times.
Benefits of having a lightning speed hosting provider
Website crash alert is way too low,
Your website security status will escalate,
Formidable technical support,
Your domain associated email address,
Possibility of SEO and more.
Give more importance to your hosting service. The greater the speed the greater your website will carry out.
Discover which hosting sites are performing better and find a plan that suits your needs.
3.) Choose A Lightweight Theme:
Now, after setting up your domain and installing WordPress in your hosting it's dominant to have a good WordPress theme that doesn't affect your site speed.
Your website theme plays a major role in your site loading speed. So choose a theme that's extremely light in weight.
Lightweight themes will load in an instant. Lightweight themes are optimized in their code level, if something isn't required in the code these theme developers won't unnecessarily add codes that add weightage to your theme. These themes are SEO optimized.
There are many free resources for lightweight themes you can find on the internet. My personal suggestion would be Astra. As far as I'm concerned Astra has performed better on my website.
Choose from the category of your website and find the best lightweight theme that suits your needs.
4.) Must-Have WordPress Plugins:
Yoast SEO – helps you to optimize your pages with keywords and added meta descriptions.
Elementor – with a simple drag and drop function you can originally design your website. You can also select the pre-built templates that Elementor offers.
Optimole – This is an awesome plugin that automatically scans your website and compresses your images for better loading speed. you can also resize your images.
W3 total cache – helps to cache users' browsers and increases loading time speed.
Pretty Links – Affiliate marketing tool.
Contact Form 7 – to collect people's mail IDs and contact numbers.
These were the startup pack for the WordPress beginners plugin. Once you dive deep in you will find a lot more to surf.
5.) SSl Certificate:
Why is an SSL certificate important?
Because google officially announced that, sites that don't have an SSL certificate won't be considered as a secured website anymore.
An SSL certificate reduces the risk of phishing, increases your search engine ranking, secure your user's payments method and showing to your user's that you can be trusted.
6.) Link Google Analytics:
Never forget to track your website's behavior link google analytics to your site and track what users are looking for on your site.
Google Analytics is a completely free tool that can track every single action on your website.
Like who are your visitors,
What are they looking for and when,
Where are they coming from and for why,
How are people interacting with your site, etc.
Each and Everything can be tracked with google analytics.
Make sure you optimize your website according to users' actions and help them find what they are looking for.
By optimizing your site you end up receiving a good amount of traffic to your site.
Closure:
By implementing all the above steps your full site setup for WordPress is ready to go. Once your site starts receiving more traffic, learn the advanced features of WordPress tutorials and build your site to make it more attractive.
These were the topmost essential tips for WordPress beginners who are just starting and building their site. Follow every step above to further improve later.