The onslaught of the electronic age has had several negative effects on our environment along with the obvious advantage of technology they bring. Computers were never meant to be detrimental to humankind in any way but along the way, we have ignored one of the most vital aspects in the process – disposal. Electronic items, like any other device, have a definitive life cycle.
The usual process till now has been to just dispose off old computers and related accessories in the trash bin, just like we would do with other kind of household waste. Well, all of this waste go into landfills and have been seldom segregated and recycled.
When electronic wastes go into landfills, the problems just start showing up. Components such as printer cartridges and circuit wires gradually decompose and release the inherent toxicity and other chemicals into the soil. This has been going on for a long time now, so much that we are in a situation where e-waste and computer disposal is a global concern.
The toxicity isn't just limited to the soil. Through the underground water table, it compromises our water source. Further, this water seeps into the river streams and oceans and affect our marine resources and other marine life. Frequent cases have been reported across the globe where improper e-waste has taken the form of life threatening diseases, skin diseases or rendered drinking water unsuitable.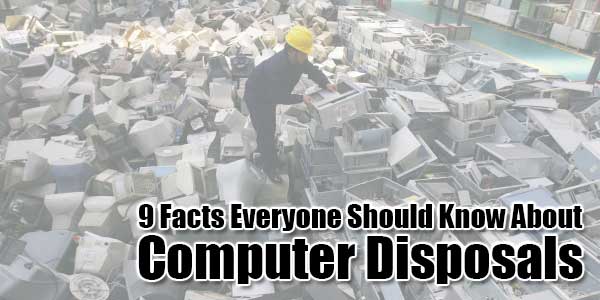 Here are 9 facts and statistics that every computer/laptop user should be aware of:
In the year 2009, the number of computers, its peripherals (printers, fax machines, scanners, etc), keyboards, mice, cell phones and televisions disposed, amounted to more than 2.37 million tonnes. The number has been growing ever since.
While e-waste accounts for just 2% of American trash that goes to landfills, it also accounts for more than 70% of the toxic waste.
As of today, more than 50 million metric tonnes of computer and computer related waste is disposed every year across the globe.
It's interesting to know that a large part of the conceived e-waste isn't waste at all. A lot many parts are readily marketable and recyclable. For 1 million cell phones sent to landfills, we lose 35,275 lbs copper, 75 lbs gold, 772 lbs silver, 33 lbs palladium and other precious metals. Inspite of doing this, we look to further dig our mines and degrade the natural terrain.
According to the EPA, computer disposal and e-waste is the fastest growing stream of municipal waste.
Computer recycling can save a lot in energy usage. To give you an idea, recycling 1 million laptops can save the energy that can power more than 3,657 of average US homes every year.
To produce one computer monitor, it would take nearly 530 lbs fossil fuel, 48 lbs of chemical and not to mention, 1.5 tonnes of water.
E-waste has become so pressing a problem that countries like the US are looking for other continents to dispose off their e-wastes. The roads in Guiyu, China are covered with burnt circuit boards, plastic, copper wires and other chemicals. Lead poisoning has become a common problem in this part of the world and in some other African countries.
At present, the world recycles only about 12.5% of e-waste. However, if we were to put ourselves in a better place, this percentage has to increase several times.
Electronic waste has been making this planet more and more toxic every day. The situation requires every person to become more aware and do his part.