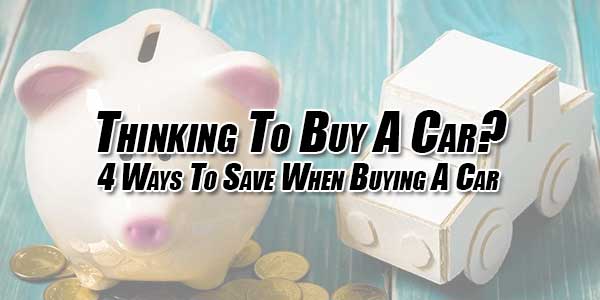 Consumers are always searching for ways to save money. For most, the goal is to build up a healthy savings account. There are dozens of ways to boost savings, including selling extra vehicles that you don't need, taking on a part-time job, or using life settlement companies to get quick cash for insurance policies. But for most people, everyday life includes events like buying a car, paying monthly bills and keeping discretionary spending under control. When you set out to purchase a vehicle, there are several things you can do to make sure you spend the lowest possible amount of money on the best possible car or truck.
Study Your Choices:
In today's cyber age it's easy to do extensive research on car makes, models and trim levels. The Internet is jam-packed with data about cars, consumer ratings, feedback from actual buyers and other relevant data to help you make an informed decision. Perhaps, like most prospective buyers, you have a few favorite car brands. Use two or three of your preferred models as starting points but be ready to eliminate the ones you truly can't afford. One of the most beloved cars of all time is the Ferrari. You can pick up a used one for around $100,000 but it's probably best to stick with reliable, more affordable choices like the Hyundai Accent or Chevrolet Sonic.
Comparison Shop:
Check out at least four dealerships and online sellers once you decide on the make and model you're looking for. Even with all the comparison-shopping resources available, most consumers are surprised at the price differentials between dealers and geographic regions for the exact same car. Take your time and you'll eventually locate the seller with the lowest price.
Opt for High-Quality Used Vehicles:
Low-mileage used vehicles, less than four years old, are among the best buys on the market today. You'll instantly save thousands of dollars by snagging a one or two or three-year-old model rather than the fresh version. No matter what the dealers offer as "cash rewards," or "no interest until…," you're better off getting a used model.
Look for odometer ranges that show less than 12,000 miles of travel per year since the car was new. When buying a used car, it's best to go through a dealer that has certified pre-owned vehicles that have undergone extensive inspection. Many of these cars come with warranties and low-cost service contracts.
Use The Power Of Cash:
If you buy from a dealership, never underestimate the power of cold, hard cash. Dealers will often give you a significant cash discount if you buy for cash, or can afford to pay as much as half of the total cost in cash. Don't mention that you are intending to pay cash when you begin negotiating with the dealer. Try to get the absolute lowest price, with a little bit of good-natured haggling, and then say, "Okay, I'm willing to pay half that in cash right now. What kind of discount can I get?" Don't be surprised if you are able to get an additional 5 or 10 percent off the asking price.