From years, the competition in between Android and iOS is going on in terms of superiority among both. iOS is an operating system which is released by Apple Inc. in 2007. Basically, the invention of iOS was for the purpose of iPhone, Apple TV, iPod touch and all Apple devices. See all the versions of iOS with their unique features.
| iOS version | Unique Feature |
| --- | --- |
| iOS 1.0 | Touch controls, entertainment and internet |
| iOS 2.0 | Full with Apps |
| iOS 3.0 | Features in abundance |
| iOS 3.2 | iPad |
| iOS 4.0 | Multi-tasking, FaceTime & folders |
| iOS 4.1 to 4.3 | Game center, AirPlay, Antennagate |
| iOS 5.0 | Siri, wireless sync & iCloud |
| iOS 6.0 | Apple Maps, Passbook, Facebook |
| iOS 7.0 | A new fresh look |
| iOS 8.0 | Apple Pay, Health and Family sharing |
| iOS 8.2 to 8.4 | Apple Watch & Apple Music |
| iOS 9.0 | Smarter Siri, News & Notes |
| iOS 10 | Portrait Mode and Unique Emojis and more such awesome features are coming |
App developers from the world are doing an astonishing job on the grounds of app development using different technologies. It is your duty to select the most advanced, reputed and exceptional assistance providing iOS company for developing your needed app.
iOS application development is an easy task and is managed by experts from the reputed app development companies. The latest version of iOS 10 has released its thirds beta 10.2 for developers to test and discover some more improvements for the newest Apple TV application.
Apple TV App is bringing huge changes in the history of Television. Introducing the new-fangled Apple TV App, they are building more trust in the eyes of customers.
Apple TV App is coming with some extraordinary changes and some awesome features –
Awesome 'Up next' feature that keeps the record of all the channels that you are watching across all the multiple devices.
Exceptional 'SOS functionality' that helps users to contact emergency services with the pressing of the power button.
Interesting 'Send with Love' feature that helps to send a heart with a text message.
Streaming quality: In the settings section of TV app, there is a new feature that helps the user to select cellular data for the playback need and to select the streaming quality on Wi-Fi & Cellular.
HD or SD Store: Also, there is one feature that helps the user to buy or rent different HD or SD from the store.
You have to be very clear and precise with the app development process as it is very important to face right services for delivering the best output in the market. iOS app development is the most important and peculiar task that should be handled with intelligence.
iOS app development is a complex process which is managed by the experts to bring awesome results. You can never deny this fact that iOS is far superior to Android in terms of its functionality, features and everything.
All over the world, the reputed and established iOS app development company is trying to introduce a revolutionary change in the history of app development. We all know that Apple has always come up with exceptional changes on the grounds of IT fraternity.
The overall demand for iOS apps is never-ending and that's why making iOS apps for your business needs is necessary. So just contact the best iOS app development company for getting the best outcomes in terms of your app development.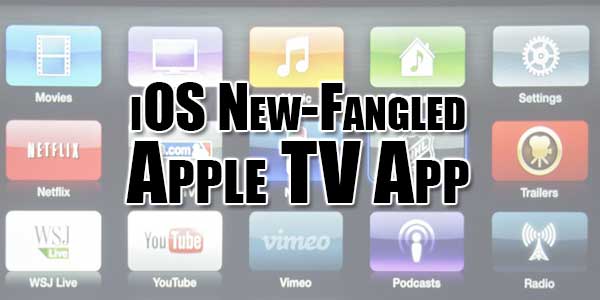 Here are some top 10 Apple TV apps with awesome features…
1.) Airbnb:
Are you a constant traveler? Relax! Airbnb is the app that will enhance your travel experience by providing a number of advantages prior you go for a visit. This app will provide you the facility to search the best accommodation that will give you the experience of home. With the help of Apple TV Airbnb's app, you can browse different photos from the list on your TV and build rentals by pushing the button.
2.) Beat Sports:
The Beat Sports app is developed especially for game lovers as the name of app is usually referred as Official Remote App for Beat Sports on the New Apple TV. Now, play this game on Apple TV with the help of your remote for hitting the ball. Beat sports game is built by the most famous Harmonix who are the originator of The Rock Band.
3.) Carrot Weather:
It has always been a boring subject to discuss weather but why this subject is always found to be the most uninteresting topic? Carrot Weather app is bringing revolutionary changes in the ways of presenting the weather forecast. The app provides all the weather forecast which is powered by the Dark Sky. Carrot Weather presents the weather information in the most unique and humorous way like "It's a hot day today! Just joking, it's a beautiful rainy day."
4.) Gilt –
Gilt is most famous online shopping website from the USA, when it was heard that Apple is bringing Gilt on Apple TV, people were not happy. But when it really gets applied, the result is awesome as people are damn happy to do online shopping on a big screen.
5.) Netflix:
Netflix is a live platform for viewing online movies and TV shows but bringing it on Apple TV will add more interest. Netflix app provides a simple and trouble-free platform to stream the required movies and TV Shows.
6.) Flickr:
A regular Flickr user must try the Flickr App for Apple TV which is a highly useful feature. The app provides effective ways to search billions of photos on the Apple TV. You can also create different photo albums and share it with your friends. Also, you can modify the photo album in real-time with more than fifteen screensaver modes and slideshows.
7.) Hyper:
Hyper app for Apple TV helps people to find the best uploads from the hundreds other. The sorting of videos is done by the team of award-winning filmmakers who are basically from the US. You can find the best and most updated online videos with the help of Hyper app.
8.) Streaks Workout:
Now face the best exercise training on your Apple TV with the help of Streaks workout app. This app will train you with the new exercise and workout moves that will consistently keep you healthy. You can also track your health and fitness with the help of other Streak's task management apps. Stay fit, stay happy!
9.) Watch ESPN:
If you are a true sports lover then Watch ESPN app on Apple TV will make you super happy. With the help of this app, you can stream feeds from the entire ESPN network at any time. Apple TV with Watch ESPN is the best combination to sit on your couch and enjoy your favorite sport.
10.) Reuters TV – Video News:
Reuters TV: Video News is built for news lovers as the app runs on Apple TV and offers video news on your screen. The app has a unique feature that asks for a time period to decide for running that video news. If you had set 10 minutes or 20 minutes then you will able to see a wide range of video news with the latest and fresh news till your allotted time gets finished.
Summary:
With the increasing market of iOS, it is clear that, in the upcoming years iOS App Development Company will introduce unexpected and exceptional gadgets and apps in the market. If you want to stay updated in the market, it is highly essential to walk with the modern technology inclination.