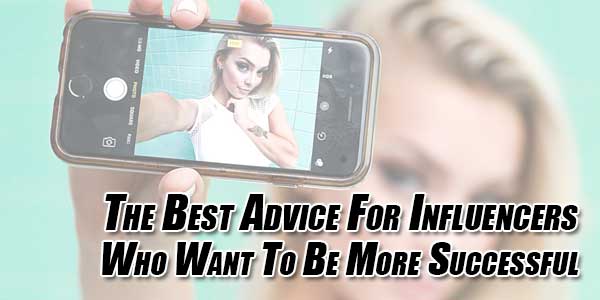 There was a time when celebrities were regarded as people of higher stature, inaccessible to the general public. There was an air of mystery surrounding their lives, both professional and personal. They were meant to be worshipped and adored from a distance. And their worshippers were called "fans."
Today, with the advent of social media, fans have turned into "followers," both literally and figuratively. Platforms like Twitter and Instagram give these followers a means to keep up with the lives of their favorite celebrities. This, in turn, has created a new breed of celebrities known as influencers.
Influencers are those social media users who have huge fan followings. And, as the name suggests, they can influence this group of followers.
Influencers can collaborate with brands and even shape popular opinion about things in their niche. If you're an aspiring influencer, or an influencer who wants to become more successful, this post will give you all the information you need.
Celebrities Vs. Influencers:
Unlike the enigmatic celebrities of yesterday, influencers engage personally with their followers. Their lives are not shrouded in mystery. Rather, influencers share a friendly rapport with their community of followers. And this community considers them to be experts in a particular topic or niche.
Because of the accessibility of social media platforms, followers feel closer to their favorite influencers. They will swear by the choices of their social media role models. They will remain loyal to the recommendations given by influencers. This is why marketers often approach influencers to endorse their products or services.
The main advantage of influencer marketing is that marketers don't have to directly engage with their target audiences. That job is in the hands of influencers. And because the influencers communicate personally with their audiences, it gives them leverage with the fan community.
Do Influencers Struggle?
The age-old wisdom of "all that glitters is not gold" applies to influencers as well. On the surface, they may seem to be leading the perfect lives, filled with luxury and adulation.
However, you would be mistaken if you think that building a loyal fan base on social media is a cakewalk. It takes time and effort to create that kind of rapport with your audience. What's even more difficult is sustaining that kind of loyalty.
Not everyone with a social media following of thousands or more can become an influencer. If you want to join the fast-growing bandwagon of influencers, read on to learn how.
Choose Your Niche:
"Jack of all trades, master of none," said no influencer ever. In order to have a strong community of followers, you must adhere to a particular niche. Look at your strengths and weaknesses very carefully. Then select a niche that you are most comfortable working in and never break away from that.
The most common niches include travel, fashion, food, and lifestyle. However, don't be afraid to experiment outside of these conventions. The novelty or popularity of the niche isn't as important as what you add to it.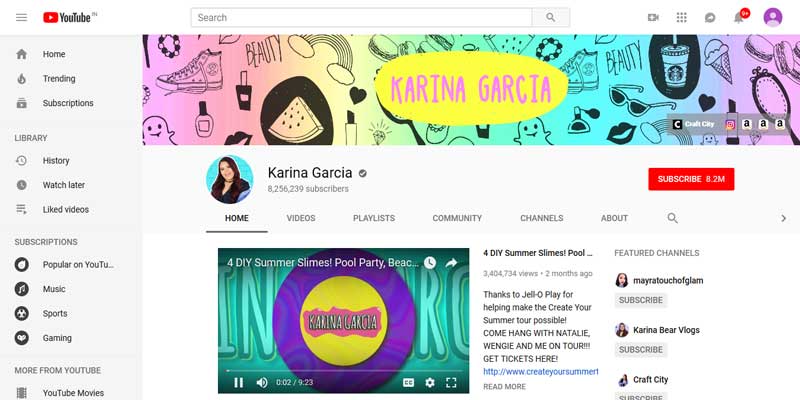 Take YouTube star, Karina Garcia, for instance, who saw overnight success by uploading wacky slime videos. She has more than 8 million subscribers on her YouTube channel. And she has created her own crafting brand named Craft City; all while she's still in her early 20s. Her fans have rightfully labeled her as "The Queen of Slime."
Find Your Unique Voice:
You'll never build a large fan base if you offer the same redundant content that is all over the web. Your channel, on whatever platform, has to offer something that is unique. Rack your brains and get the creative juices flowing. Develop content that your audience will look forward to watching or engaging with.
Don't do something just because it's the trend of the moment. It will pass; your unique voice will not. You need to generate content that will appeal to the sensibilities of your audience.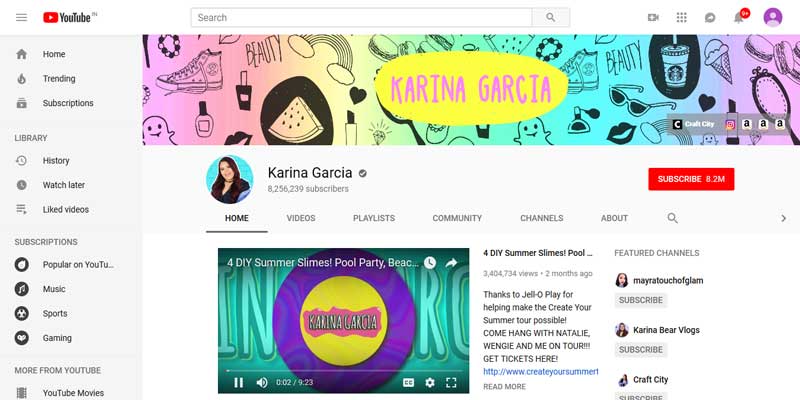 Instagrammer, Katie Stauffer, identified her USP in her twin toddlers, Mila and Emma. She has gained immense popularity by posting various videos of Mila. What makes the content unique is Mila's take on all-things-adult and her cocky delivery style. That is what distinguishes this account from any other infant fan page.
Post Regularly, But Don't Compromise On Quality:
It is true that in order to keep your audience engaged, you must upload posts on a regular basis. However, that doesn't mean you can get away with shoddy content. If you have set a certain standard for your content, your fans won't accept anything below that. You have to find the right balance between the frequency and quality of your content.
A great way to communicate on the go with your fans is through the Stories feature on Instagram and Facebook. Stories are often a more personal form of interaction, helping your fans feel closer to you. Even a simple selfie with a message for your followers will keep them busy until you're ready with your post.
You can improve the quality of your photos by post-processing them. With apps such as Mendr.com, you can have a professional photo editor handle all your  post-processing needs.
Mendr's editors are skilled to make changes big or small, whether you want  to add or remove objects from your photos, swap a background, or add text. Now you won't need to spend extra time and money on another product photoshoot. The best part is that if you need to maintain a consistent aesthetic, you can upload a reference photo. So editors can follow the same aesthetic in the new photo.
Apart from uploading content on a regular basis, you should also be consistent with your posts. Meaning they should be rolled out at the same time on the same day, every week. This generates anticipation amongst your followers and gives them a reason to subscribe to your channel/account.
Collaborate With Other Influencers:
This trick is extremely useful for newbie influencers. Working with an influencer having a larger fan following than yours enables you to grow your network. Remember that you need to offer something worthwhile to the bigger influencer for them to collaborate with you.
Don't worry if you can't convince a bigger influencer to collaborate with you. You can approach a micro-influencer instead. They may have a relatively small follower count, but their audience is highly engaged and loyal.
Let's say you let a micro-influencer promote a particular product or service on your channel. In turn, they do a shout out to you on their channel. Win-win situation, isn't it?
Interact With The Community:
Building a fan base is easy. Sustaining a community of loyal followers is another thing altogether.
To ensure that your fans remain engaged with your page/account, you must interact with them. Respond to every comment and message. Every now and then, upload a post expressing gratitude to your online community.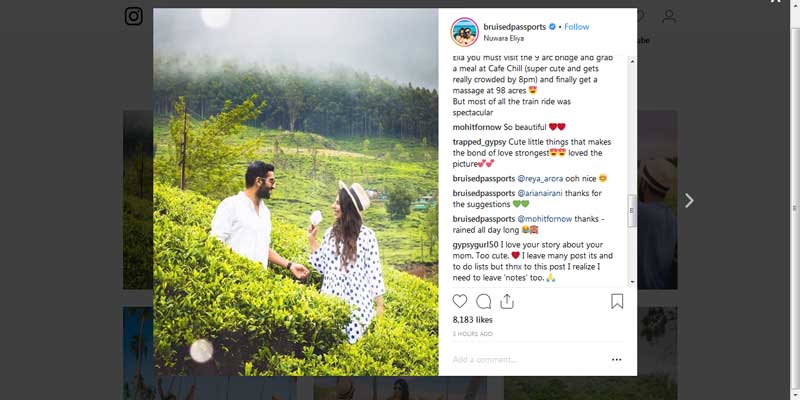 Travel duo, Savi and Vid, of Bruised Passports make it a point to respond to comments on their Instagram posts. They also do a shout-out for many fan posts. This works in their favor because the fan community feels rewarded when their idol acknowledges them.
Another easy way to maintain contact is by going "Live" on your channel. This gives your fans a chance to get to know you more personally. It gives them a real-time sneak peek into your life, just the way it is. They feel like they have a real bond or connection with you. It also helps you to understand their opinions and expectations more clearly.
Conclusion:
Becoming an influencer is no easy task. You must work hard and continuously post high-quality, engaging content in a particular niche. Slowly, people will start looking at you as an authority in that niche. Being consistent and maintaining your quality are keys to becoming a successful influencer.
Do you have any questions about the tips mentioned above? If so, do let us know in the comments section. We'll try our best to answer them.