It can be hard enough to start a business, let alone grow it to a respectable size. Still, every entrepreneur who ever wanted to develop a successful business had to ask a simple yet crucial question: what's standing in the way of my business' growth?
Lack of funding is the go-to answer. And it's true that money is often the fuel businesses burn up as they grow, with the hope they'll be able to pay off the investment. But let's say your business has just the right amount of money it needs. Would you know how to invest it to ensure your business' continuous growth? If not, here are some common barriers you could bring down using that money.
1.) Poor Market Research:
Poor market research might be the thing that killed more startups than anything else in the world. Research shows that the number one cause of startup failure is no market need for their product. And the only way you'd make something no one needs is by not doing good market research.
As barriers go, lack of market research is a particularly nasty one. It will bring your business to a halt, and if you're not able to pivot it into a new direction, you can say goodbye to your business. This is one of the barriers you shouldn't dismantle as you go — you need to think about it before you even start your business.
2.) Avoiding To Scale Tech:
Businesses that rely heavily on their websites, or any kind of software, must always have a plan of action for a sudden increase in customers or workload. If your online store can't handle the number of visitors it's getting, you'll miss a lot of opportunities. If your CRM tool can't handle the volume you need it to, you'll have the same effect.
Planning ahead can mean you have more resources at your disposal than you currently need. A good example is switching to dedicated server hosting as soon as your online store starts getting a steady flow of customers. You can also decide to use software-as-a-service instead of host your own software because scalability is one of the major advantages of the SaaS model.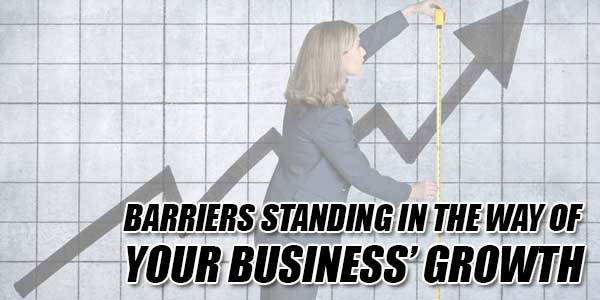 3.) Lack Of High-Quality Talent:
Every business comes down to the people that work at it. A great team of dedicated, hard-working, and highly-skilled individuals can move mountains with little to no funding. But if the people who work for your business lack the motivation, the skillset, or the experience you need them to have, it's very unlikely that you'll be able to grow your business.
You will need access to high-quality talent if you want your business to grow. There are a couple of ways you can approach getting the right talent. You can adopt the best practices of recruitment and hire people who will work for your company. Or, you can opt to work with freelance talent. That's an increasingly popular choice among tech businesses. At the end of the day, what matters is that the right people are on the job when your business starts showing signs of growth.
4.) Bad Information Management Practices:
A lot of today's business world revolves around the use of large sets of data to achieve business goals. It makes perfect sense — data about almost everything is gathered almost all the time, and we're going to see even more data available to us in the near future. You can easily access all that data, and there's more than enough tools that will help you analyze it.
Data can also swamp you. Wrong data will mislead you. Bad data might ruin you. With so much of today's business relying on data, a single thing that goes wrong can seriously derail your expansion efforts. That's why information management practices are indispensable if you want data to be an asset and not a barrier.
5.) Working In Your Business:
When you're launching a business, it's okay for you to take on multiple roles in it. You can be the product person, the marketing person, the chief executive, and the head of HR. Many startups rely on their founders to do a lot on their own for their survival.
But as you get to the point where your business is growing, you need to define your place in the business. If you're the person who took your business to the point where it's able to grow, you'll probably want to continue working on the business, not in the business.
As an entrepreneur, your business' expansion will be the major payoff for all the effort you've invested into it. But it's much easier for a business to fail than to get to the point where it starts growing. As the person at the helm, it's your job to navigate your business around the barriers that will keep it from growing. And the best way to do that is to learn as much as you can about the things that lie ahead.