People nowadays are thirsty for knowledge. Businessman, salespeople, Insurance agent, nurses, real estate agents, professors and many other professionals are more open to adult education and learn everything that they can to upgrade their gameplay.
That is why in the past two to three years, online courses have grown like a grass from different parts of the world. Books became affordable, online resources seemed unlimited and training both online and offline are often demand.
Because of the busy lifestyle that people have these days, they cannot find time to grow their knowledge because reading a book can be inconvenient at times. Especially those who are continuously moving from one place to another or even traveling from one branch, country or any other location.
Which is why podcasts are used as a modern method of learning while still doing other things. Yes, many people would not believe in multi-tasking, but research says it is possible under certain conditions. First, if one of the task it automatic or well-learned like walking, running, eating and so on. And second, if it requires different brain processes like studying while listening to the music.
Many people find podcasts very friendly, most especially people under real estate business. Most of their time is allotted to look for clients kand checking properties. The only time they can spare to study is when they have their lunch or when they are traveling to work.
Real estate podcasts are also considered updated, more relevant to present situation and real estate laws and most especially, it is time-bound. If there are any recent changes made to any area of real estates like selling, closure, laws and the like, podcasts will most likely discuss it in a manner that is true to the present situation. Books, on the other hand, might give you the basics but who knows which part of the book is already considered obsolete?
Most speakers of podcasts are renowned Real estate broker or consultant who had a solid and updated experience in the market. They also give chance to listeners to ask questions which will be discussed on the next podcast.
Another reason why real estate podcast is better than books is that it is mostly continuous. Speakers would usually have weekly podcast release that can be learned anytime.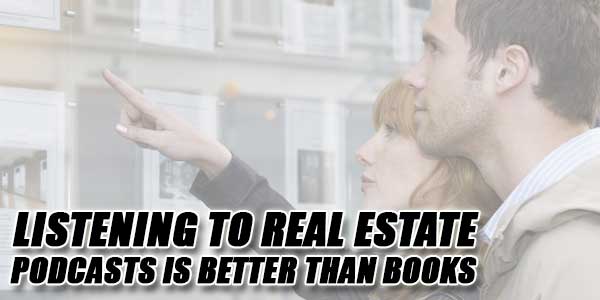 Where Can You Find Real Estate Podcast?
You can easily find podcasts online. You see, this generation has it easier than people before. Just click keys of your laptop and check which podcasts receive a lot of positive feedback. Below are some of the top real estate podcast that you need to listen to.
Leveling Up – An Arizona based realtor, Joshua Smith, is considered top in the country is now a real estate coach. Real estate brokers wannabe can get a great knowledge from his podcasts.
Real Estate Uncut – This daily podcast can help you learn from top-performing agents who share their experience an techniques as well as their work around in the business.
Real Estate Strategy Lab – Jeff Cogan's commentary and a mixture of devices are sought after by real estate agents. He also shares is marketing techniques and his methods in generating leads.
Agent Caffeine – This podcast is more on a deep dive approach to real estate. A weekly discussion about real estate software, lead generation and a lot more.
Agent Uprising – this podcasts help real estate agents get more clients. Its episodes are full of inspiration and tips for productivity and success stories that can help agents who are having a hard time getting clients.
These are just top four of several podcasts that you can choose from. Whether you are a beginner or an experienced Real estate agent, you should find time to listen to these devices that can help you bring in additional clients to your table and will also bring more profit for your company and yourself.
So make use of your time while you are jogging in the morning, traveling to work, waiting for something, or even eating your meals, there is no excuse for you not to learn new methods and techniques in reaching your customers and you can definitely upgrade your game plan with the help of podcasts.