If you wonder why one should start an eCommerce business in 2018 as there are so many of them already, consider that online sales are set to reach $684 billion in 2020. Compare this to $396 billion in 2016 and you'll see how much potential the market still has. There's also a matter of how easy it is to launch an eCommerce business today. You can do this on the cheap and get started in days. However, there are some important questions to ask before starting an eCommerce business. Proceed only after answering them if you want this project to be successful.
1.) What Kind Of Customer Support Service Will You Have?
Customer support service statistics indicate that a happy customer shares their positive experience of a brand with 9 people on average. However, an unhappy one will tell the story of how bad your shop is to about 26 people. That's the power of good customer support and how much it can do for your business.
Before you even think of designing a shop, you need to determine who will be dealing with customer inquiries on your behalf. Will you be using Live Chat? Who will monitor your social media accounts to respond to messages and comments? What kind of phone support will you provide? The latter is very important, so start with understanding the differences between call center vs. contact center and deciding which will be better for you.
2.) What Do You Need From Your Hosting Service?
The stability and speed of loading of your website are as important as its design. That's why one of the most important questions to ask when starting an eCommerce business is how to choose a web hosting service?
If you have no prior experience, study reviews and look into hosts specializing in powering online shops. Find out tech specs of the server you'll need to ensure stable and smooth performance of all the plugins you want to use.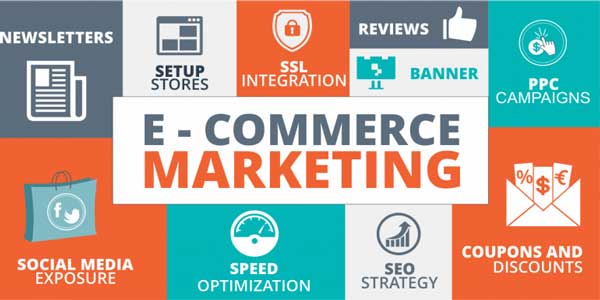 3.) How Will You Collect And Process Data?
Be sure to find out how technology can help you understand customer buying habits as this is a key to understanding your buyers and improving your shop. The process of data collection and analysis must be ongoing, so choose the software you'll use carefully.
Be sure to ask yourself what kind of data is most important for your brand's success and look for a solution that can effectively process it.
4.) How Will You Price Your Goods?
Right pricing is one of the most important elements of an eCommerce business success. You need to set prices that are high enough to bring you profit yet low enough to compete on the market. You'll have to compromise on some positions and run regular discount offers to attract more clients and enhance their loyalty.
Be sure to research eCommerce pricing strategies and try different approaches to see which will work out best for you. Bear in mind that your business is unique, so you might need to develop your own original pricing plan based on the existing strategies and data you collect. And don't forget to keep an eye on competitors as well.
5.) How Will You Market Your Business?
One of the most important questions to ask before starting an eCommerce business is how will I make people aware of it? Your marketing campaign must not only be thought through before the store's opening but you also need to launch it much earlier to generate some hype about the event and attract many buyers for your first day.
Start with researching basic digital marketing strategies and pick which of them you can afford and how to maximize the use of your money. As attention degeneration is your first priority for the opening, you'll need to focus on influencer marketing strategies. You should also use press releases to raise awareness of the upcoming opening through popular news outlets.
Be sure to research online information portals most popular with your target audience and focus on advertising there. It's best to have a highly focused marketing campaign for the launch as this will allow you to attract t more interested customers. Don't forget to add a special first-day discount to sweeten the deal and encourage sharing of your ads through social media by launching some simple contests dedicated to the shop's opening.