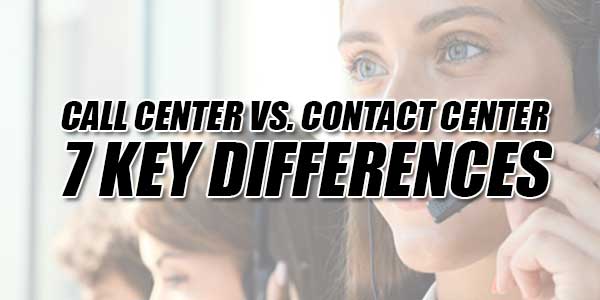 People often confuse them, but each model is tailored for specific purposes. It is essential to know the key differences between a cloud call center and contact center to avoid making wrong business decisions.
In short, call centers and contact centers provide a different experience. Also, communication methods used by the two of them are not the same. In this post, you'll learn 7 key differences between the two models.
1.) Communication Channels:
One of the major differences between a contact center and call center is that they use different service channels. Whereas agents in call centers communicate with customers on the phone, agents in contact centers can use emails, social media, texts, web or video chats, etc. Each agent can operate the channels from their own desktop. Given that the demand for digital communication channels is growing, contact centers are on the rise these days.
2.) Approaches To Customer Service:
The times when call centers could only use the phone for making calls are long gone. Call center facilities are equipped with many different instruments for a better customer service. Theoretically, it is possible to foresee the behavior of customers and provide answers to their questions even before they make a call. However, experience shows that it rarely works like that.
Making a call to send an outbound message to the customer is sometimes the only possible way to connect with the client. Some people leave home telephone contacts, others don't pick up the calls from unknown numbers. That is why there is a chance that the customer won't get this message at all. This is called a predictive customer service and it is not always effective.
Contact centers provide their clients with an alternative. People choose the most convenient communication channel, and hence there are more chances that they will receive your message. It is called a proactive customer service and this approach is more efficient than the predictive one.
3.) Efficiency Of Self-Service:
Many facilities use Interactive Voice Response (IVR) for automation. The IVRs in call centers designed specifically to reduce the number of same type calls that are transferred to the operator and self-service, which makes it harder for customers to get through to a real agent. On the contrary, the IVRs in contact centers are more sophisticated. They predict customer intent and hence enable much better self-service. Also, contact centers often use chatbots or some other similar methods to respond to clients' queries, which shortens the wait time and saves costs.
4.) Customer Profiles:
Since call center agents interact with customers over the phone, they often have to keep track of all the client information manually. Contact centers mostly work via digital channels, which makes the whole process easier. The use of various means of communication enables contact centers to gather more data about the customers because people tend to share different information through each channel. Therefore, due to a complete history of communication on all channels and a comprehensive portrait of each client, customer profiles in contact centers are more complete.
5.) Advanced Routing:
The more information about customers is available, the easier it is to route them to the best-suited agent. Both contact center and call center can provide that, yet again, contact centers usually have more detailed information about the client. Therefore, contact center software typically ensures more accurate routing.
6.) Agent Engagement:
Since contact centers are usually more automated, the wait time is shorter, and the interaction is more enjoyable for both the customer and the support representative. In some cases, the whole interaction is handled by the IVR, but if the customer reaches the agent, this means that their question is not basic. That is why the front liners need to be prepared for all kinds of unconventional scenarios and be ready to handle the most complicated requests.
7.) Consistent Customer Experiences:
Both contact centers and call centers are able to provide the very best customer experience, and this is what customers expect from every interaction on the phone, via email, or in any other way.
Contact centers utilize several different sources, but the consistency and quality of customer service do not suffer from such variety. On the contrary, customer-agent interactions take place in a well-developed technological ecosystem, so the customers of a contact center get more freedom compared to the ones of a call center.
On the whole, there are not so many differences between a call center and contact center. The bottom line is that call centers use the voice only, whereas contact centers operate through multiple channels. Both are good in their own way, and the choice of the best option must be based on the preferences of your customers.