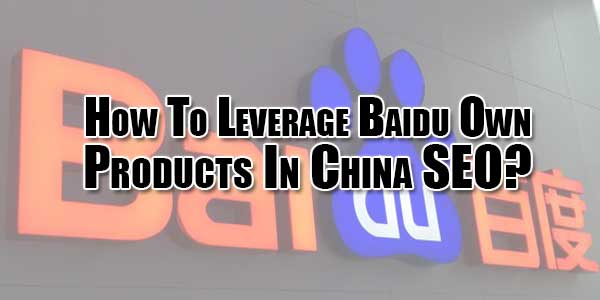 China is the country with the largest population and a place with over 700 million internet users amidst an ever-changing realm of evolution and innovation offering infinite opportunity for businesses and enterprises alike. It makes no sense to ignore it.
For any businesses both international and domestic, or any individuals getting involved in the digital sphere; China deserves your great attention. Yet, when we think of China we might fall in sophistication of complexity, dissimilarity of ancient culture, Great Firewall or censorship, difficult language and more. With this explicit visual guide to Baidu SEO, we will present something in-demand by digital marketers in order to unveil the mask of the Chinese internet; here, we are starting from Baidu SEO optimization.
This guide intends to help anyone kicking off digital strategy in China with helpful and constructive insights on the basic ABCs of Baidu, how to rank on Baidu, the structure of Baidu, and its difference with something we do on Google. Considering Baidu's absolute dominant authority in search engine sphere in China, It will takes days to tell its story, yet in this article we will start from Baidu's own products, and below is a short brief introductory for anyone unaware of the Chinese Google:
Baidu, Inc. (Chinese: 百度), incorporated on 18 January 2000, is a Chinese multinational technology company specializing in Internet-related services and products, and artificial intelligence, headquartered at Beijing.
It is one of the largest internet companies, and one of the premier AI leaders in the world.
Baidu has the 2nd largest search engine in the world, and held a 76.05% market share in China's search engines market, the largest in the world, as of April 2017.In December 2007, Baidu became the first Chinese company to be included in the NASDAQ-100 index
DU Ad Platform, Baidu's global advertising platform, currently hosts over 800 million monthly active users across its inventory, and has been named as one of 2017's Top 10 Global Leading Enterprises and Top 10 Global Influential Marketing Service Platform.
(Source: Wikipedia)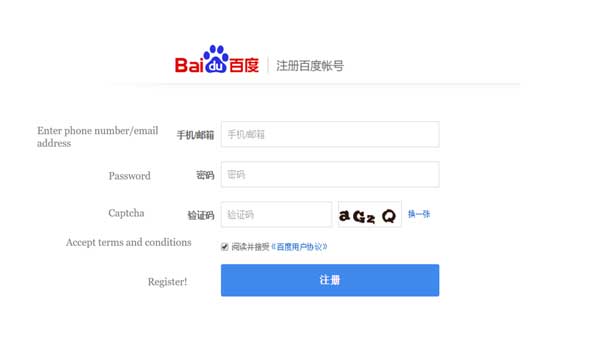 How To Set Up A Baidu Account?
Before we delve further into Baidu SEO, we will display you how to set up a Baidu account. This will enable you to action with a fair foundation, and will have yourself and your website ready to move forward with Baidu SEO.
First of first, drive to this page and fill out the information requested. Baidu permits you to sign up with verification via a Chinese phone number or, for those based overseas and cannot have access to a Chinese mobile phone, by email (thankfully). Please see the screenshot for illustration: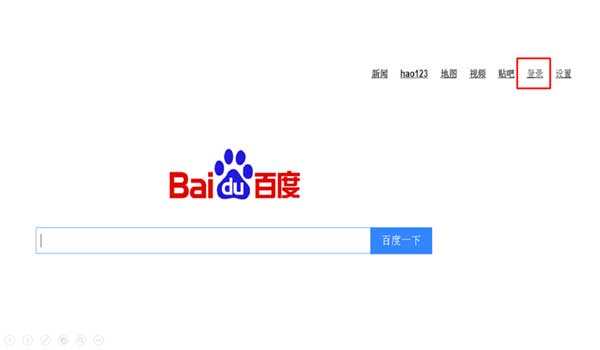 After this step, a confirmation email from Baidu will be sent to you box to activate your newly registered account. That's it. You are done with it! Whenever you login and navigate on a Baidu page of any Baidu Products, you will see your account name, in mobile phone number or email address in the top right-hand corner, indicating you are signed in as a Baidu registered use. BTW, the login button in Chinese is (登录) as shown right in the screenshot below.
What Does Baidu SERP Look Like?
Let's kick things off with a screenshot of a Baidu SERP.
Here's what Baidu shows us when the term "SEO" in Chinese (搜索引擎优化) is searched for: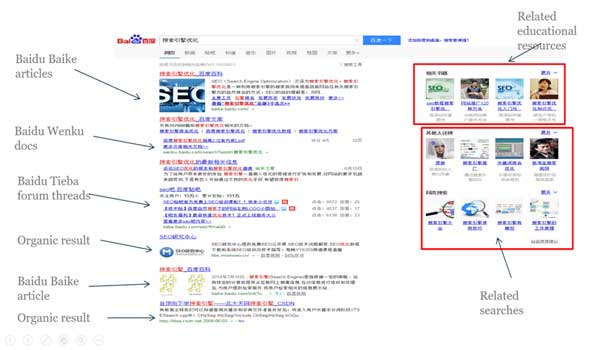 As can be seen, Baidu, similar to Google, exploits a familiar two column structure. In the above example, the SERP exhibits a collection of related (sometimes paid) results on the right and what is a mixture of a variety of paid results and some organic results on the left. Something should  take a look at here is Baidu incorporating its own products into the SERP – illustrated in the snapshot above that is significant to know when it comes to engage on SEO for China.
Today, It is well known that Google has its fair share of products – Maps, YouTube, Docs, News Flights and beyond. Undoubtedly, these products do pop up in the overall SERP from time to time; however Google has combated to be neutral to embody its own products independence outside of the overall SERP. Baidu implies a somewhat different means however, giving these sub-products a liberal amount of free-roaming in the SERP space, as displayed above. As a matter of fact, around 30% of Baidu queries are redirected to one of Baidu's own products as estimated. So it deserves your attention to explore what these products are, and crucially, how do we leverage them for SEO optimization? Let's delve in.
As you'd guess, Baidu has its own maps service, video search (compiling videos from several major Chinese YouTube – esque platforms), news and documents tabs. There are of course countless others doing all manner of things (which can viewed here), but let's take a look at three of the familiar characters that frequently stake their claim in the Baidu SERP: Baike, Tieba and Zhidao.
Baike 百科: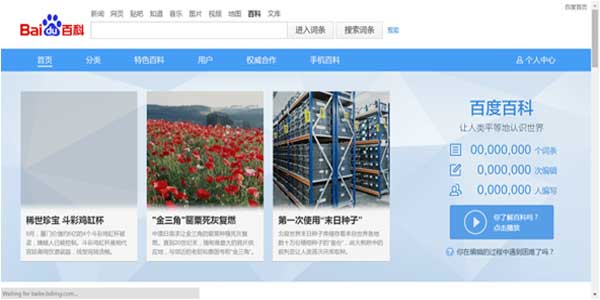 Baidu Baike(Chinese: 百度百科) is a Chinese-language, collaborative, web-based encyclopedia owned and produced by the Chinese search engine Baidu. Its test version was released on 20 April 2006, and within three weeks the encyclopedia had grown to more than 90,000 articles, surpassing the number in Chinese Wikipedia. As of January 2018, Baidu Baike has more than 15,1 million articles.
Baidu Baike claims "equality", "cooperation", "sharing" and "freedom" spiritually, and connect this online platform with search engines technically in order to fulfill the needs of the users for information of different levels. Critics of the encyclopedia claim the downside that it censors its content in accordance with the requirements of the Chinese government.
the opportunity from Baidu Baike lies in that; the fact that a typical Baidu search query will often display around two Baike results with sub-links to related articles on the very first SERP. Considering its prominence in the make-up of the Baidu SERP, SEO opportunity lies not only in the entry of brand or product-related articles but also in the editing of content, images, links and keyword tagging.
Baidu Zhidao 知道: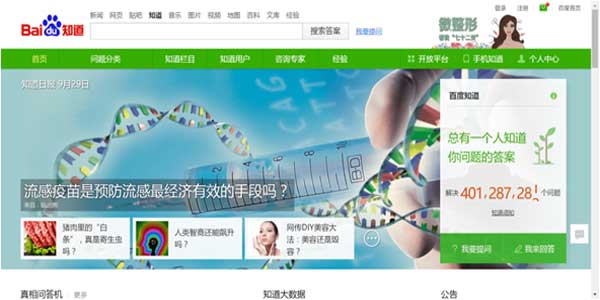 Baidu Zhidao, or "Baidu Knows", essentially known as China's Quora, or advanced Yahoo Answers, is a massive Q&A platform that allows users to create and engage in a deep plethora of topics covering all walks of life from advanced AI technology to how to cooking certain dishes correctly. Users can uplift levels, accrue points and gain reputations as awarded online professionals in certain fields based on quality and quantity of answers given, up votes on comments and so on. Considering Chinese users having a high inclination to search with long-tail, query-based lexicon as well as general eminence in the SERP, Baidu Zhidao is well worth to leverage and can be formidable SEO battlefield if applied with the correct amount of shrewdness.
Similar to any Q&A type of forums however, Zhidao has devoted vast efforts onto anti-spam. It is obvious that simply searching for questions related to your brand or posting short answers embedded with links back to your site won't work, so some tips are provided here on leveraging Zhidao for SEO on Baidu in China:
– Optimize your brand's Baidu account so it's as branded and official as it can be, and offer trustworthy, credible answers to users who ask questions relating to your brand or products. This will earn the users' trust and reputation as time goes.
Baidu will index organically placed link within the text of the answer, as long it's relevant and informative.
Also, Can you ask a question yourself? Of course you can. This type of double reed could be in style of asking for potential customer their point of views on certain products or debates within the scope of your industry, or simply just a ask-for-help thread on something related to your brand.
Tieba 贴吧:


The website functions by having users search or create a bar (Forum) by typing a keyword, and if the bar has not been created before, it is then created upon the search.
On the service, "bar" refers to a forum providing a place for users to interact socially. The slogan of Baidu Tieba is "Born for your interest" (Chinese: 为兴趣而生). As of 2014 there are more than eight million bars, mostly created by fans, which cover popular stars, films, comics or books. More than one billion posts have been published in these bars. According to Alexa Internet, traffic to Baidu Post Bar makes up more than 10% of the total traffic to Baidu properties.
As with Zhidao there is opportunity to assert your brand into your target demographic with organic discussion and participation with relevant threads and users.
You also have opportunity to create your own Bar based on your brand (if someone hasn't done so already!), with the chance to create a hub and redirect users to your forum if they happen to search for your brand in Tieba or Baidu as a whole. This is especially useful if you already have a good degree of brand awareness in China yet have little presence on these platforms.