Industrial businesses used to bring to mind the old smokestacks dotting the skyline, belching coal and black smoke into the air. Through solid efforts and the use of advanced technology, that image is becoming obsolete. Owners and stakeholders in an industrial business are prime supporters, as well as avid promoters, in the advancement of technology.
Technology provides industrial businesses access to more efficient production techniques. Consequently, these establishments can utilize those improved methods to produce their product easier, faster and cheaper. Owners and stakeholders of an industrial business may find it advantageous to invest in technologies currently practicing innovative methods for industrial use.
1.) Industrial Robotics:
Industrialized nations see increasing value in the use or robotics to perform services that are too dangerous or difficult for humans to carry out. Electronic manufacturers program robotic units to work on objects too small or minute for humans to see or handle. Brookings Institute estimates the use of robotics allows industries to see their costs reduced anywhere from 16 percent to 33 percent. Technologies involved in the continuous improvement and refinement of robotics are worth looking at for investment purposes.
2.) 3D Printing:
The manufacturing industry is seeing reductions in tooling costs and set up time for machines when 3D printing methods are applied. 3D printing technology creates greater flexibility in the materials used in productions. Last minute changes to a production run are possible with little effort via the use of 3D printing. Industries serving the medical field are finding 3D printing techniques highly applicable for dental professionals. Jewelry design and production industries are already experimenting with the use of 3D printing. Any investment made in 3D printing technologies is likely to be beneficial to owners of an industrial business.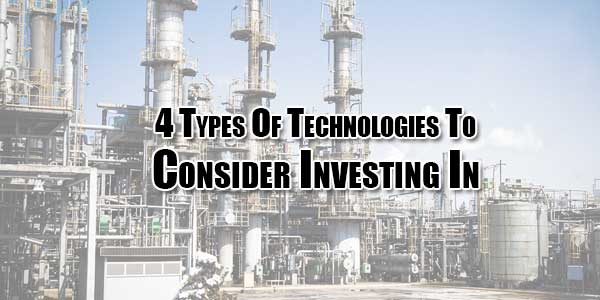 3.) Augmented Reality:
Not to be confused with Virtual Reality, Augmented Reality superimposes a computer-generated image over the user's view of the real world. Moreover, this composite view holds almost limitless possibilities for training. There is currently a global shortage of qualified workers in the aviation industry. Aviation Weekly reports Augmented Reality technology is in high demand for purposes of training personnel ranging from pilots to engineers.
4.) Cooling Technology:
Imagine structures ranging from a home to an industrial plant with access to 50 percent more cooling capacity at less than current costs. Use of energy cells with 50 percent more output due to new materials will soon be the industry standard. Technology has harnessed air for powering cooling processes. Currently, process cooling systems are being utilized with these latest developments to ensure the ongoing stability of essential operations such as laser systems. Accordingly, investing in cooling technologies has practical applications for owners and stakeholders of an industrial business.
Investing in technology providing advantages useful to their own industry is a clever tactic. Consequently, investments in technology with a practical application provides multiple returns for the shrewd industrial business owner.