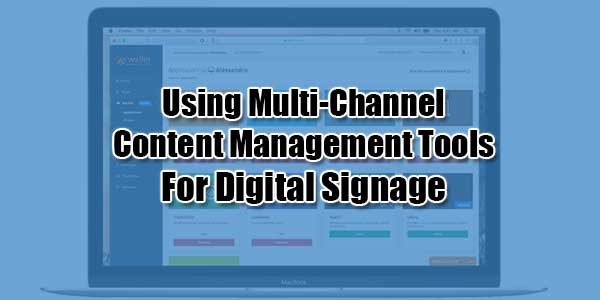 Adobe's AEM Screens has driven content management, multiple usage from a single source and personalization to new levels. Better? Believe it.
Adobe has made a defining leap into the digital signage market with Adobe Experience Manager (AEM) Screens. The product has been a while in getting to market because the tech giant wanted to ensure that all systems were in place and it was operating optimally before flicking the switch. The wait has been worth it in every way. Techno wizards are leaping for joy at the impact AEM Screens has brought to the market. Have you ever stood in the middle of Times Square, New York, and marveled at the billboard bonanza that you are suddenly engulfed in? You've seen it on the screen, sure, and it has a dynamic impact, although different from being there. That's what AEM Screens has in mind, whether it's powering these billboards, or in-store and in-mall presentations, or live roadside billboards. AEM Screens has just made the digital leap that much easier for clients wishing to control in store signage, billboards, kiosks, website and anything else powered by a screen. It clocks in as the leading content management solution.
Digital Personalization:
AEM Screens has the capabilities to bring digital personalization and visualization to most any physical spaces. It is used by Coca-Cola for powering their Freestyle machines – and many other vendors for their physical applications. Simply put, AEM Screens is a new digital signage solution which has been integrated into AEM. It enables marketers and IT personnel to create and manage experiences on multiple digital screens that can impact in-store and in-venue goals for building brands. Integration of AEM Screens with Sites allows for the re-use of existing content to develop screens which can be used for any digital device.
This is a dynamic web-based solution that makes it easy to create digital menus, background lifestyle applications to expand customer interaction in physical venues such as stores, hotels and healthcare institutions, among others. You can create a schedule for your Screens project that will manage all the activities needed for your website and mobile apps. All content can be managed in one space.
AEM can be classified as an enterprise content management system for building websites, mobile apps with consistency across all channels. The Gigya module for AEM enables you to add to your AEM sites quickly and effectively to lever Gigya user profile data for content personalization and optimization.
Driven By Marketing:
Interestingly, but not surprisingly, is the fact that the AEM Screens project was driven by the marketing technology group and not, as may be expected, by the creative cloud within Adobe.
Screens is coupled with all the other marketing-driven applications within Adobe's cloud-based marketing elements. What this means is that analytics, ad targeting, digital asset management and data-driven content triggers are all controlled from one login and one desktop. How much simpler could this be?
Jim Stoklosa, the Senior Product Manager for Adobe AEM Screens, has been reported as saying that Adobe has always been in the digital signage market but never had a product to assemble, schedule and publish and playback on one device. Now it has.
The fact that it provides for seamless integration with all other devices is a major plus. It can bring down the cost of ownership on the creation and maintenance aspects, and the operating systems that are supported by Adobe.
What Adobe is counting on with AEM Screens is that agencies who have traditionally used their products for clients, will stay in the software toolset they are already familiar with and extend their range to digital signage. It is logical, sound thinking and from the reactions thus far, everything is going to plan.Agencies, in fact, are whooping with delight at this addition, and, in fact, have called it "better than sliced bread".
Consistent Experiences:
Bilal Elridam, a solutions architect who has been keeping a close eye on the development says: "With Adobe's strong focus on connected digital experiences, you can expect consistent and continuous experiences across devices with AEM Screens. Wherever you happen to be and whatever device you happen to be using – smartphones, tablets, screens in hotels, venues and other retail applications – your experience should not fall short of incredible and, naturally, this includes connection."
So, you can create and manage digital experiences across websites, mobile sites, and on-site screens, you can build on apps that are essential for your business, and you can create and manage assets across multiple channels.
There's no other software developer that comes near to this innovation.
As a development in the Internet of Things (IoT), this is certainly a major one, and you can expect it to grow like wildfire.
AEM Screens is a brand bonanza – it has created a platform that allows products to "reach out and touch" consumers like never before. As far as IoT goes, Adobe has been ranked as the biggest disruptor in the marketplace, and it's easy to see why. The personalization powers of digital have also been taken to a new level. Deploying the platforms that are linked together with AEM Screens, users can personalize messages to consumers and bring an interactive content within malls and stores. It is possible for a consumer to log into AEM Apps when searching for a product, and then go the dealer that stocks the product. Once there, the consumer can transfer the information onto a large screen powered by AEM Screens, and this will instantly and effectively accelerate and enhance the buying process.
It's like taking the digital personalization aspect that's already there (especially in print) and transferring it to a much bigger and wider audience, within that demographic profile.
The fact that Adobe is first to market with this product to illustrate the above fact most vividly is no real surprise. It has been the innovator of much in the creative software development arena – and this is merely taking it one step further.
The adage "one giant leap for mankind" could be no better illustrated with this. Way to go, Adobe.