If social media was the next big thing for many years to come, so was the video. In the early 2000's, article marketing was booming. After that, here come social media sites Facebook, Twitter, and Youtube. From 2010 onwards, social media has been on the rise. Businesses and companies are now relying more on social media to promote their brand. Creating a social media marketing strategy for your brand is not that simple, it requires persistence, commitment and dedication.
They believe that social media is the best way for them to get targeted traffic and user engagement in today's generation. Sharing images is one way to get a lot of engagement from your audience. Not only that, it could increase your social authority as well. It is what they are planning to make a name for themselves in creating their own brand.
However, it turns out that videos are much more attractive than just text or image-based content. One of the reasons that people like the content that you're promoting is because of the videos. If you have at least one video on your website, fan page or timeline, the audience would like to stick for a while. Not only that, the attention span of your audience might be a bit longer than just text and image-based content.
According to Insivia & Rocketium, they have reported that one-third of the entire online activity is by watching videos. On top of that, video ads gains trust from 36% of the online consumers. At least once a week, 75% of the business executives are watching videos that are related to work. The same percentage goes to the online video viewers, which they interact in an online video that they see on Youtube and other video platforms.
There is no doubt that the growth of video marketing is unstoppable, and not even Youtube can stop it. Without further ado, here are the video marketing trends that you should know for 2017: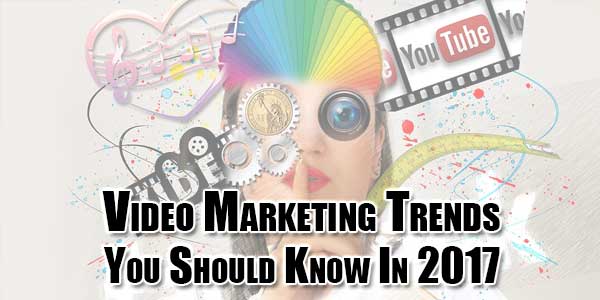 1.) Video Storytelling And Email Marketing:
One of the video marketing trends that you need to know is video storytelling and video email marketing. When it comes to video storytelling, it is how you communicate and connect with the audience. This trend alone can change the way they create videos for a purpose. It is one way to create excitement, motivate, inspire, and nurture the audience
Gary Vaynerchuk, also known as #GaryVee, has been an excellent video storyteller. He does not just motivate and inspire people to succeed, but he goes right through your "heart" for you to wake up and face the challenges. Video testimonials are also effective in promoting your brand.
Email marketing or list building is proven to be effective for more than a decade. However, it would give video marketers better conversion rates once a squeeze or landing page has at least one video.
2.) A Sudden Increase In YouTube Audience Engagement:
Video user engagement is something that the online marketers should strategize to make their campaigns convert. As what Think With Google reported, 85% of the viewers who are between the ages of 18 to 34, are going to stop what they're doing when they see an interesting video right in front of their eyes.
Most of the teens and "millennials" claimed that they cannot live without Youtube as their video platform. It helped them changed the way they see the world, and they trust Youtube more than other video platforms. What makes it interesting is that 64% of the teens are watching more online videos than TV.
It means that this is perfect for Youtube marketers who don't have the strategy to have winning campaigns.
3.) You Can Now Watch Videos On Multiple Devices:
It is essential for your video to have more exposure from time to time, especially that it can be viewed on multiple devices. Think With Google report that 85% of the individuals from ages 18 to 49 are using multiple devices in watching Youtube videos. They watch TV and Youtube at the same time, with the video platform as their second screen. It is perfect for social media marketers who are planning to create animated marketing videos for their brand.
It would likely increase for more years to come in watching videos through multiple devices. It means a lot for video marketers who want to take advantage of this trend. However, a single video platform would not be enough for you to reach them in an efficient manner. Once you successfully post the video, distribute it to other legitimate video platforms out there.
4.) Live-Streaming In YouTube Never Stops Growing:
It's already clear that video live-streaming continues to increase from time to time, especially in Youtube. Facebook signs a huge deal for media companies to produce live-stream videos in their platform. It opens the door for brands to do the same thing in marketing their products and services.
If you are planning to host an event or a business conference, live-streaming is the best way to do it. It is perfect for the audience who can't attend the event or meeting due to various reasons. In 2017, Facebook Live, Snapchat, and Periscope continue to be the biggest live-stream platform up to date. Live-stream tips and advice in all walks of life can work as well.
5.) 360-Degree Videos Are On A Roll:
Another video marketing trend that you need to look right now is no other than 360-degree videos. According to Magnifyre's case study, there was a big difference in viewing the same video in 360-degree and a standard one. They reported that 360-degree videos were viewed 28.81% higher than the norm one of the same video.
Insivia reports that 360-degree product videos are helpful for 90% of the users in the process of purchasing items. Sales teams are now relying mostly on 360-degree videos, but not all of them are compatible or suitable in this format. It's just that this format converts more than a non-360 degree video.
Moving Forward To The Trend:
If you still doubt about today's video marketing trends for your brand or business, it is time for you to wake up and face reality. If you want to make a difference and become successful in Youtube video marketing, always keep up with the latest trends for 2017. Once you keep up with the trends, you are ready to succeed for your brand or business.