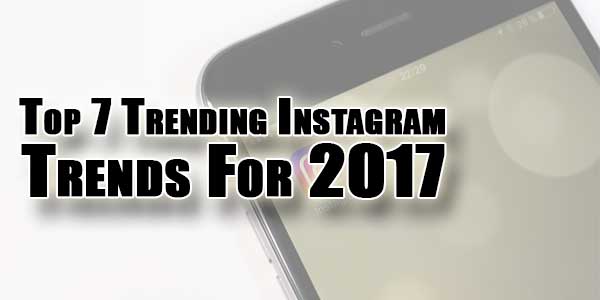 Being updated with the latest Instagram trends will enhance your business and enjoy more traffic engagements among present and potential customers. The summer of 2017 brings along business trends that could ignite more business opportunities offered to followers of Instagram.
Here are the top seven unbelievable Instagram Trends from food to the fashion mania that could inspire the entrepreneur in you.
1.) Charcoal Hair:
With spring inspired by unicorns, summer is all about charcoal. Hair colorist Maayan Birnstein, a Maryland based hair Dyer, says that beauticians had been dying patrons' hair in a dark gray shade resulting in smoky and sultry which isn't the type of a fitting Starbucks beverage. The result is not black or silver as a whole but with a hint of blue hue in it. Birnstein adds that the key to this look is the balance between blue and the gray color. The hair must not have the orange color remaining to look its best. This Instagram trend had been popping here and there this summer.
2.) Coffee Caviar:
Instagram is expecting that this is the next thing to blow up big in the food category that coffee lovers are going to enjoy. Coffee Caviar is tiny blobs of coffee sprinkled to desserts and delicacies, which took Instagram by storm. Lavetta delivers the coffee caviar with small drops of coffee using a syringe. The little body gels are mixtures of alginates added to calcium chloride. They are also adorned as toppings on yummy desserts tasting like little droplets of coffee.
You can make your coffee caviar through the link provided: https://www.youtube.com/watch?v=SIzgqQJn26M
3.) Divorce Selfies:
When people free themselves from stressful bondages or relationships, like a divorce proceeding, they find unusual ways to pitch in the celebration of their new found freedom. One of these expressions of free spirit gestures is the "Divorce Selfie." Instagram monitored a lot of these selfies popping up lately. What is more memorable than taking a selfie snapshot of you and your ex after a courtroom termination of the marriage you had. Some couples say that the celebration will be a reminder of the good times together and the beginning of a new journey apart from each other.
4.) Cloud Eggs:
These delightful food items are like little joys of happiness shining through Instagram posts. They are fresh egg yolks surrounded by puffy egg whites trying to peek from a cloud formation. You can make it yourself as they are fun and easy to do. You just need to separate the egg whites from the yolk and whip it to stiff peaks, bake until set like a meringue. Place the yolk in the center of the set egg whites, oven bake for a couple of minutes, and it's ready. Season as desired and enjoy.
5.) Squat Your Dog:
Another Instagram sensation sweeping the net is an exercise for you and your dog. People love to pose with their pets. What is unique and exciting about this craze is that instead of a cradle pose with your beloved pooch, owners carefully pick their dogs and use them to develop their squat exercise. Instagram has been receiving with hundreds of snapshots of these images where dogs pose as additional weights for their loving masters. The pet lovers not only add more calories burnt but give their adorable dogs a four-paw break. Critics say that this is the cutest trend of the year.
6.) Goth Ice Cream:
Social Media had been taking dark presentations in the food trending category. Little Damage, a Los Angeles ice cream shop has the Goth Ice Cream sweeping Instagram with its black colored ice cream display called the Goth Ice Cream. The dark almond flavored soft ice cream tops on a black waffle cone colored with activated charcoal, an essential element that traps toxins preventing it from being absorbed by the body.
7.) Temporary Face Tattoos:
The Instagram community made a statement when posts began showing the comeback of a kiddie party staple in wearing those temporary tattoos. These tattoos are now incorporated with makeup and overlaid with a glossy finish that enhances its lustrous designs. The effect is amazingly fresh and had made it in this summer Instagram trending images. The stunning rendition is an ideal lip art and bold eye makeup enhancement that are back this summer.