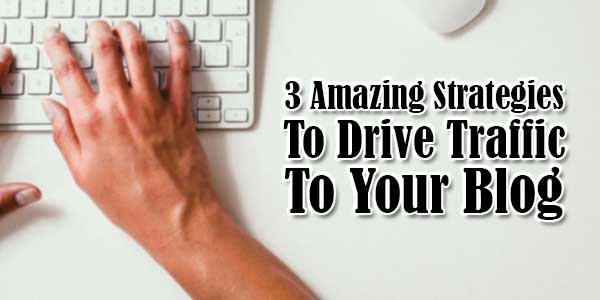 As an online marketer, you are always looking for methods to drive traffic to your blog. In this post, we are going to cover three strategies guaranteed to get you more traffic. Additionally, you will learn the tools and steps needed to do these strategies. Continue reading to discover the tools and strategies to get you more traffic to your blog.
Strategy 1 – Write Better Headlines:
Are you wondering to yourself, "How would headlines drive me more traffic?" But they can. If you have an attention grabbing a headline, you will get more eyeballs and clicks to your blog. Here are the steps you need to follow to come up with great headlines for your blog.
Tools Needed:
Step 1:
Go to Portent's Content Idea Generator here https://www.portent.com/tools/title-maker
Step 2:
Enter the subject of your blog post and click the generate button to get ideas. For this example, we will use the subject "headline".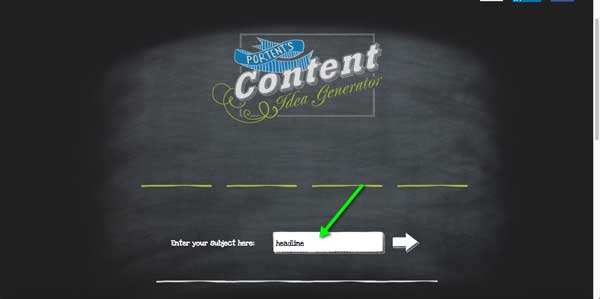 Step 3:
Voila. You will now have headline ideas from the generator. If you don't like a suggested headline, you can click the refresh button to get another idea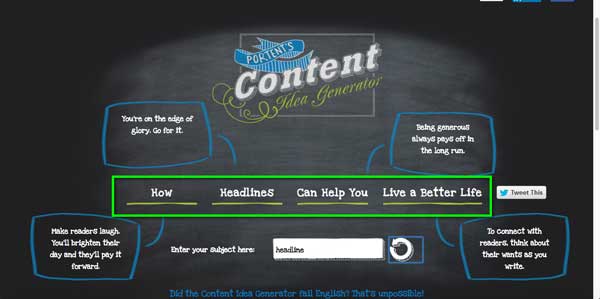 Step 4:
Once you get a suggestion you love. Review and revise to make sure it is grammatically correct.


Step 5:
Copy your new headline idea and paste it into the Title Capitalization Tool here http://titlecapitalization.com. This tool will automatically capitalize your headline. Here is an example


You can read the rules to see what style you want for capitalization. For the example, we used Chicago Manual of Style.

Copy your headline from the Title Capitalization Tool and paste it into CoSchedule's Blog Post Headline Analyzer tool here http://coschedule.com/headline-analyzer.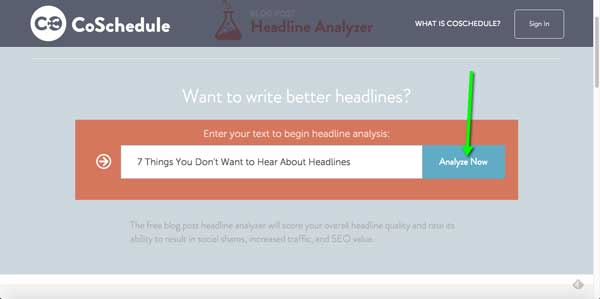 Click Analyze Now to see the score of the headline. Follow the tips they give you to make your headline better.
Strategy 2 – Create Content Featuring Experts:
An expert is a person who has experience and solutions in a particular field. Since they are experts, everyone wants to hear from them. They want to get their opinions and use their knowledge to get better results.
Since the name expert gets attention. It will help your content get the attention you are looking for. Having content or a resource that has experts in it will get attention and when properly marketed it will get you traffic and links.
The Different Types Of Content You Can Generate When Working With Experts:
Below you will find 5 examples of the different types of content you can generate when working with experts. You are not limited to just these 5. You can find what works with your audience. Be creative. If you have a strategy not mentioned, please feel free to share in the comments below.
Podcast Interview:
If you have a podcast, you can interview experts in your industry and publish the podcast on your blog.
Blog Post Interview:
If you have a blog, why not create a category for expert interviews and start publishing blog posts with experts. Here is a great example of how Alex Turnbull, the founder and CEO of Groove interviewed Neil Patel of KISSmetrics and Crazy Egg.
Roundups:
A roundup is a blog post with summaries from different experts on a particular topic. Here is an example by Brian Lang where he asks top bloggers to share their best marketing tips.
Blog Post Series:
A blog post series is a post that is divided into different parts. For example, you can approach Rand Fishkin to do a blog post series on SEO. If Rand agrees, you can take the content he gave you and divide into smaller parts. You will then publish and release these series in an ordered fashion.
Guest Post:
A guest post is when you publish content from another author to your blog. In this case, that author will be your expert of choice. Find an expert and explain to them why it is important to publish to your blog and what benefits they will get from the post.
Strategy 3 – Be The Expert And Get Featured In Roundups:
Getting featured in a roundup or interview helps your brand. Your brand benefits because potential customers learn about your business. This introduction is just the first step of them getting to know your business. If done correctly, you will win new accounts and customers for your business. To get featured, you can use Buzzsumo to find roundup opportunities. Buzzsumo is a platform that makes it easy for you to discover engaging content and outreach opportunities.
Step 1:
Go to your Buzzsumo account and log in. You will be redirected to this page https://app.buzzsumo.com/research/most-shared that looks like this…


Step 2:
Search for the interviews and roundups where you want to get featured. For example, if you are looking for eCommerce Marketing Roundups you will enter "ecommerce marketing roundups" in the search field. Here is an example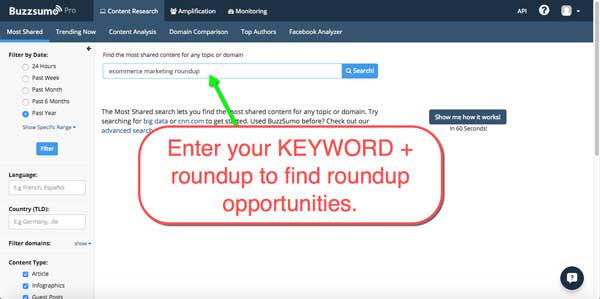 Here are some additional search queries you can use to find opportunities for roundups and interviews.
KEYWORD roundup
KEYWORD interview
KEYWORD links of the week
KEYWORD blog roundup
Step 3:
Go through the search results to find the best opportunities for your brand. Use the built-in filter options to narrow down your list.


Step 4:
Export your results to a CSV or Excel document.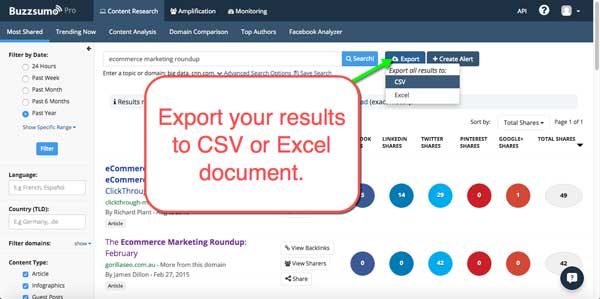 That's it. Start using these strategies to drive traffic to your blog.
Last Words:
Please let us know in the comments what strategies you are using to get more traffic to your blog. Don't forget to say what tools you are also using.