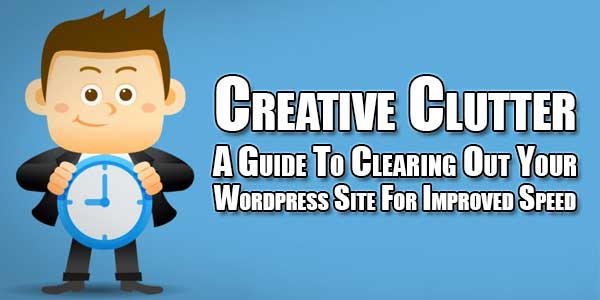 A well-designed and responsive website is vital in order to attract your ideal customer and increase conversion rates. A website that is too cluttered for users to navigate, slow to respond, unresponsive on mobile phones and filled with out of date content is unlikely to engage and inspire your audience. If you are not convinced, supermarket giant Wal-Mart has reported a 2% increase in conversions for every 1 second of site speed improvement.
This article will detail how to improve your WordPress performance, providing your website with the speed and responsiveness that will convert your web traffic into sales.
Run A Site-Speed Test:
Before you begin the clean out process, it is important to first undertake a wordpress site-speed test in order to understand how your website loads content. Tracking your site speed is beneficial anytime you install a plugin or make considerable changes to your site.
Simplify On-Page Components:
While web design is vital, the majority of a web pages load time is spent downloading on-page components including scripts, images, flash and scripts. Every time one of these elements appears a HTTP request is made, making it take longer for the page to load (and making your audience lose interest). Therefore, the quickest way to improve site speed is to simplify your design by:
Restricting the number of elements on each page
Reduce scripts
Use CSS instead of images
Enable page and image compression
As the saying goes, K.I.S.S (keep it simple, stupid!)
Enable Browser Caching:
Browser caching stores the elements of a website's page so that the next time you visit the site it does not need to send another HTTP request to the server. As browser caching negates the need for multiple requests during multiple site visits, it significantly speeds up your website's speed.
Optimize Images:
It is important to keep images as small as possible as oversized images with a high count of pixels take longer to load. JPEG is the best format of image to include on a website page for speed optimization. Always take time to re-size your images before uploading them and reduce color depth to the lowest acceptable level in order to optimize website images. WordPress plugins, including WP Smush, are able to compress images in a way that reduces the file size but not the visual quality of the image.
Reduce Plugins:
Too many plugins can result in site crashes, slow speed and other technical issues. It is, therefore, beneficial to delete any unnecessary plugins and measure your server performance with some plugins disabled.
Invest In A CDN:
A CDN (Content Delivery Network) is a global network of servers that allows users to access your site from a server that is geographically closer to them. This results in faster load times and faster content delivery. On wordpress, the CDN technology is called EverCache.
Choose The Right Theme:
Some wordpress themes are written better, and therefore load faster than others. When choosing a theme it is always best to take a minimal approach and opt for a theme that only uses what is necessary.
Limit Page Comments:
Comments are a great way to attract attention to your posts. However, too many comments on a single page dramatically slow your page load time. In the settings of WordPress sites you are able to select the number of comments you wish to allow per page. Whilst the default is set to 50 we recommend reducing this number for site speed improvement.
Clear Out Your Database:
Over time clutter including spam comments, post revisions and draft pages slow your site speed down. Using WP-Optimize or other database cleaning plugins removes your unnecessary overhead. It is beneficial to run a database clean out regularly to ensure optimal site performance.
Visitors patience for loading times are decreasing dramatically, with 25 percent of users leaving a webpage if it takes longer than 4 seconds to load. There is also evidence to suggest that Google incorporates site speed into their ranking algorithm. It is, therefore, in your best interests to regularly schedule a WordPress site clear out, to ensure that your site is running at optimal speed for your audience.