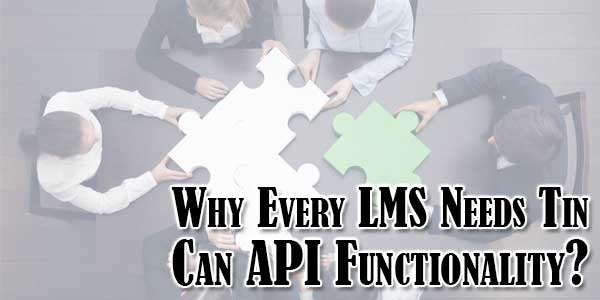 Every Learning Management System should have Tin Can API (Application programming interface) functionality, as there are several very useful benefits it can provide to the users. Many people don't quite understand what Tin Can API actually is and how it can improve Learning Management Systems and their users' experiences. That's why they don't even look for an LMS that is Tin Can compliant when shopping for one.
Don't make the same mistake when you are utilizing an LMS, whether you are working in the business or educational sector. Instead, look for one that has Tin Can API functionality, so that you can improve your efforts and provide your learners with the best possible educational experience. Read on to learn what Tin Can API is and how it can benefit every LMS.
What Is Tin Can API And How Does It Work?
Tin Can API, also known as Experience API or xAPI, is a specification for learning technology that enables you to gather a wide variety of data regarding the users' experiences on a number of different platforms, both online and offline. It can easily switch between different platforms and provide you with the desired results.
Simply put, it uses someone's activities from various technologies to create a consistent format for capturing data. It has a very simple vocabulary, which allows for many different systems to easily communicate and share all of the user's activities. This enables you to monitor your users and check their learning progress, as well as easily communicate and collaborate with them thereby improving their learning experiences.
All of the activities and experiences are stored in a Learning Record Store (LRS). Tin Can API sends the activities in the form of statements to an LRS, which can then share that data with other LRSs. A Learning Record Store can exist inside the Tin Can LMS or completely on its own.
What Kind Of Statements Are We Talking About Here?
They are structured with the use of nouns, verbs and objects (for instance, "I did this"), so every activity can be easily monitored and tracked. What's great is that you can track your learners' activities no matter what device they are using, so you don't have to be completely bound to your LMS in order for you to monitor them.
The Benefits Of A Tin Can LMS:
The Tin Can API offers several more benefits that its predecessor SCORM (Sharable Content Object Reference Model). SCORM is a set of technical standards for LMSs that helps programmers develop effective eLearning software that can communicate well with other Learning Management Systems. SCORM basically does what Tin Can API does, but the latter offers some additional benefits that can take eLearning to a whole new level. Take a look at what those benefits are, so that you can better understand why you need an LMS that is Tin Can compliant.
1.) You Can Track and Store Offline Data:
This is perhaps the greatest of the benefits of a Tin Can LMS, since web browsers are not required for you to gather information about your learners. This is especially important today, as people are constantly on-the-go, so you can easily track their performance when they are using their mobile phones or tables to complete their online learning tasks.
However, you will need an Internet connection occasionally in order for the Learning Record Store to actually capture data. As soon as the users connect to the Internet, your LRS will gather the necessary information, which will be sent to your LMS. It can also be shared between enabled devices, which facilitates blended learning.
2.) You Can Track Every Activity and Learning Experience:
Tin Can API enables you to track literally every user activity and every learning experience of your users. While the effectiveness of SCORM doesn't go beyond tracking quizzes and online courses' statuses, Tin Can API provides you with more in-depth results. You can track every answer and basically every click of your users.
Because of the simple structure of the recorded statements, you can easily understand all of the data and use it to improve your content and provide a seamless learning experience to each and every one of your learners.
3.) You Can Track Various Learning Scenarios:
Tin Can API is very flexible and can track various learning scenarios that were not possible to track with SCORM. It can track mobile learning, informal learning, social learning, offline learning, experimental learning, blended learning, adaptive learning, collaborative learning, team-based learning, serious games, simulations, real-world activities, virtual worlds and many other scenarios.
Therefore, Tin Can API can easily recognize these and other learning scenarios and provide you with detailed test results in form of those simple statements that you can understand and use to improve educational experience.
These are the most important reasons why every Learning Management System needs to have Tin Can API functionality, so you should definitely find an LMS that is compliant with those specifications. You can check out the ProProfs Training Maker, since it is excellent cloud-based LMS software that is both Tin Can API and SCORM compliant. You can track your learners' progress no matter where they are, you can get detailed reports on their work, and you can easily integrate the LMS with many eLearning tools, CRMs and email marketing software, among many other benefits it can provide you with.