Major productions such as Lion King in 2D, 3D animation blockbusters such as Avatar, or films like Fantastic Mr. Fox in stop motion animation, be it in any style we are all familiar to the kingdom of animation. From traditional days when paper cut-outs were put together, to today's state of the art creations inside a 2D or a 3D, these styles have grown and developed tremendously over the years.
Deciding on the best animation technique for your project depends on factors such as budget, look and feel, output quality, story requirements and others. Once you're sorted on these factors then you have a whole range of styles animation such as classical and digital 2D, digital 3D, clay, stop-motion, cut-out, paint-on-glass, experimental etc, to choose from. But largely, 2D, 3D and stop-motion animations are the three favorites of this industry.
1.) 2D Animation:
The name itself says it all, a traditional style where the action inside a two-dimensional environment. Basically, drawings with different poses are placed one after another, followed by a different series of drawings with space between the frames to give it the illusion of movement when they are played. Traditionally done in paper but nowadays various softwares are available for the process. Therefore, not only technical skills but artistic skills and creativity is also required in 2D animation.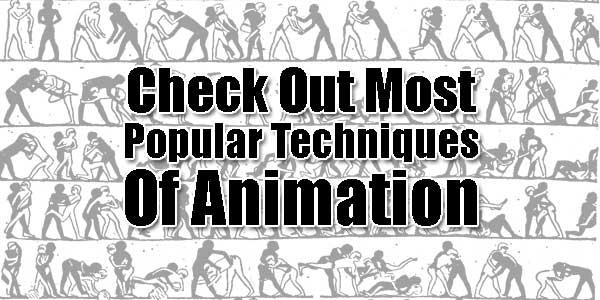 2.) 3D Animation:
3D animation comes to life in a three-dimensional virtual space. The illusion of a three-dimensional space is created utilizing computer generated images, making them as real and life-like as possible. There is a hike in demand of Digital 3D animation technology in the market today. This is due to the level of accuracy and extremely realistic look that 3D technique achieves. So, it's no wonder we jump out of our movie seats when a plane crashes and comes right out of the screen!
3.) Stop Motion:
In stop-motion animation, objects come alive by placing them in a background and photographed. They are again slightly moved and shot again. This is continued in succession thus capturing a series of frames Stop-motion animation is created by editing these frames in a moving image video.
Though these are the three dominant techniques most popular in when it comes to animation, there are others used in the industry to choose from. With so much to offer, it is emerging as a strong medium of expression. The rate at which technology is progressing at, there's no stopping the reach, brilliance and development that animation is.
If you like this one, here's another interesting article on "Explainer Video for Startups".