Now here we are another best list of free domains. Now every single user of internet has their own site/blog and want to put that on internet and want to share with their friends. For this purpose, there are many sites available where they can upload their sites for any purpose like learning, sharing on free webhosting sites etc and want to take a short domain name so that they can easily remember and can open it from anywhere.
If you want to use your free web hosting site as domain name so you can also do but for this pure purpose, here we are sharing top best 5 domain name providers sites that are 100% free of cost and full of features.

0rg.li
0rg.li is a free domain website where you can get unlimited domain names for free. This service provides an easy-to-use user interface that makes controlling your domain names a very easy task. It is not overly complicated but this website does come with a few drawbacks like only have the DNS servers in one location of the world and there is no heavy redundancy.
Pros:
No email activation needed.
Honesty.
Ease of use.
Cons:
Lack of redundancy.
DNS server's only in one location.
Go To Website
.co.uv
co.vu is a another free domain website that allows you to get two free domain names the website prides itself on its ease of use the website itself is actually fairly fast. But the choice of DNS is very limited unless you pay up and you have to do your domain names every one year and they lock off shorter domains unless you are pro member.
Pros:
Very short domain.
Heavy redundancy.
Simple to use.
Cons:
You only get two domain is free.
A lot of DNS choices are locked off unless you're a pro member.
You have to renew every one year.
.tk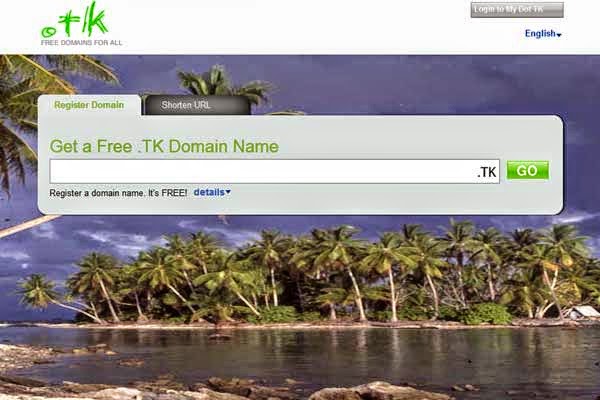 Dot.tk is the only free domain service on this list to be a real TLD. This will site provides real TLD with a very easy to use control panel and is a fairly easy signup process. But the provider has been known to take away domain names that get more than a couple thousand hits.
Pros:
Real TLD.
Easy-to-use.
Been around a long time.
Cons:
They have been known to take back domains when they get popular.
The service is heavily abused.
.co.nr
Co.nr may be the oldest domain provider on this list. It has been providing domains for free since 2002. CO.NR is a fairly short domain and looks so much like a top level domain it pursues its interest in providing free domain names that requires the user to provide a back link in return all domains have to be manually approved and it has been known to be abused but the owners are quite active in stopping abuse.
Pros:
Short domain.
Been around a long time.
Cons:
The last update appears to be from 2012. (Warning sign).
Backlink needed.
Outdated website.
Go To Website