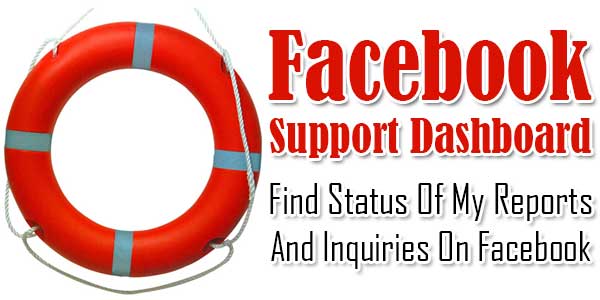 You know that Facebook have no contact form or no to contact for support but Facebook still keep you informed about the process on your account or anything else you have applies for or anything that you contacted to Facebook through there limited forms.
Facebook Support Dashboard:
To keep you inform about your all activities related to Facebook, Facebook created a link where you can see all your status attached directly with Facebook. The Support Dashboard helps you track the status of the reports you make to Facebook (ex: sensitive content, fake profiles). From this page you'll be able to see when we take action on a report and what decision we've made.
How To View Our Reports And Inquiries?
Here's where you can check the status of your reports and inquiries and see messages from Facebook. If we need information from you, we'll let you know here. To view the Support Dashboard…
Step 1:) Log into your Facebook account from a computer.
Step 2:) Click at the top right "Down Arrow" of Facebook blue bar and choose Settings.
Step 3:) Click Support Dashboard from the left column.
Note: If you are not able to open that from mobile or PC even PC then you can open Facebook Support Dashboard from here directly.
How To Open Every Report?
Click Learn More next to any report to get more details or click on report directly also. If content you've reported was not removed, you may see the option to message, unfriend or block the person who posted the content. You may also be able to cancel a report from the Support Dashboard if we haven't yet reviewed it.
Note: Only you can see your support dashboard.
Know More About Facebook Support:
Facebook Safety released a note and describing the Report features ion a Facebook notes that you can see at More Transparency in Reporting.