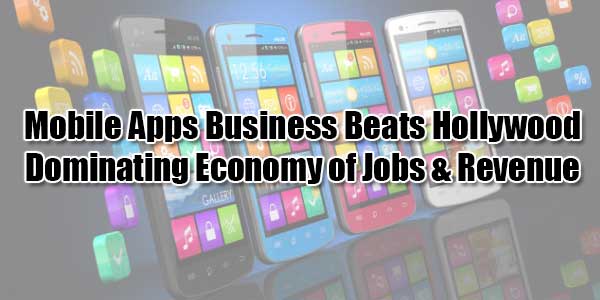 Strikingly growing digital industry has surpassed Hollywood in terms of jobs and revenue generation. Since its slow penetration globally, the business has reached at parity to matchless Hollywood industry, sparking a fierce analysis recently. It's all about economy of mobile applications that is now bigger than Hollywood.
While examining an Apple press release, Technology business analyst Horace Deidu found that, "The iOS App Store distributed $10 billion to developers in 2014". He pointed out that, "it was about as much as Hollywood earned through U.S. box office revenues the same year." That means the American applications industry is now running forward to American film industry.
Apple also says that its App Store has created 627,000 jobs in 2014, which Horace Deidu has already contrasted with 374,000 jobs created by Hollywood same year.
Since the initial release of Apple's application store in 2008, it has become a bigger business than Hollywood. The comparison is too exciting as done by analyst Horace Dediu, who exactly compared the figures of both industry to conclude his view point. However, Hollywood has more other ways to earn revenue than US domestic box office and so as Apple's App Store. The App store has iOS,
Android and many mobile applications along with ads, services and custom development. Once all these services are counted in combined way, the economy of mobile applications will stand larger than Hollywood's movie business. Application world has become a big industry than movies, television channels and cinemas.
Other than paying $10 billion to application developers in year 2014, the additional statistics for Apple App store are:
First Week of January 2015: $500 million was spent on iOS applications
In 2014: applications billings increased 50%
627,000 jobs were released in America
Collective revenues of developer was found to be $25 billion in 2014 that is also the 40% of all application sales since 2008.
These statistics from all press releases give an idea how mobile apps are ruling on Hollywood.
The rapidly flourishing sector of applications has created a million jobs in digital market that also represents a large share of a country's economy.
App Developers Earning Comparison To Hollywood Stars:
The other aspect found in 2014 was that iOS app developers earned higher than Hollywood box office in the US. However, Domestic (US) Box Office of Hollywood is not the only mean of revenue generation as well as billing estimate of Apple's App Store is not the only source of earning App revenue. The Applications economy also includes Android, ads and service businesses, and custom development that all contribute to make Apples revenues higher than Hollywood.
While estimating at individual level, mobile applications industry is the ideal place to earn more. Many of the applications developers are known to get paid more than Hollywood stars and also the median income of application developers is more than the median earning of Hollywood actors.
Web and mobile based applications economy brings more jobs and it is simple to catch those jobs and start working. There were 627,000 iOS jobs in America than 374,000 in Hollywood. Following graph elaborates it in detail.
ArabNet Beirut Conference 2015:
ArabNet organized its sixth annual Beirut conference on March 17-19, 2015 Beirut Hilton-Habtoor Grand Hotel, Lebanon to highlight the economy of mobile applications to beat Hollywood. The conference aimed to throw light on fast growing digital world and industries that how digital economy is transforming our businesses. ArabNet is the platform where digital professionals, entrepreneurs, app developers and those companies developing mobile applications for android or iphone gather to get connected with each other.
The ArabNet Beirut conference 2015 was organized in Collaboration with the Central Bank of Lebanon due to its Strategic Partnership with Digital Media Services. There was a pre-conference named as "Design and Code Day".  For the purpose, 80 speakers and experts gathered at one platform from around the globe and discussed the challenges faced by digital world.
ArabNet is now organizing ArabNet Digital Summit 2015, Dubai from May 27-28, 2015, and those providing mobile apps development services in Dubai may benefit their business with this summit.