Many people want to use Rounded Corner image in there site and blog but they don't have much time to spent over Adobe-Photoshop Like software for this simple work, So here i am introducing you the free online tool that will round your image corner easily and fastly without installing any software free of cost.
Today the Question is How to create rounded image corner? Here is a great tool for giving all your pictures beautifully rounded corners. It's simple to use and can save you a whole bunch of time. While most web designers use photoshop to achieve this very special effect, now it possible to accomplish in just a few seconds.
A little trick by using a service called RoundPic. You must have seen some sites that publish images with rounded corners to give a more professional touch to the article or accompanying text. Doing this in Photoshop is easy, but who would pay a license for something so small? If you have a perfect. If you do not have a license, then read on.
RoundPic is an online service easy to use. No registration required, is free and you just upload your photo or picture you want to give rounded corners. The burden of the image can be performed using an image stored on your PC or provide a valid URL where the image is found. Then click on it Round.
No embedded watermark or anything similar. The images are saved in JPG format by default, unless you use transparencies, in which case, as mentioned above, it is saved in PNG format.


Features:-
1.) Round Your Image Corner In Few Sec.
2.) Desired Corner Round Option Available.
3.) Can Change Width And Height With Constrain Proportions Option.
4.) You Can Set Quality Of Image.
5.) You Can Also Set Background Color Or Remain Transparent On The Cutted Image Place.
6.) Changeable Rounded Corner Size.
7.) JPG & PNG Save Format Available.
8.) You Can Use JPG, PNG, GIF Or BMP For Rounding Corners.
9.) You Can Edit File Name For Saving.
10.) Preview Will Be Also Displayed.
11.) No E-Mail Or Registration Required.
12.) No Watermark Will Be Embedded.
13.) You Can Also Use Image From Direct URL To Get Rounded Corner Of That Image.
1.) Upload A Picture From The Web Or Hard Drive.
2.) Uploaded Image Must Be In One Of The Following Formats: (JPEG, JPG, GIF, BMP, PNG)
3.) Click "Round It" Button.
4.) You Will Be Redirect To The Next Page Where You Can Set Your Desire Setting.
5.) Download And Save Rounded Corner Images To Your PC.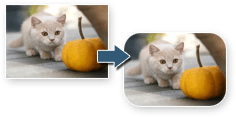 1.) It May Take A Few Seconds To Process The Image, Be Patient…
WWW.ROUNDPIC.COM