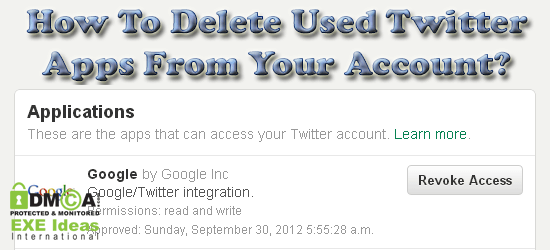 Twitter has also grown to be one of the biggest social networking websites, though it is not yet that Popular with the youth , as compared to Facebook, it is still used a lot! Twitter has also become a popular medium for spammers, with all types of scams appearing on it. here are many scamers that will try to scam with your account to socialized himself.

I think it was time for me to post a tutorial on deleting Twitter apps. Because I care. Also, I'm super bored from annonying twitter post by different apps. I'm using many twitter Apps that are possibility to help cheat. So, the one thing we have going for us is revoking access on Twitter is a whole heck of a lot easier than on Facebook. Step one, obviously, is logging into your account. Once there, you want to click the arrow next to your name in the top right. But the problem is that many guy's did not know much about it, so i am here to make these step easy and fast so that they can secure there account easily.
How To Delete or Remove An application?
1.) Simply first login to your Twitter Account.
2.) Then open this link: Apps tab of your account settings.
3.) Click the Revoke Access button next to the application that you want to remove.
4.) It's done.
5.) Now your account is safed.
Some Tips:
1.) If an application asks for your password to access your account:
Please be cautious about giving out your password, as a recipient can gain full access to your account. If you are usure about an application, revoke its access on the Apps tab of your account settings page and change your password. However, some applications may need your username and password to function.
2.) Apps that may safely require your username and password:
1.) Applications you install in order to Tweet from your computer desktop.
2.) Applications you install in order to Tweet from your mobile phone.
3.) Apps to which you should never provide your username and password:
1.) Websites claiming to help you "get more followers fast!" .
2.) Applications which post affiliate ads to your timeline.
Final Step:
If you suspect a bad application is still connected to your account: Immediately change your password. If you are experiencing problems with an application, please read the Compromised Accounts help page for more information.
Read The Official Help For More: How to Connect and Revoke Third-Party Applications