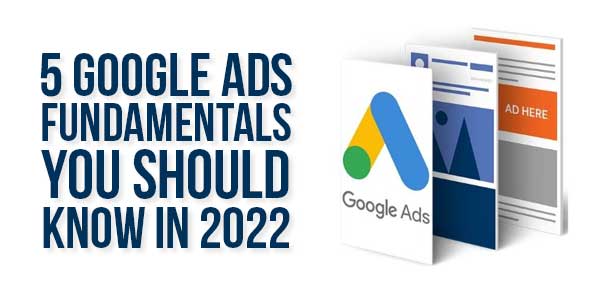 With the latest innovations in technology, it can be easily said that we all are living in the future. The traditional means of marketing that anybody can think of are now outdated. It is the time for digital modes of marketing.
Digital marketing is the strategy of marketing on the digital level. It takes the help of digital mediums like smartphones, television, laptops, and the use of the internet to help you reach your audience and create brand awareness.
There are several platforms that are present digitally to help you reach your target audience. Social media platforms like Facebook and Instagram, for example, are some of them. Another platform that has been effectively helping users reach their goals is Google Ads.

What Are Google Ads?
Google ads is a digital platform that is made to keep the business owners or content creators to promote their content and increase brand awareness in the market digitally. It is used by several websites, business owners, and entrepreneurs to build the market and sell their products and increase good quality traffic.
It ensures that your content appears on the top of the page by improving its visibility and promoting it to the users who can be your potential customers. It displays your ad to those target audiences who are actually interested in the products that you are providing.
Fundamentals Of Google Ads That You Should Know:
If you want to start a business or a blog and run it successfully, Google Ads is the key to your goal.
It allows your content and business to reach anyone who uses Google (that is literally everyone) to search for products, services, and other information online. This feature has the potential to send you a massive number of audiences who demand the items that you are offering.
There are a few fundamentals of Google Ads that you should know in 2022. They are:

1.) Google Ads Campaign:
This feature houses the ad groups together that share budget, ad schedule, location targeting, and some other settings. Google Ads Campaign is used to organize different categories of products.
Google generally allows you as a content owner to choose between the types of campaigns you want to run. These campaigns types are:
Display campaign
Search campaign
App campaign
Shopping campaign
Video campaign
2.) Google Display Network:
The Google Display Network is a network of websites. It allows the content that is a part of the Google Ads to be featured on their respective web pages. These can be an image or textual ads.
These ads are shown with other similar content that is relevant to your keywords on the same page together. If you are using the GDN or Display Network, your ads are likely to appear on more than two million sites. This will increase your brand awareness.
Since these are all third-party sites that are connected to google and not directly a part of google, you can choose where to display your ads. It is up to you whether or not you want to promote your content directly on the pages. This helps you to reach a much more relevant audience. You also have the power to retarget customers as well as optimize your campaign.
3.) Auto-Tagging:
Auto-tagging is a feature that is required for businesses. This means if it is used with Google Analytics, it will allow you to see and analyze how effectively your ads lead to valuable customer activity. These activities include phone calls, app installations, website purchases, newsletter sign-ups, and other things.
The setup process is different depending on the type of conversion you're tracking. Thus, the setup process is different also. Auto-tagging parameters are also required for businesses that desire to track sales that take place at their physical shops as a result of online advertising and other offline conversions.

4.) Bidding Strategies:
One of the most efficient things about Google Ads is the bidding strategies by which it functions. The platform offers several bid strategies that are made for different types of campaigns. They are tailored.
Every ad that is created on google ads goes through a rigorous process called the ad auction or ad bidding. This process decides which ads will appear on Google's search engine result page or SERP. It also decides the order in which they will appear on the page based on the AdRank.
5.) Negative Keywords:
Keywords help your customers, or target audiences discover your page or site easily. Similarly, while you are putting your content out on the platform, you should keep in mind all the negative keywords. Negative keywords work the same as regular or positive keywords. Instead of choosing the terms that you want your ads to be displayed for, you are selecting the terms or keywords that you specifically do not want your ads to be discovered or show up for.
These keywords help you exclude those search terms from your campaigns. Doing this helps you focus only on the keywords that add value to your target audience's search.
While you are choosing your negative keywords, be careful. If too many negative keywords are used, your ads will reach fewer customers.
Final Words:
Google Ads is one of the best platforms in the world right now that will give you guaranteed and effective results and promote your ad. It will make sure that your ad reaches the target audiences who are interested in buying the services and products that you offer.
The important fundamentals of Google Ads include Display Network, negative keywords, bidding strategies, auto-tagging, and campaigns, among others. If you are clear with all these key features, then you will be able to reach your clients and meet their demands much more effectively.