We know that it's very annoying for you that you aren't able to find specific files in less time. You will get frustrated when you can't find it, especially when it's urgent for you. That's why you need to organize files into a well-defined pattern on your device so that you can find them easily. This article is going to be very helpful if you aren't able to organize files on Mac.
By organizing files into definite categories or folders you can save a lot of time and energy. Apart from this, it will enhance the performance of the device. In this comprehensive guide, we'll teach about the top 6 ways to organize your files on Mac. We are sure that these methods are going to be very helpful and interesting for you. So, let's have a look at them.

1.) Search And Delete Duplicate Files:
Duplicate files on mac are a common issue. But many times, this issue can impair the performance of your Mac and disturb the arrangement of files. This is the first and foremost requirement for a well-organized mac that there shouldn't be any duplicate files. However, finding duplicate files isn't easy time.
It's very time-consuming and laborious. So, we will advise you to use any third-party tool to find and delete duplicate files on your Mac. As per the customer reviews and our extensive research, we will suggest you use Gemini 2 which is the perfect tool to deal with duplicate files. It's so simple and easy to use this tool on your Mac.

2.) Try iCloud Drive:
Mac provides an inbuilt iCloud drive which helps you maintain your files in an organized way on your Mac. iCloud Drive also enables you to sync your files on multiple devices by login into your account. Let's know how to use this utility.
Click on system preferences on your Mac.
Select the Apple ID option then open iCloud Drive.
A new menu bar will be an option that will allow you to select files and folders.
Select the folder or files. You can sync these selected folders on any Apple device.
3.) Use Some Tags On Files:
Mac provides some interesting tags and colours which can be used on any file or folder. By adding tags to files, you can distinguish them from other files and identify them easily. Adding tags on various files or folders can be a little bit time-consuming but trust us it will be beneficial for you in the future. If you are a beginner and don't know how to use these tags then follow these ways: –
Open the Finder window on your Mac.
Select the file or folders to add tags or colours to them.
Right-click on the files.
You will see various tags and colours on the screen. You can add anyone as per your desire or create any new tag.
When you are finished with the tagging process, you can easily find your tagged files by simply clicking on the tag option in the left sidebar of the Finder window.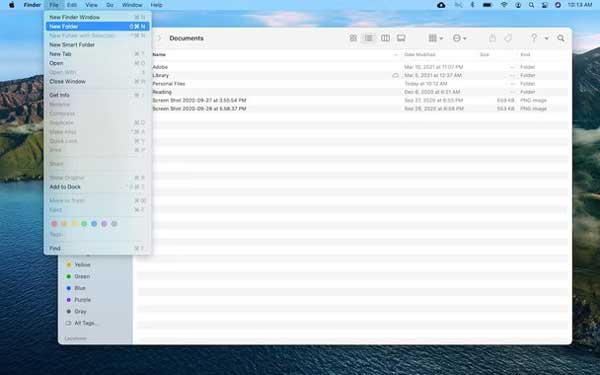 4.) Give A Proper Name To A File:
A name of a file plays a crucial role in its finding. So, you have to be cautious while naming the files or folders. Your Mac will arrange your files in alphabetical and chronological order automatically. To make your file unique you may add some project name, version number, or any date.

5.) Organize Your Documents Folder:
The document folder is the native place of various files. If you organize this folder then your half job has been done. You can keep your files by type or project. Apart from this, you can also form a new folder by using these steps: –
Open Documents in the sidebar and click on the files option.
Select a new folder and insert the name of the new folder.
Now, you can put your files in this new folder.
6.) Add A Folder In Favorite:
This is the best way to organize your folders on Mac. If you need any specific folder then add it to the favourite category so that you can find it easily. You can add some important files that you need frequently in this folder.
Use these steps to add a folder in a favourite category: –
Open a new finder window.
Select the folder that you wish to add to your favourite.
Drag it to the sidebar, and then it will automatically be categorized as a favourite.
Final Thought:
Well! These are the top 6 interesting and best ways to organize your files on your Mac. We will suggest you use these ways on your Mac and you will experience a drastic change in your Mac. It will save you precious time and you will enjoy your Mac. However, there can be some other ways to organize your files on Mac but we have included only those methods which are extensively used by users worldwide.
If you want to suggest any other best way then you are invited to write to us. We will be happy to read about your suggestion and will add it to our list. Thanks, and stay tuned with us for more interesting topics about mac.