A mobile phone can be the most important tool at your disposal. After all, your smartphone may hold valuable data and offer access to email that saves you a great deal of time. If your
device gets damaged
, it's common to panic. However, there are a number of things that you should not do in order to maintain the value of your device — and its warranty.
Jumping Into Repair Mode:
A damaged phone can cause you to jump into action. After you've dropped your phone or once it comes into contact with liquid, it's easy to overreact. You might want to immediately order a replacement or have the phone repaired.
This, however, can be a mistake. You can easily void your warranty by having a repair done, without at least first contacting the company that holds your warranty (likely the manufacturer). While a damaged phone might make you want to jump into action, it is important not to make an ill-advised repair, as this lesser-known pitfall can undermine your entire warranty.
Ignoring The Warranty: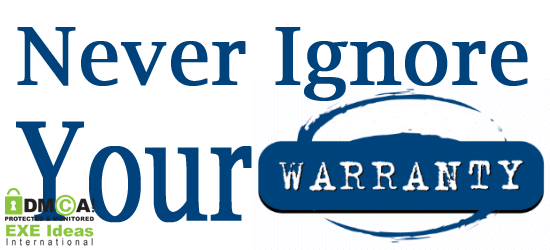 What's the first thing you might do when your device is damaged? A repair might be your first instinct, but again, this could cancel out your warranty.
Your reaction should be similar to that of your car. If your car was damaged, you would likely immediately check your insurance policy to see if you're covered. This bodes well for your phone, too. Checking over your warranty again could reveal something you didn't know:
1.) The damage might be covered.
2.) They may be able to repair the device, and keep your warranty intact.
3.) In the worst case scenario, you may be able to transfer your warranty to a new device.
Dangerous DIY Fixes:
The Internet is littered with DIY fixes for phones. From jailbreaking your phone (this can void your warranty as well) to replacing a screen, you can find plenty of literature online for repairing your phone. However, much of it is inaccurate or quite dangerous to your phone.
Operate with extreme care when you consider how you will get your phone repaired. A DIY fix can cost you not only your phone, but that precious warranty as well. Contact the professionals to see how you can save your warranty and possibly your phone. Thanks to reliable services offered by major providers like Research in Motion, your data and settings may be saved — but a lot more is at risk in these situations.
Ditching A Hopeless Device:
What if you don't have a warranty and a repair is simply not an option? Before your phone makes its way to the trash (always recycle if that is an option), pause for a second. Perform a simple check to find out whether your phone could be sold or donated for parts. Even if it is beyond hope, there may be something positive that you can do with the device.
Overall, matters may look grim when you are faced with a damaged device. However, it is important to evaluate your options to do what's best for your situation.
About the Author:
Shaun Chatman is a freelance writer from Dunedin, FL. Shaun is an expert on mobile device management, gadgets and latest mobile technologies.