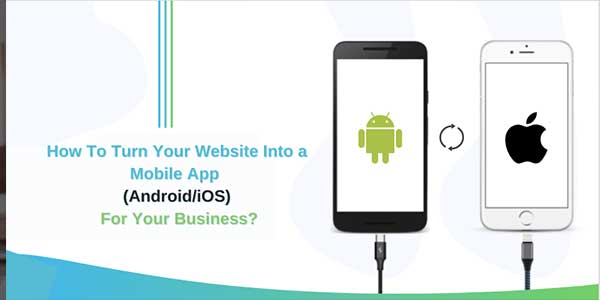 Are you planning to transform your website into an app for mobile devices? There are millions of mobile apps available for download, & you're not the only one.
It doesn't matter if you think it's better or worse, smartphones have revolutionized the way people live. You can now get information on the flip of a screen. All you must be aware of about a brand's reputation can be found in just a few seconds. Users no longer require an expensive desktop computer to visit your site. More than half of website visits in 2021 were made via mobile devices.
If your company owns an online presence but you want to improve its user-friendly mobile experience. You could transform your website into an Android or iOS application that provides an optimized mobile interface for your customers. This is especially beneficial when your site isn't the most responsive for phones or tablets. You can develop an alternative app for mobile users.
What Makes A Mobile App Necessary?
Mobile applications offer many advantages for businesses and customers -which is why more than three-quarters of companies have one. Here are some reasons you may want to transform your website into an app for mobile devices. Make use of Android App Development as it offers:
Easy Access
Optimizing Search Engines
Accessibility on mobile devices
In-Push Notifications
Multi-Touch Interface
Convert Websites To Mobile Apps: Factors To Know:
There are numerous tools that help convert websites into mobile applications (iOS & Android). But, these tools don't offer the best user experience. It's a reason to create a native application entirely from scratch instead of converting your website with an external tool. When launching an application, you need to consider a few factors.
Cost of Development
Screen Size
Search Presence
How To Create A Mobile App From A Website?
Assess Your Need For A Mobile App:
If you've come this far, it's likely you're on the path to Android App Development. Nevertheless, keep in mind that not every website needs a mobile app. If your website is mobile-friendly, it may not require an app to enhance your user experience. If that's the situation, a mobile-friendly app could be a bit of extra work that may not yield any benefits when more customers simply like your site.
Here are some questions to think about & determine whether a mobile application is a good idea for your company. The more "NO's" you have, the more likely your business could benefit from an app for mobile.
Does my website have a mobile-friendly design?
Do I have the ability to create a mobile-friendly website?
Does my website have the ability to do everything that my application does?
Identify The Features Your App Needs:
Before diving into developing an app, it is important to determine what features there will be in your mobile application. The user gets an overview of the features you'll need to implement. Also, it assists you in calculating the cost and keeping your budget in check.
In the end, it's easy to get lost in thought about the various features your app can fulfil. But with a carefully vetted list of features, you'll be able to create an achievable vision for your app. This will make sure that every feature is beneficial to your targeted user base, not just being a flashy feature.
Employ A Android App Development Crew:
For a top-quality application, it's necessary to partner with a reputable and skilled development team. There are two options: either work with an in-house team or partner with a reliable vendor.
Each has advantages and disadvantages. For instance, an internal team can be more costly. You'll have to pay for things like rent, software, equipment, taxes, & much more. In-house development enables you to manage the entire development process, and develop an app customized to meet your specific requirements.
Outsourcing is usually the cheapest option. Developers can be hired from different places, and they'll all have their own rates. However, the drawback of outsourcing is that it doesn't allow you to control the entire development process. You need to be confident that you've hired the best experts for the job.
Android App Development Cost Estimation:
When you have your list of features and your development team set, then it's time to begin making calculations. Several factors must be taken into account when weighing mobile app costs. The number of features you wish to include, the time taken to build the app, the people you're working with, and so on. Each of these factors impacts pricing. Take into account these factors when creating your app.
Create An Intuitive UX Design:
Apart from the fundamental functions of your app, it's also important to consider your UX layout. User experience is undoubtedly the most important component of a user interface. What's the purpose of creating an app for mobile devices that's not as responsive as your site?
If you're unable to create an app more mobile-friendly than your site, then you might be thinking about investing more money in the design of your site rather than developing an entirely new application.
App Testing:
Similar to any landing page or email marketing, you should check your app prior to uploading on the App Store. This will let you improve the features of your app and address any issues before users notice the flaws.
This will help you keep customers who might be deleting your application following encountering these issues. Also, it will reduce the time your support team spends in addressing customers experiencing issues with your mobile application. Even if you aren't able to fix every flaw before launching the app. However, you'll at least be aware of possible problems. Thus, you will be able to prepare your support team prior to when they're faced with these types of questions.
Put Your App On The App Store:
When your app is completed, the next step is to upload your application to the App Store. Both the Android App Store along Apple's App Store take roughly three days to evaluate your application. It takes around three days to approve your application. Once your app has been approved, you can download it from the app store.
For maximum efficiency in your app, you must hire Android App Developers from the top Android App Development companies around.
Final Words On Mobile App Optimization:
We are seeing a shift in people's internet usage habits. To design an effective website, you have to adjust your content to the way people search for information. In this instance, it is creating a mobile application that is user-friendly and useful to people who are looking for your business on their mobile or tablet. Thus, Mobile App Optimization is easy and the right path for future businesses.