Just because one has invested an ample amount in a Smartphone which is not exposed to the same grade of malware and exploit issues as an android device, doesn't mean one can safely pay no attention to their iPhone security. It is really important to look after the physical and internal care of your iPhone. Well! When it comes to the physical care of your phone, there's nothing better than an iPhone wrap.
As far as internal security is concerned, iPhone or Apple phones are designed with the purpose to protect your data and procure your privacy. At the same time, these phones are stylish in design and provide you with great scope to equip your handset with classy iPhone wrap.
These phones have unique features of built-in security, which helps prevent anyone but you from accessing the data on your iPhone and in an iCloud. These built-in privacy features minimize the data, how much of your information is accessible to anyone. Still, you and you only can regulate the shared information where you shared it.
That's why one has to take maximum advantage of the security and privacy features built-in in an iPhone, and we are sharing how you can keep your iPhone secure is a concern. But hey! When your phone is offering you so many features, then why only look after internal data security? You should also look after its physical care.
Below are some ways to secure your phone internally and externally.
How To Secure Your iPhone?
1.) Get The Best iPhone Wrap:
Thinking of securing your iPhone? There could be no better way than getting an iPhone wrap. With an iPhone skin, you can easily cover your phone in a case of your choice. The iPhone doesn't only protect your phone from scratches and dust but will also prove better flexibility which reduces the risk of falls.
2.) Go Random With Passwords/Passcode/Pin:
This is one of the easiest ways to secure your iPhone, as in today's digital world, everyone stores their essential data in their mobile device for handy use. However, data security is critical to avoid any misuse, so one must pick truly random passwords/passcode/pins. Leigh-Anne Galloway, cybersecurity resilience lead at positive technologies, says, "Do not use your date of birth, phone number or ID number". So setting a solid passcode/password/pin to unlock your iPhone is the most important thing one can do to safeguard your device.
3.) Use Face ID Or Touch ID:
Nowadays, in the digital world, this is the trendiest method of securing an iPhone. Face ID(in supported models) or Touch ID(in supported models)arranges for a safe, sound and convenient way to unlock your iPhone, authorize purchases and payments, and sign in to any third-party apps.
4.) Find My iPhone:
By turning on this feature will help you to find your iPhone if it's lost or stolen, and also it stops anyone else from activating or using your iPhone if it goes missing
5.) Sign In With Apple:
In this feature, one has to set up an apple id account; many apps and websites offer sign in with apple, limiting the information shared about you. This feature conveniently uses the apple id you already have, and also it provides the security of two-factor authentication.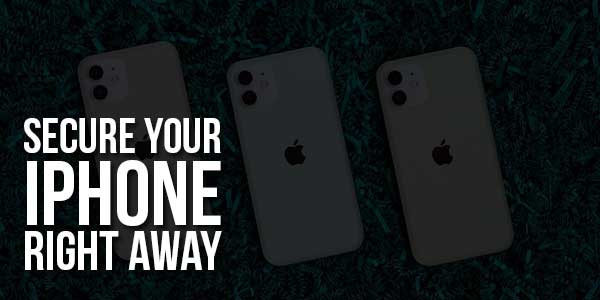 6.) Enabling 2FA (Two-Factor Authentication):
This is a simple step that significantly decreases the risk of someone meanly accessing your device or accounts. Two-factor authentication acts as your phone's fingerprint reader, which adds a layer of security to your accounts. An endless number of sites and apps have 2FA options available; this is such a great way to protect your accounts and the data within.
7.) Do Not Use SMS For 2FA (Two-Factor Authentication):
Currently, the theft of crypto-currency is a crucial driver for SIM swap attacks. So one must avoid using SMS text messages for those 2FA codes, which adds security to your login IDs.
8.) Apple ID Secure:
Your Apple ID delivers access to your data in your iCloud account, and your account information is available for services like the APP store and Apple Music. So one has to learn how to protect the security of your Apple ID, so keep your Apple ID secure on iPhone.
9.) Sign In With Apple When It's Available:
Sign in with Apple confines the information shared about you, it conveniently uses the Apple ID you already have, and also it provides the security of two-factor authentication. Look in to sign in with Apple on your iPhone to set up accounts as many apps and websites offer to sign in with Apple.
10.) App Tracking:
First, with ios14.5, all apps have to receive your permission before tracking you across the apps and websites owned by other companies targeting advertising for you or sharing your information with a data broker. Once the permission is granted or denied to an app, one can change permission later and stop all apps from requesting permission. Go to the Apple Support website (not available in all countries or regions) to receive personalized support for these practices.
11.) Protect Yourself Against Malicious Websites:
One has to bitterly recognize the privacy of your browsing activities in Safari, as Safari helps to prevent trackers from following you across websites. One can review and adjust Safari settings to maintain privacy for browsing activities from others who also use the same device. It also helps to protect you from malicious websites. You can also review the privacy report to see a summary of trackers that have been across and prevented by Intelligent Tracking Prevention on the current web page you are visiting.
12.) A PIN In Your SIM:
One must put a PIN in your iPhone SIM because if your iPhone gets stolen, the thieves will not use it. And if you don't do this, the thieves can change the iPhone SIM and put it in another unlocked phone. Then, they will request an SMS code for resetting the passwords of all your accounts which also includes your iCloud, Facebook, Instagram, Twitter, and the list goes endless. Even if your two-factor authentication is enabled, they can use this method to get the code and access all your accounts.
13.) Auto-Join Wi-Fi Networks:
For iPhone users, it is highly recommended that, for every saved and open Wi-Fi hotspot, one should turn off the auto-join task. As the risk of auto-connecting, your iPhone to a saved or open Wi-Fi hotspot location increases, the chance of "Man in the Middle" may hack your iPhone without your knowledge.
With these significant ways, you can secure your iPhone right away. Among all these security methods, the most important is the physical security of your phone using Xiaomi phone skins and iPhone skins. So get your iPhone wrap as soon as possible to prevent your phone from unnecessary physical damage.