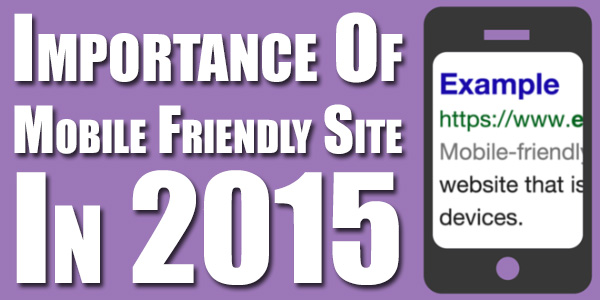 Wherever you look around yourself these days, you will find people burying their heads in their favorite Android or iPhone devices. This is not just your neighborhood gadget freak who loves to stay updated about the latest developments in mobile technology or a teenager who is much into socializing through FaceBook and WhatsApp. Consumers everywhere are using to stay abreast with the latest releases of their favorite products and making purchasing decisions based on what they see online.
In fact, statistics reveal that the number of mobile users is increasing exponentially ever year than what it was in the previous year. From reading reviews of products to searching for directions, mobile devices provide users with a great platform to find everything that they need; from anywhere they are located in the world. It is thus no surprise that mobile searches have greatly surpassed the number of desktop searches. Nearly 60% of online searches have been found to come from mobile devices, and so it is only practical to focus on developing sites that are mobile friendly.
The Growing Trends Of Mobile Search:
The smart-phones that are available in market today come with 100 times more computing power than an average satellite. These devices serve as personal computers that are carried by your potential customers in their purses and pockets. An intense survey relating to the growing mobile usage trends reveal the following results:
43% of American people use mobile platforms as their main search tool.
Nearly 46% of the adult population rely exclusively on tablets or smart-phones while carrying out their pre-purchase research and do not use their PCs.
33% of the total population uses their tablets and smart-phones throughout the entire purchasing process.
About 58% of American adults participate in a process known as show-rooming, wherein they compare prices of products on a mobile device while browsing in-store before finally buying online.
Mobile search is anticipated to overtake the number of desktop searches by 2015.
How Google's Mobile-Friendly Labels Are Affecting Search Ranking?
In order to encourage website developers to come up with sites that are mobile friendly, Google has been punishing sites for some time that does not deliver a good mobile user experience. Google is even implementing certain subtle changes to their SERP policies to improve overall consistency in web design across platforms. In November this year, Google officially launched its mobile-friendly labels and is currently experimenting by rewarding mobile friendly sites with improved ranking.
Recent Updates Launched By Google To Aid The Development Of Mobile Friendly Sites:
Google made numerous changes this year that emphasized the growing importance of mobile searches:
A new Googlebot has been released for crawling and indexing content on the smart-phones.
The Google Webmaster Tools have implemented a new mobile usability report in order to help the users check how high their sites score on mobile-friendliness.
Google also began including "mobile-friendly" tags within the search results.
So Is Your Website Mobile-Friendly?
As the year 2014 comes to an end, it is now time to see whether you have a mobile friendly site that can aid you to combat various challenging factors. While you are coming up with your mobile web design strategy, it is important that you focus on using the most effective responsive designing solutions that present your site's content to the users in a quick and efficient manner no matter what mobile platform they are using for accessing it.
You can also build a mobile site that is optimized for bringing maximum mobile traffic and properly structured so as to aid effective crawling by search engines. If you opt for this route, you need to make sure that the following points are maintained:
Googlebot can access your mobile site.
Desktop URLs have rel=alternate included in them and they point to the accurate mobile URLs.
Mobile URLs have rel=canonical included in them and they point to the accurate desktop URLs.
You have got a mobile XML sitemap which is noted in robots.txt file of your desktop and mobile sites.
The mobile URLs of your site perfectly mirror the overall structure of desktop URLs.
Mobile-Friendly Site Development For 2015
The first thing that you need to take care of is the technical aspect of mobile website designing. You also need to ensure that your site is optimized for all kinds of searches that you are getting. Generally mobile users look for quick information which means that they are not looking to read through large chunks of text in order to find what they need. Although you must focus on developing a good content strategy, you should also keep relevant information like contact details where it is readily visible. Also do not forget to integrate your business location with Google Maps listing, especially if you have an office or storefront that your clients may visit.