As industries become increasingly saturated with new businesses vying for a share of the market, standing out in your respective niche is no longer an option but rather a necessity. You'll have to consistently attract new leads if you wish to grow your business or, at the very least, survive the first couple of years. Here are seven ways to get your brand some much-needed attention:
1.) Offer Something The Customer Wants:
Businesses that thrive are good at one thing – giving the crowd what they want. For instance, if you find a lack of vegan food options in your city or town that is forcing people to drive miles to get their fix of vegan burgers and salads, start offering it at your restaurant or fast food joint. And you might be thinking that it's impossible to find a customer need that isn't being served, with the millions of businesses out there. However, you can always find one weak point that you can capitalize on, whether it's pricing, product variety, convenience factor, store atmosphere, location, etcetera.
2.) Make Turnaround Fast:
Quick turnaround times are important in today's fast-paced life. Gone are the days when you'd have to wait days to get a book delivered to your home. Even when shopping at brick-and-mortar stores, customers want to be able to check out in a matter of minutes, with line queues being a potential deal-breaker for many shoppers. Improve your turnaround time by reducing the steps needed to complete the transaction, such as adding more cashiers, allowing self-checkout, and using merchant processing services to allow payments via debit or credit cards.
3.) Specialize In A Particular Niche:
Especially if your service revolves around a skill set or expertise. For instance, if you are a freelance software engineer, focus on a niche that you are good at, such as video games, websites, mobile applications, etcetera. You should further narrow it down by limiting your clients to those who need their code written in Python, JavaScript, or C++.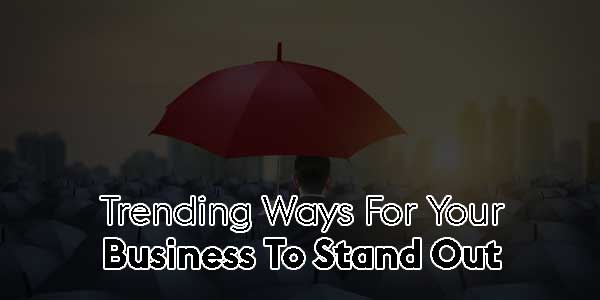 4.) Engage With Customers:
Brands, like Microsoft or Google, are big enough that their founders can afford not to have to speak to their average consumers. As a small business or startup, however, you'll want to engage with customers in person or via online chat. Engaging with customers is a great way to gain feedback on how you can improve your product or service. In addition, businesses whose owners interact with their customers directly instead of sending out their fleet of salespeople or an online chatbot stand out as a more likable business.
5.) Reward Loyal Customers:
A rewards program can boost sales and revenue, plus it can give you that stand-out factor you are looking for. A great and prolific example of this technique is food businesses, such as boba tea shops and pizza places, that offer a loyalty punch card. Every time you buy from them, the card gets punched a hole. Once you reach a certain number of holes in the punch card, you are rewarded with a free boba tea or pizza.
6.) Get Endorsed By A Celebrity:
This technique is simple yet powerful. Pay a famous person to endorse your business. You don't have to pay thousands of dollars to A-list Hollywood celebrities to endorse your brand, either. Many businesses today work with social media influencers to get their brand out there. These influencers will test and positively review your product to their thousands of followers.
7.) Have A Sense Of Humor:
Being able to laugh at yourself as a business owner is a good and likable trait that can entice more customers, business partners, and vendors. Having a sense of humor and a likable personality, in fact, can help you close deals as much as expertise and competence can. Make sure to bring that sense of humor into your branding messages. You want to make anyone who sees that advertisement remember your business's name. For instance, you can invest in a logo or sign. A great sign can also showcase your brand's culture and personality through vibrant colors and memorable catchphrases.
Ultimately, you'll want to focus your efforts and resources on a target demographic who would most likely want to buy from you. Avoid trying to get everyone to like your business. At the end of the day, your business just isn't for some people.