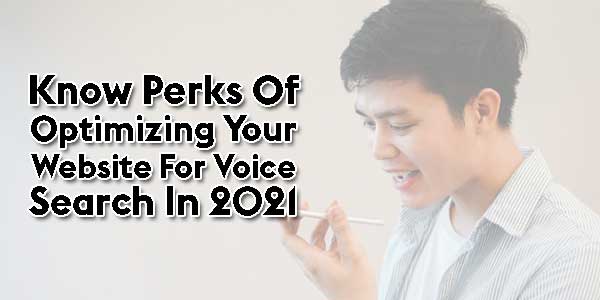 "Do you know that 45% of adults prefer voice search for an instant response? Let's learn more about it in this post!"
Digital business is allowing brands to captivate the attention of a global user base. Platforms like websites and applications are tempting both budding and established entrepreneurs. These options not only deliver better reach but also ensure a high ROI.
But, even with such a huge glut of advantages, it is necessary that brands keep on optimizing in order to expand their potential. Today, with the help of this blog, we would be talking about one such optimization technique- voice-based searches. Here we would be discussing the ways in which it helps a website. But first, let us develop a brief understanding of it.
What Are Voice-Based Searches?
It is a tech that helps the website visitor to look for their desired goods or services by just dropping in a voice note in the search bar. We commonly use text-based searches to look for an item online. But voice-based searches are now gaining a lot of popularity and they also deliver a lot of advantages. Here are a few of them, take a look-
Used by All Age Groups
Receives Longer Queries
Encourages Natural Language
Four Ways In Which Optimizing Your Website For Voice Search Will Help!
If you are unclear about adopting the voice-based search feature on your website, then we have a solution to your problem. Take a look at these four reasons explaining the perks of optimizing the site for voice search.
1.) Boosts Rankings On Search Engines:
Developing a website for a business is not the final stage. In order to generate sales, one needs to increase the rankings in the search results, otherwise, there is no point in creating one. Good rankings are highly significant for a website's success and play a huge role in accelerating the revenue funnel.
Integrating voice search in the page will pave the way for an improved search process for the users. The visitors will then be able to operate it easily without breaking any sweat. With the help of this feature, websites can provide the required results in no time, which automatically increases the conversion rate and decreases the bounce rate.
With the help of previous searches, it can produce quick and better results for the user base, boosting the perks delivered by the trendy feature.
2.) Eradicates Market Competition:
A higher ranking is directly proportional to increased website traffic. Once a brand starts getting greater traffic, it will automatically help in sustaining through the cutting-edge competition that prevails in the market.
By just integrating the voice search feature, you can ensure that the visitors are being offered a seamless experience and services. This feature simplifies the digital experience for the user base and curbs the competition automatically.
3.) Influences The Users' Purchasing Decision:
Because of the wide-ranging options, users are often confused while making the final decision. With the help of the voice search option, the websites would be optimized to offer a quick solution to all the user problems. With quick responses, the site would be able to get hold of the customer's attention. With improved attention, their decision making would also improve.
4.) Simplifies The Complete Search Process Easier:
One of the biggest reasons why people prefer technology over regular traditional ways is convenience. That is why a lot of brands from various domains have adopted digital transformation to cater to rising customer demands. But there is a constant need to modify and enhance as per the customer's needs. Text-based searches are losing their charm as now we have better ways to conduct searches, like the voice search.
Text-based searches are time-consuming, especially when compared to voice-based ones. Integrating both the options in the websites would allow the users to choose the perfect fit, and curb the frustration. A voice-based option would allow the users to conduct the search at any time and from any place.
In A Nutshell:
These are all the major reasons why integrating a voice-based search in the site is a profitable option. But this is not all, as there are several other reasons to include this feature. Once you optimize your brand website as per this feature, it would be able to provide more value to the user base.
So what are you waiting for? Go ahead and give a boost to your platform's performance with the effective voice search feature. But before you move any further, make sure that you collaborate with the best technical team for the integration. Selecting a bootless team for your digital jump will complicate the future and can block the flow of better opportunities. One thing that brands must be careful about is a bad digital reputation. Therefore you need to make that decision wisely.
A Bonus Tip – make sure that the development team you would be collaborating with have the perfect experience of what exactly you are looking for.
The year 2021 is full of opportunities for small and large-scale businesses to grow. Take the digital leap now and jump on the bandwagon with a million others.
If you have any queries or doubts, make sure you let us know in the comment section present below. We would be delighted to help you out with any of your questions. For more information related to the tech world, stay tuned to this platform. Happy reading!