LMS or Learning Management System makes a frequent appeared in eLearning articles and guides.  Before going on to the trending e-Learning courses for LMS, it is essential for any student to grasp the full understanding of what a Learning Management System and its advantages. If one has partial knowledge about the advantages of investing in an LMS and or what kind of features one should look for, the results are not going to be 100% or what you are looking for.
What Is An LMS?
The purpose of the Learning Management System or LMS software is to deploy online training and track progress to assess if it is achieving the desired outcomes. The assets are uploaded in the system so that they are easily accessible for remote learners and assist them in their learning and training.
At times, the LMS has built-in eLearning authoring tools that allow one to develop online training materials and e-learning courses without the need for any additional third-party software. Anyone with a login and password can assess the emerging trending e-Learning courses for LMS whenever and wherever.
There are certain trends seen for e-learning courses for LMS, which focuses on supporting human performance as well as learning in multiple ways. Here are few benefits of these courses for your employees:
1.) Integrated And Result-Oriented:
The trending e-Learning courses for LMS 2020 are fast shifting from static courses to broader training. The aim is to offer meaningful learning in practice and measure the impact of learning on the organization and its business.
2.) Incorporation With The Workflow:
Latest Learning management systems and courses are following a more comprehensive approach and support all the essential features that are vital for the success of the company in the future. The LMS is now an essential part of the employees' workflow.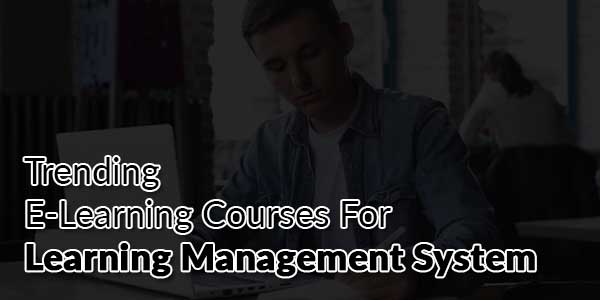 3.) Immersive Learning Experience:
Another of the hottest trending e-Learning courses for LMS that is seen is the quality of content and how it can provide an immersive learning experience. Learning becomes more meaningful when it is both cognitive and emotional.
4.) Chatbots For eLearning:
A trend that is fast gaining popularity is the use of chatbots for eLearning. These Chatbots are being used in many areas, like social media, sales and marketing, CRM systems, and more. Companies and organizations are exploring new possibilities when it comes to online training for their workers.
5.) Performance:
The key takeaways are that the trending e-Learning courses for LMS are now directly linked to the performance and results. These courses need to be an integral part of the employees' workflow and offer on-time assistance with more captivating content for learning.
6.) Maximization Of Human Potential:
Clients fast realize the power of meaningful interaction, and thus, more and more companies are investing in LMS eLearning courses. It is essential to keep pace with the technology solutions that evolve with the needs and take advantage of new approaches to maximize the potential of human resources and enhance business impact.
Conclusion:
The LMS eLearning courses are beneficial for corporations as well as educational institutions. These trending e-Learning courses for LMS provide online training to achieve organizational and training objectives.
Before choosing the LMS or online training resources, it is essential to identify the training objectives of the organization and look for specialized courses and services. The e-learning courses provide tremendous benefits for the organization in general and keep track of the employee's training and monitor their progress and performance.
In the fast-paced world of today, the trending e-Learning courses for LMS have become a significant aspect of workforce development and to remain ahead of your competitors with a well-trained workforce.