No matter if your business is small, medium, or big – most probably it is not immune to the pandemic's effects. During the last months, most companies around the world had to face very difficult decisions and figure out how to survive the emerging economic crisis. On the other side, history has repeatedly shown that crises drive innovation, and some of the businesses benefited from the global pandemic. But COVID-19 has a serious impact not only on the economy – it also affected society, which has led to major changes in how businesses act and consumers behave. It has dramatically altered the way we live, and it looks like we have to get used to it.
COVID-19 Vs Global Economy:
Although it's way too soon to predict the exact economic damage from the global COVID-19 pandemic, most economists agree that it will have severe negative impacts on the economy of every single country.
Early estimates predicted that most major economies will lose at least 2.4 percent value of their gross domestic product (GDP) over 2020. To put this number in perspective, global GDP was estimated at around 86.6 trillion U.S. dollars in 2019, which means that just a 0.4 percent drop in economic growth equals losing 3.5 trillion U.S. dollars. Quite a lot, right?
"The present convergence of crises––in money, energy, education, health, water, soil, climate, politics, the environment, and more––is a birth crisis, expelling us from the old world into a new." — Charles Eisenstein
And less money combined with safety restrictions equals reduced employment – this dynamic can be clearly seen in the most affected industries, such as tourism, gastronomy, or entertainment. Without government assistance, a huge amount of companies operating in these sectors (and even other sectors, like software development, seemingly "corona effect-free") will have to start cutting their staff to make up for lost revenue, and this tendency will start a downward economic spiral, as a huge part of newly unemployed people can't afford to buy some of the goods or services. The dynamic looks so dangerous that has started a worldwide discussion on whether the pandemic could lead to a global recession on the scale of the Great Depression.
The good news is there are still chances the sectors that are doing better during the COVID-19 pandemic (such as e-commerce, food retail, or the healthcare industry) will provide at least some economic growth to minimize the overall economic damage.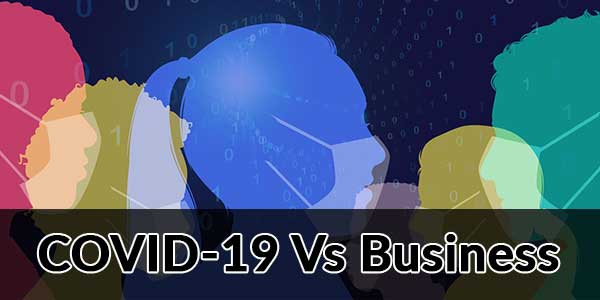 COVID-19 Vs Consumer Behavior:
There's no doubt that coronavirus will have a huge impact on society. Of course, as a human race in the 21st century, we've experienced some major global events like 9/11, the Iraq invasion, or the global financial crisis from 2008 among others, but all of them were regional, and the current COVID-19 pandemic is a truly collective problem that affects not only the economic indicators but also human behavior.
"The current coronavirus crisis continues to have a significant impact on the economy, employment, and people's lives in general. And, as many meetings are now conducted on Zoom, Skype, or some other cloud-based video conferencing service, it is even having a psychological impact for those fortunate enough to be employed." — Cindy Ann Peterson
As the restrictions imply we should stay at home as much as possible and people are social beings, isolation may cause some emotional damage for some of us. But it's just a tip of an iceberg – studies say that during the pandemic many societies noted an increase in domestic violence, conflicts between the neighbors, and – unfortunately – firearm sales.
However, there are people who use pandemic and social distancing as the ideal opportunity to re-evaluate their current lifestyle choices and reset their lives by e.g. developing new skills, starting to recycle trash, or refreshing their living space. Reportedly sales of Peloton bikes have jumped nearly 66% and LinkedIn noted a 3x increase in time spent learning online. Experts have also spotted an increase in purchases of cleaning products, but at the same time, we tend to eat a lot more junk food and clean ourselves less. Well, nobody's perfect.
Of course, the purchasing trends changed too – most people are 'panic buying' much more products that they need, also one of the most visible trends is escaping to rural areas to wait out the pandemic – from which local businesses may benefit.
Another obvious consequence of practicing social distancing is the huge increase in Internet usage – especially social media, which are an important substitute for real human interactions. Besides, we also more often buy online – the new situation has forced consumers to change their deep-seated shopping habits, and brands to change their business model for something more "pandemic-friendly" – D2C (Direct-To-Consumer), which means selling directly through owned mobile and digital channels (eg. Kraft Heinz and Heinz to Home, also PepsiCo and Snacks.com).
It doesn't mean that retail is dying though – there are still people who like to touch, smell, and feel products they're buying.
The need for social distancing also affects the youngest members of society. A lot of schools are being closed and kids are forced to spend all of their time at home – most of it staring at the screen, as many school classes are live e-classes now. And what to do after the remote schooling ends? Unless you're a super-rich person with a playroom for the little ones, there are not too many things to do at home, so kids usually spend most of their free time on the internet – talking with other kids, recording TicToc videos, or playing video games on various devices.
COVID-19: Which Businesses Benefit The Most?
Tech Giants:
Tech giants like Netflix, Amazon, Apple, Facebook, and Google among others admitted how richly the sector has benefited from the ongoing pandemic. While the US government announced overall economic growth had collapsed by almost 33%, Amazon reported a 40% sale increase compared to the same time period last year. Facebook also admitted their revenue rose 10% in the second quarter of 2020, and their shares jumped 8% in extended trading.
Puzzle Producers:
Funny, but it's true. Even with full Netflix servers, lockdown can be very boring, and puzzles seem to be one of the best ways to kill time. The largest puzzle distributor in the United States called Puzzle Warehouse admits their sales went up 2000% compared to 2019. Nice, huh?
Game Makers:
It's reported that video game makers have also been successful during the pandemic. Nintendo stated that they saw a 41% surge in profits, and it was the company's highest increase in almost ten years.
Professional Delivery Services:
Many small and medium companies didn't have any choice – offering delivery services was their only way to remain open for business during the pandemic.
Home Improvement Stores:
When you spend 99% of your time at home, it's easy to notice all of the small projects that need to be completed and improvements that need to be implemented in your living space, and it's easier to make it happen when you finally have time to work on them. No wonder that Home Depot reported they saw a 4.21% increase in shares during the pandemic crisis.
In-Home And Outside Workout Products:
With most gyms across the world being closed, a bunch of activity freaks lost a place to get their daily sweat on. Forced to work out at home or outside, people started to buy a lot of yoga mats and resistance bands, and bikes.
Telehealth Services:
Reportedly, Telehealth services in the United States have increased by up to 50% throughout the coronavirus pandemic. During these uncertain times they are especially important for individuals at higher risk for contracting COVID-19, and people in mental health crises.
COVID-19: Which Businesses Suffer The Most?
The circle of pandemic business life: COVID-19 hits, consumer behavior changes, companies get rich, a lot more companies die trying to survive. Unfortunately, most of the struggling ones are small companies or startups with not enough savings to wait out the storm.
According to the International Air Transport Association (IATA) this year global airlines may lose even $113 billion in sales with an 11-19% loss in global passenger revenues.
Major companies that suffer the most operate in the food, travel, recreation, and entertainment sectors – these are food spots, airlines, hotels, cinemas, movie makers, live musicians, theaters, sports objects, music clubs, sports games and matches, and many, many more. Also, retailers are struggling to survive, as the Internet became the safest place to buy groceries or clothing items. The fintech sector has experienced a little drop in transactions too since people spend way less money than usual.
What's Next?
The current pandemic has no real comparison point in modern history, but one thing is certain – we're experiencing a big global change – not only in healthcare, global security, and human behavior but also in creating new products/services or adjusting existing ones to answer the needs of the new "pandemic" (hopefully "post-pandemic" soon) customers. Seems like the D2C model may be the nearest future for most businesses out there, and digitalization is a total must to survive these tough times.