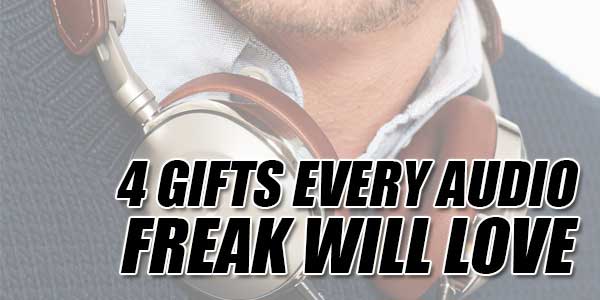 Every one of us loves listening to music from time to time, but some people take this hobby to a whole new level. They can't go a single day without listening to their favorite tunes, which they experience in a unique way that only another audiophile may understand.
Regardless of whether they're amateur hobbyists, music nerds, audio professionals or aspiring artists, finding the perfect gift for an audio freak can be anything but simple. No matter how hard you search for the most exquisite indie album, there's no way you can match their delicate taste in music. On top of that you need to understand seemingly endless  jargon about amplitude, ohms, distortions and waveforms before you can buy something that really has some value for them.
Lucky for you, we've assembled a fantastic list of gift ideas to to help choose the perfect holiday gift. Let's have a look!
1.) Astell & Kern Media Players:
If you want to listen to some music on the go, you just need to plug a pair of earbuds to your smartphone and select your favored tune. But you're no audio geek, are you? True music nerds will deplete any cellphone's battery in a matter hours, and no amount of built in memory may ever be enough to store the gigs upon gigs of music they've likely compiled. An MP3 player is the favored choice of many audiophiles, but knowing which one is "good enough" for them can be an issue.
When talking about high-tech music devices, the Astell & Kern Media Players are the epitome of top quality,  and are among the the best digital audio players out there, the AKs are widely known for the superior quality of the sound they provide. Although they mainly deal in high end products, some which can reach up to $4,000, this highly acclaimed company provides top-quality devices for all budgets.
2.) MDR-1A Headphones:
The MDR-1A Headphones are lightweight and easily transportable, and would make an ideal gift for the audio geek who's always on the run. They're built with pressure-relieving urethane cushions that provide long-term comfort for extended use. They wrap around the ears quite comfortably and are perfect for times when one feels like taking a music-induced nap during the coffee break.
100 kHz sound quality guarantees a fully natural and balanced audio reproduction. The overall performance is amazing, with powerful deep basses and practically no distortion on any high-res audio.
3.) Audioengine A2+ Speakers:
If your audio loving friend works in an office and spends a great deal of time sitting at a PC all day, the Audioengine A2+ Speakers are an amazingly appropriate gift. These technological marvels offer built-in digital-to-analog conversion (DAC) to provide the user with superior audio quality compared to any traditional or Bluetooth speaker, and wall power provides plenty of volume amplification.
Additionally, the A2+ series sports a rather minuscule footprint, meaning that they can sit practically on any desktop or home office, even when space is an issue. The minimalistic design is beautifully stylish, and their small size doesn't detract from the crisp and clear sound quality – not by one decibel.
4.) Topping TP30 Amplifier:
If your geeky friend is "thirty-something" with hipster tendencies, he will probably have a knack for vintage '70s and '80s gear that will bring fond childhood memories and feelings of nostalgia. Speakers, in particular, are the favored choice of many audio nuts, and it's not uncommon for them to scoop these old devices up at flea markets, yard sales or on eBay. However, vintage gear requires vintage technology to work, and it's difficult to find vintage amplifiers that are still in good working order.
The Topping T30 Amplifier is a small-sized digital amp that is compatible with almost any audio source and capable of connecting to practically all types of speakers – both old and new. USB connectivity, auxiliary input as well as a headphone jack, and for less than $100. Who could ask for more?
Every music freak deserves an upgrade now and again to make their life more enjoyable. If you're going to to impress, you've gotta choose  an amazing gift for your music lover, and be sure to win their eternal gratitude!