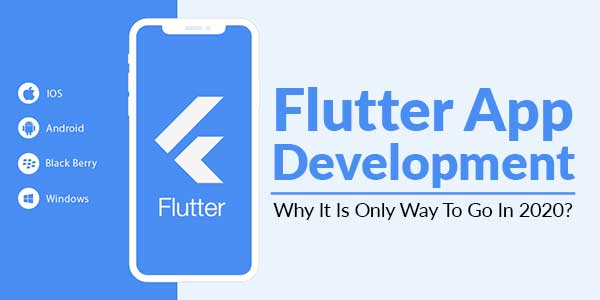 Which framework should I use to create the best applications and websites? This question lingers in the minds of developers all the time until they find the right option. If you are having a tough time finding the right framework for your work, you have come to the right place.
It can be daunting to decide from all the different options that are available to us for our mobile app framework. It makes choosing a mobile app framework quite hard. Other considerations decide our app framework as well. Therefore, we researched to help you out in your cross-platform app development.
We present to you one such cross-platform app development framework that you can completely rely on. Let's get a hint of what it is!
Flutter App Development:
Regardless of whether you are a beginner, a freelance app developer, or the one who has been into this business for years, Flutter is going to be useful to you. With Flutter App Development you can create beautiful apps for mobile, web, and desktop. Flutter can be the right option for you to get some amazing features and that too at a decent price. It's the most effective and reliable framework available out there.
Though Flutter was the 2nd most used framework in the world in 2019, it is in the direction to become the best framework in 2020. The developer community and well-established companies are using Flutter to serve the most effective solutions to their customers and users
Here is a brief introduction to Flutter.
What Is Flutter?:
Flutter is a cross-platform app development framework, released in December 2018 by Google. It is an open-source UI that uses the Dart programming language. Dart's an object-oriented programming language and uses C style syntax.
Google Flutter targets both the iOS and Android platforms with a single code base. That's a great feature. It is not only good for iOS and Android but also for web-based apps desktop as well, targeting Windows, Mac, and Linux.
Flutter integrates a Software Development Kit (SDK) which makes the framework more engaging, attractive, and user-friendly. The tools and features that it provides outstand the competitors.
These were some of the significant features that Flutter comprises which helps developers to create more appealing, interactive, and effective websites, applications, and software. If you are still wondering whether you should start using Flutter in 2020 or not, then here is the list of 8 reasons why you should consider Flutter. Let's quickly dive in.
Why Choose Flutter?
The 1.0 version of Flutter was introduced in 2018 with new and improvised features and tools to meet the needs of a Flutter app development company and developers. The advantages of using Flutter are endless but here we are presenting to you the top 8.
1.) Quick And Easy:
The first and foremost reason why developers love to work with Flutter is its quick and easy processing. Creating a website or an app is already too much of a task. Therefore, you must consider software that is easy to work with and would save your time and effort.
That's exactly what Flutter does! It offers simplicity which makes it quick and easy for you to adapt its style. It becomes a bonus point for beginners.
2.) Easier Animations:
When considering software to create applications, choose one that reduces the gap between Ui designer and the developer. Flutter introduced online tools that can be used to create outstanding animations and UIs. It also reduces the time to make changes to those animations.
You can use 2Dimesions Flare to create animations. It makes it easier than ever before.
3.) Increases Productivity:
The in-built features and tools offered by Flutter help you in creating the best in the minimum time. It helps companies in increasing their revenues. Even if you want to edit something you have created, the Hot Reload feature will help you to get it done in real-time.
You do not have to wait to write code and then compile it and get it loaded on the simulator to see the changes. You get the live reload mechanism and as soon as you hit the "save" option, you get the feedback. This outstanding feature helps developers to attain maximum productivity.
4.) Expressive Designs:
There are several layered layouts and architecture offered by Flutter that allows you to create completely customizable designs. It helps developers to make more creative and appealing websites. You put your imagination and Flutter enhances it.
It's as simple! Your customers and users will be delighted by the in-built designs, widgets, and rich motion APIs you can create.
5.) Flutter's Hot Reload:
With Flutter's Hot Reload feature, you can experiment, create UIs, and add different tools in real-time. Along with it, you can also fix bugs. Saving time and working efficiently is the key to more learning and more productivity. That's what you can do with Flutter and it's advanced features.
There's so much more that you can try. All you have to do is get your hands on JAVA and then everything is under your control.
6.) Cross-Platform:
Another remarkable feature is, it has its own rendering engine. It provides the same UI consistency on both the iOS and Android platforms. You don't have to look for different designs on different platforms. There are not styling issues in this framework.
It makes your app look native on every platform. It also overcomes several other challenges that cross-platform frameworks face. It enables you to create high-performance and out of box designs.
7.) Single-Code:
Flutter uses a single language Dart, which is an object-oriented programming language that helps to lessen the hodgepodge. Dart was built especially to make the workflow of a developer easy and smooth.
Though it has been built on many features of other popular languages, it is a powerful language. It helps you to make tasks a lot easier. If you have worked with Java or other C-languages, you would have no problem picking up this language.
Can Be Considered From A Business Perspective?
Without any doubt, YES!
Flutter serves dramatic and terrific values for a business. Firstly, a company would only have to hire flutter app developers for a single platform (as it works similarly for every platform), with expertise in a single language. No big teams are required!
With the above-given advantages, the company will be able to provide its customers up-to-date, effective, innovative, and credible applications and services.
Still, Thinking?
Many recognized and prominent websites such as Google Ads, Alibaba, My Leaf, and many others use Flutter which makes it more trustworthy and reliable. Therefore, there's no point in doubting it. With its advanced technology and features, it has been able to serve everything that a developer requires.
It is an open-source server and its flexibility is another feature that is admired by developers all around the globe. It adds to their personalization and customization.
The list was endless, however, we tried to cover up as many points that can be useful to you. Hopefully, we have given you enough reasons to enter 2020 as an app or website developer with Flutter.
You can consult us for more information about the same.