The lockdowns that took place in recent months resulted in a massive spike in the demand for online products and services. The entertainment and recreation industries, in particular, saw a collective movement of customers, from going to cinemas and gaming arcades to downloading Netflix, Spotify, and mobile app games, as well as purchasing video games and consoles from
The Old School Game Vault
, Game Stop, and more.
The World Economic Forum reported as early as May that the user engagement and revenues for video games and e-sports increased as the pandemic spread further around the world. It is clear that with social distancing and work-at-home work arrangements becoming the norm, consumer behaviour is also changing accordingly. Everyone is still encouraged to stay at home to protect their health and lower the virus' transmission rates. Many considered this a welcome relief at the beginning of lockdown, but now that months have passed, more people now feel restless because of the prolonged self-isolation.
These difficult times call for accessible entertainment, which explains the increases in the market sizes for these online services, especially for mobile games;
Coping With Lockdown Through Video Games:
Deloitte recently offered insights on what people have been doing to alleviate boredom, among other things, during the lockdown. Its 14thAnnual Digital Media Trends Report revealed that out of 2,000 survey respondents, 29 percent binged on the computer and video games. The age groups that played the most are Gen Z-ers (52 percent) and millennials (46 percent). Moreover, the average binge-playing session of gamers is 3.3 hours long.
This high consumption of games climbed concurrently with the spread of the COVID-19 pandemic. When 2020 just started, 24 percent of U.S. consumers said video gaming is one of their top entertainment activities. Forty-eight percent have played or engaged in some form of video gaming activity by March, and 7 percent of them subscribed to a video gaming service for the first time.
What's interesting is that consumers are drawn to a broad range of games. 3D games with complicated storylines do not have sole command over the market. Less-complex games with 2D art like Terraria and Stardew Valley also get plenty of downloads and subscriptions.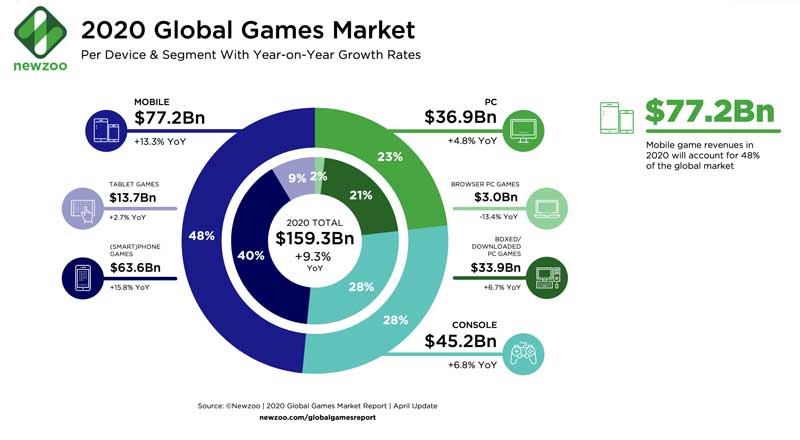 An Opportunity For Game Developers:
These numbers add meat to observations that video games are in high demand during these difficult times. Now could be a great time to release a game because the market is active and has increased in size.
People play games to break the monotony and boredom of staying at home.
Games with RPG and interactive features help people "stay sane" while cooped up at home.
People have more free time now that they don't have to commute to and from work.
Customers are willing to spend money on quality games.
Given this environment, it's unsurprising that video games and mobile apps for games are thriving during the pandemic. Savvy game developers are helping to keep the market alive: many offered their games for free in solidarity with their customers and fans who are having a harder time than others during the lockdown period.
If you are a computer game or mobile app developer, the universe is offering you a silver lining (and for some, a lifeline). Design a game, hire artists to do the storyboard, and outsource your 2D art if these can help fast-track your launch. The rewards and ROI can be massive if your game becomes a hit.