WordPress is a platform that allows users with basic to extensive HTML knowledge, create websites. There are a number of options for both beginners and more advanced users, as well as options for people based on the amount they wish to pay. For instance, WordPress allows users to operate a website for free; however, the domain will belong to WordPress, and customization options will be minimal.
For users who wish to have more capabilities and to own their own domain, WordPress offers a number of subscription options (which often include the purchase of a domain). You can choose to build a website using WordPress and host it on another platform, but it's recommended that you use WordPress hosting. This is because it is optimized to meet the security and performance needs of a WordPress website.
Creating and operating a WordPress website involves many steps. To simplify the process, we've compiled a list of steps to follow to create a website using WordPress.
1.) Download WordPress:
Navigate to `www.wordpress.org` and click the "Get WordPress" button. Download WordPress 5.3.2 and follow installation instructions.
2.) Choose And Purchase A Domain Name And Hosting Platform:
Choosing a domain name should not be taken lightly. This will be the moniker by which the world will recognize your site, so it must be unique, easy to memorize, short, easy to type, and include relevant keywords related to your business. There are several different hosting platforms to choose from, with a variety of prices and plans. Often, hosting platforms will include the purchase of a domain name in their price.
3.) Familiarize Yourself With WordPress' User Interface:
To log in to your WordPress user panel, go to `www.YOURDOMAIN.com/wp-admin` and enter the login credentials you established when you installed WordPress. Once you've logged in, you'll see the main WordPress interface. There are ten things you should take special note of:
Welcome Message: information on what steps to take next.
The status of your site.
Posts: where you'll go to create blog posts.
Media: upload and manage your media files.
Pages: create sub-pages.
Comments: this is where you can see and moderate comments that visitors leave on your site.
Appearance: options for changing your site's design.
Plugins: options for existing plugins and installing new plugins.
Users: manage who can access the admin panel of the website.
Settings: main settings for the website.
4.) Create Permalinks:
Permalinks define how the URLs of individual web pages are structured on your site. It's generally recommended that you structure your permalinks so that the page's title is in the URL. To create permalinks, go to `Settings → Permalinks`.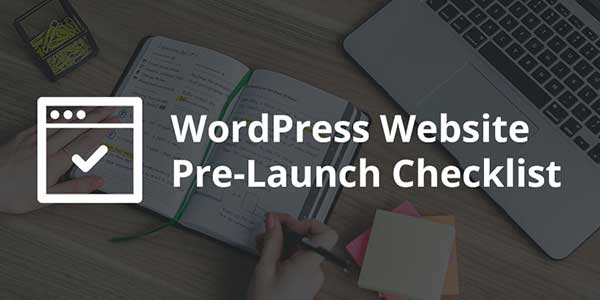 5.) Ensure Your Site Is Visible To Search Engines:
Search engines must be able to find and index your site. To ensure that your site is visible to search engines, go to `Settings → Reading` and check to see that the box "Discourage search engines…" is unchecked.
6.) Set Up Your Website Title And Tagline:
Your website's title and tagline are what identify and describe your site. The title is how you'll be found online, and the tagline is a short description that tells visitors what the site is about. The title and tagline will appear in a variety of places throughout your website. To set your website title and tagline, navigate to `Settings → General`.
7.) Choose A Theme:
WordPress works with convertible designs called themes. This means that you can change the way your site looks with just one click. WordPress themes are pre-made design packages that define the way your website will look. They can be easily installed and changed at will. You can also import themes from outside WordPress or create your own.
8.) Extend The Capabilities Of Your Website With Plugins:
Plugins are similar to apps on your phones. They extend the basic functionality of your site by adding features to your site without you having to do any coding.
9.) Set Up Basic Pages:
In addition to a homepage, you'll want to have other web pages with relevant information. To set up a new page, go to your WordPress dashboard, select Pages → Add New.
10.) Modify Your Site's Navigation:
Menus are the primary way that visitors navigate your site. The theme you've chosen for your site will determine how your menu will look and what modifications you can make. To modify your site's menu, go to `Appearance → Menus` in your WordPress dashboard.
You can also add widgets to help users navigate around your site. Widgets are small blocks of content that can be displayed in a variety of places on your website but are typically found in the footer or sidebar. To set your widgets, go to `Appearance → Widgets` on your WordPress dashboard.
And there you have it! A simple way to get started creating your website.