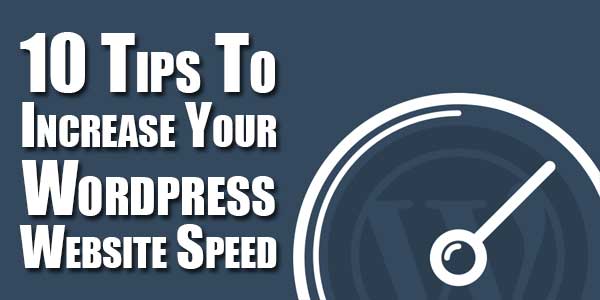 WordPress is a good CMS solution and an even better blogging platform, but many sites using it are not maximizing its potential. It is a tremendous platform  but sometimes it can be quite slow. Nobody likes a sluggish site and if you have one, you are bound to lose customers simply because they can't wait ages for your website to load. However there are quite a few tricks that you can employ to increase your WordPress site speed and get the most out of the world most popular blogging and CMS platform.
Remember when any one visits your site for the first time; you have a few seconds to capture their attention to convince them to stick there, and hopefully buy something from you or send you an inquiry. And if your site takes too long to load, most people are gone even before you get a chance to explain yourself. Google has now integrated site speed into their ranking algorithm, rewarding fast sites with higher search rankings. So a fast loading website is important from both business and SEO rankings point of view.
Let's take a look at ten such tips that can help you to increase the speed of your site.
1.) Choose A Good Web Host:
People try to save bucks and compromise on quality by going for a cheap web host that hosts thousands of website on a single server to make more money from each server but overloading it and thus making the server slow to respond to http queries. Cheap servers may be easy on the pocket in the short term but you'll lose more money in the long term. Always choose a web host with quality services and fast servers.
2.) Minimize Redirects:
Every single redirect you remove will make your pages load faster. Redirects are likely the one single most time waster in your code. Minimizing redirects can serve your content significantly faster. So try to minimize any redirects as much as possible and use them only when there is no other option.
3.) Caching:
Caching you website pages is one of the best ways to increase page speed. Every time a wordpress page loads it results in a multiple dynamic php queries being executed to fetch all the page content from different sources causing delay in page load. What a good caching plugin like WP Super Cache does is once a page from a website loads, it uses the browser cache to serve pages as static files without executing any dynamic php query, thus making the page load faster.
4.) Optimize Image:
Large image files are one of the biggest reasons for slow websites and one of the most neglected. Try to optimize all of your images precisely without losing quality  using plugins like WP Smush plugin. Also never use bigger source images in places where smaller images are required. If required, upload same image in multiple sizes to suite every design element.
5.) Split Long Posts:
It is advisable that you split extra long posts into multiple pages, so each page loads much faster, and you also get to increase your page views. This is very easy and it is achievable from the WordPress admin panel if your theme already has this function.
6.) Optimize Database:
Optimizing your Database can also make a difference in your load time. One way is manual hard core way which is very tedious. Another way is to install plugins like WP-Optimize plugin or WP-DB Manager plugin. These plugins lets you optimize the database to reduce the overhead.
7.) Use Fast Theme:
Sometimes your theme may be the biggest culprit in slowing down your website. Modern wordpress themes come pre packages with so many features that it can significantly slow down your site. Most of these features are sitewide, meaning many php queries are executed on every page load, even if you don't need them for those pages.  When you are going for a new theme, test the demos site to see how long it takes for that moderately-populated site to load. Also, use a theme that suits your needs. If your needs are less, don't use a theme that has extensive features and complex backend.
8.) Use Content Delivery Network:
Use a CDN or Content Delivery Network to make your website high performing. A CDN is a large network of distributed servers located in different locations. When a user requests a url through their browser, content is delivered using the optimum server in the network, thus reducing page load time.
9.) Evaluate Plugins:
One of the easiest ways you can reduce some load on your website is by using only the plugins that you really need and removing those that you don't need. Every plugin add to the line of code on your pages and the lesser the plugins you have the better.
10.) Disable Hotlinking & Prevent Leeching:
Hotlinking, also recognized as bandwidth theft, means other sites link to the source images from your site to serve images on their web pages. This means every time their website loads, it increases the load on your server, making your website slower There are too many spammers that will do this and you need to prevent it from your cpanel. No matter how good your web host is, if hotlinking is not prevented, your website will slow down.