If you are in a business that provides products or services that are at the high end, then you are probably well aware that marketing strategies can be very different from those for businesses that offer mainstream products, budget products, or products that appeal to different niche markets. Getting the attention of affluent shoppers can be quite a different thing to achieve, and you need to be reinforcing the things that matter most to people looking for high-end things, like exclusivity, luxury, and quality in all of your branding.
While print marketing maybe something which brands designed to offer no-frills convenience may be forgoing in favor of only online approaches, at the higher end of the market, print marketing still offers some real branding advantages. Brochures, in particular, are something that high-end companies in all kinds of sectors, including fashion, home improvement, real estate, travel, and beauty, can all really leverage.
Here we look at why brochures are such a good marketing tool specifically for upmarket businesses.
Tangible Quality:
While you can ensure that you provide a visual sense of quality in the design of your website and the production values of things like video advertising, a brochure gives customers something they can actually feel. Using high-end paper and finishes, and beautiful design can show that your standards are extremely high, and you aim to provide a luxurious experience even when simply browsing your brochure. When something looks and feels beautiful and screams quality, the person receiving it feels like they are being given something nice and expensive for free, even if it's just a brochure. This creates the impression in their minds of a brand that value their customers.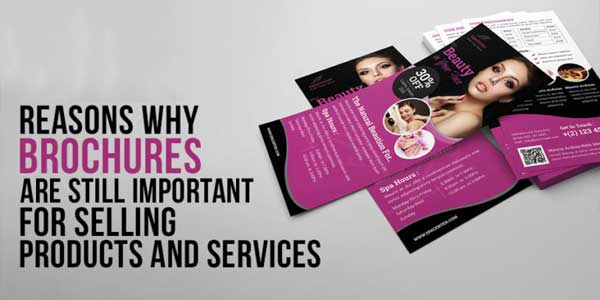 A Physical Item To Keep Coming Back To:
Another reason why brochures are great when you are marketing expensive products is that in many cases, these will be big purchasing decisions. Having a physical brochure to keep coming back to while the consumer is weighing up their options makes them far more likely to remember your brand and be tempted by your offerings than if they were to have to go back to your website whenever they want to look at your products again.
Less Frequent Updates:
For brands that sell lower priced items, there is often a lot of turnaround in inventory, and print sales collateral can go out of date very quickly. With luxury products or services, however, designs or offerings tend to remain on the market for much longer, and so there is seldom the situation where a brochure would need to be updated weekly (as it actually might for a fast-fashion brand or a mainstream retailer like a supermarket or drugstore).
This can make having high-quality brochures made a lot more cost-effective, as you can take advantage of bulk print offers while knowing that the brochures will not become obsolete before you use most of them. For ideas about pricing, check out the print fulfillment company The Print Authority, a Nashville printing company that can provide beautiful printed sales and marketing collateral such as brochures quickly and conveniently.
As you can see, some of the things that make the luxury market so different from other niches also make it a very good place for high-quality brochures and print marketing, in general, to really help your brand.