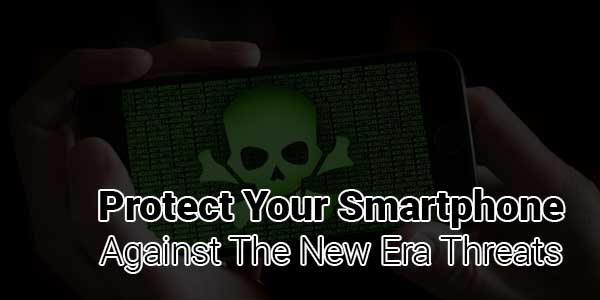 The invention of the telephone was a big turn in human communication patterns, but that was just a start. After that, we had a wireless mobile phone for calling with addon features like the message, and snake game. This was the main purpose of mobile devices as a communication tool.  But if take look at the time series analysis of it, we can see our phone is more than just a communication tool. Since it became a smartphone, now it is a very important part of our life.
We use Smartphones is not only for communication but also for entertainment, online payment, travel, food, etc. According to the research of  RescueTime, per day average spending time of a person with a smartphone is around 4 hours, for obvious reasons that are features of smartphones. But we need to realize that we can take our smartphones for granted because it contains our very curial information. So let's take look at what threats our smartphones have to face and what we should do to stop it.
Threats To Your Phone:
Attackers or hackers take control of your phone and use it for their benefit which is directly related to your loos. Here you may face a lot of threats, some very common are listed below.
Web Based:
It may happen that our mobile devices can download malware without our permission. It is a high possibility that attackers target our confidential information like internet banking id password or credit card credentials by sending any link through the mail so that they can track and obtain information that we enter. This most common term is called 'Phishing'.  For example, you get a letter with a link and text like ' just enter your card details and claim your gift card from your XYZ bank '. And that link will look the same as your original bank link. This is purely a scam since any bank never asks you to share your card details.
App Based:
We know many types of applications, some provide one facility and some can make more than one, some are free and for some, we need to invest. We install many applications on our phone as per your requirement. But we should always check charges and purchase very carefully.  Because hackers make such applications which can steal our all phone data once installed. Also, you should always check the permissions you give to an app. Because if you allow an app to access some kind of information, it should be justified.
Network Based:
Mobile phones are mostly connected with at least two networks or sometimes more. Which includes cellular connections, Bluetooth, or wi-fi connection.  Each of these connection lines can be a way for hackers to control your device. This connection pretends as genuine to trick people. For example, in open wifi hackers do wifi-spoofing and connect your device to access data.  For this best practice is to switch off connections which you are not using and do such access permissions settings.
Physical Based:
This may not sound like a core problem or as young as possible. We can also look for anti-theft software. You can simply say it is just unfortunate, but due to the flexibility of size, it's very common that your mobile phone got stolen. According to google recovery of missing mobile devices are not more than 2percent. This is the same as you storing all your gold in a secured box and the box got misplaced. Now the barrier between gold and thieves is just that lock. So make sure you keep your phone lock as strong.
Role Of Data Science:
The objective of network protection is to stop interruptions and assaults, distinguish dangers like malware, and forestall extortion. Data science utilizes Machine Learning algorithms like simple linear regression to recognize and forestall these dangers. For example, security groups can investigate information from a wide scope of tests to recognize security dangers. The motivation behind this investigation is to decrease bogus positives while distinguishing between interruptions and assaults.
Security advancements like User and Entity Behavior Analytics (UEBA) use data science strategies to recognize inconsistencies in client conduct that might be brought about by an aggressor. For the most part, there is a relationship between's irregular client conduct and security assaults. These methods can illustrate what is happening by drawing an obvious conclusion regarding these variations from the norm. The security group would then be able to take legitimate protection measures to stop the interruption.
The cycle is the equivalent of forestalling extortion. Security groups recognize anomalies in Visa buys by utilizing factual information investigation. The dissected data is then used to distinguish and forestall false action.
Protection Steps:
Choosing Phone Lock:- Even in the event that you utilize a basic secret word yet quite possibly, somebody can get it. This chance declines with a unique mark lock or face lock. By utilizing this component you can guarantee that there are zero prospects of adapting to your secret word. What's more, is defensive on the off chance that you face any actual dangers.
Use VPN:- VPN is 'virtual private organization' is programming that is available in your gadget to shield your information going from beginning to end. Because of this, your information is more secure since it's scrambled while making a trip from worker to worker.
Data Encryption:- Usually, it is naturally empowered in telephones through VPN yet on the off chance that it's not, at that point ensure you will do it. Since this is the way information is covered while voyaging.
Set Data Evacuation Capacities:- It is an incredible element your telephone has, and most valuable when your telephone is lost or got taken. By utilizing this you can eliminate information from your gadget.
Final Words:
Innovation is developing each day, the world moving carefully now, and obviously, this changed the method of human living and working as well. All that we access is on the web, which likewise builds the requirement for information protections. Equal programmers or assailants will change their way as well. Furthermore, we have exacting laws against network safety wrongdoing. Yet, what we have to do is make safe strides towards our smartphones. Since information security is a cycle, not an item, you can not do this in one time and need to stroll alongside it.